London is a great place to travel anytime for a holiday or a business trip. It has plenty of entertainment and shopping options, apart from its world class attractions that include medieval landmarks and avant-garde modern marvels. A trip to London is all the more pleasurable if you choose to stay in the central part of the city.
There are a number of fine premium hotels like the Shaftesbury hotels collection London, which are popular with business travellers and visitors.
The main benefit of staying at a hotel like the Park Grand Paddington Court London hotel is that you could stay in the best of luxury with excellent facilities, while not having to pay a ransom.
And since the Paddington Court London Hotel is in the city centre travelling to various parts of the city is a breeze. This is courtesy of the well developed and efficient public transport links to be found in the area. Your duration of stay in London and the amount you need to travel will help to decide the most economical mode of transport to use.   Some of the transport options you can choose to use on a trip to London are as follows:
Trains
One of the most popular ways to travel in London is to use their famous Tube system also known as the London Underground.  It is Britain's version of the subway and it offers 11 lines on which more than a billion passengers travel annually. The routes spread from Central London to various parts of the city and its suburbs. If you are in the city for an extended duration then the Tube is the ideal transport option. For this you could buy a 7 day transit pass known as a visitor Oyster Card. The travel fares are split into zones in the city, with Zone 1 allocated as Central London and the Zones expanding concentrically as you move outwards towards the suburbs. All the zones are clearly marked on Tube maps, which make it easy to determine your route of travel. As most of the major attractions are in the centre of the city it is a cost-effective way to travel in Central London.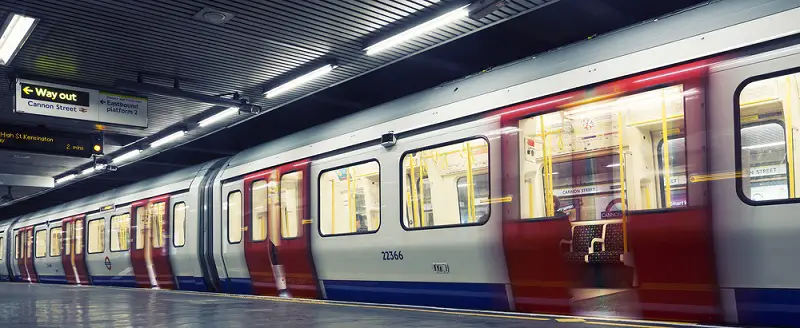 And the benefit of using an Oyster card is that you can return it for a refund once your trip is done in the city. It is great way to pay-as-you-go option and are a must have. For those who only want a day pass there are paper tickets, which can be used to travel. Travel cards can be bought in advance and shipped to your residence before you actually arrive in London. Using them is simple as all you need to do is touch it to the card reader at the gate before and after every trip at the Tube station. Paper tickets are placed into a slot and then appear on the other side.
Then there is the London Overground, a rail network that is primarily for the suburbs. It is great for those who need to travel to the suburbs and beyond. There are four routes that serve 21 of the 33 boroughs within London.
Bus and Bike
There are about 7,500 buses that play the streets of London and service about 19,500 stops. They are more economical than the Tube and allow you to save on travel expenses, while also offering a wonderful view of the many attractions along the journey. And it is primarily the main mode of transport for a trip late night. Although there are limited Tube overnight services available for a few select routes, the bus is the best option for late night travel. You cannot use cash on the bus and will have to use your Oyster card to pay for your travel.
A great way to explore the city is by renting a bike. The Santander public bike-hire scheme (formerly Barclays Cycle Hire) offer visitors to hire their famous Boris Bikes (named after former Mayor Boris Johnson) from different locations all over the city. It can be rented easily either using a credit or a debit card. The costs are cheap and they can be returned to any of the numerous docking stations that are to be found all over the capital. You will also find useful maps of the attractions in the vicinity which are great as reference points if you are new to the city.
Cabs and exploring the city on foot
Hiring a cab in London can be a very expensive option. The ubiquitous black cabs to be seen all over the streets are licensed and are the only cabs legally permitted to pick up passengers from the street. The only downside is that they are prohibitively expensive. They are okay to hire if you are in a tight spot out late at night, with limited or no other options nearby to travel. Another option is to hire a minicab in advance. There are numerous cab companies that offer their services and you could check them online before you make a decision to hire one.
And undoubtedly the most economical way to explore the city is by foot. Areas in Central London are best suited to explore on foot as most of the top attractions are close to each other. In fact there are instances where it is quicker to walk between Tube stations than to take the bus or the Underground. It is both cost-effective and time saving to walk aside from being healthy and revealing the hidden beauty of London, which you would otherwise miss if you opt to make use of public transport.
For travel to and from the airport you could choose to hire a taxi that although more expensive, would be a much more comfortable way to get to your destination. There is the Tube and Direct Express trains from the major airport terminals, but it would be crowded and inconvenient to travel during rush hour traffic.