Every hunt is a memorable experience. Your gear and pre-hunt preparations should change as the seasons, the wildlife, and the weather does. So what are the fundamentals that remain constant? What particular items should you always bring when hunting?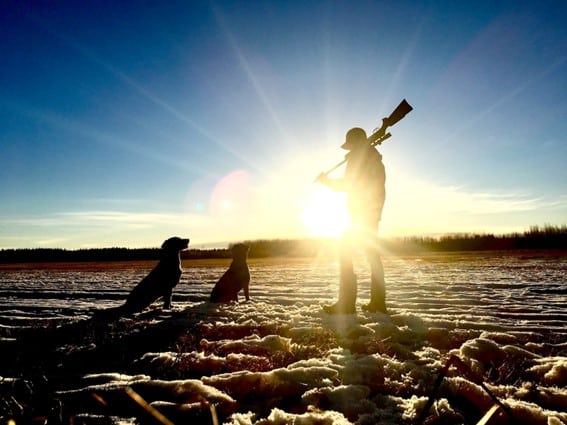 Here is the answer
Knives and a Knife Sharpener
It's always a good idea to always have many knives with you. Nevertheless, skinning and field dressing your animal quickly wear down a knife. As a result, we advise carrying a knife sharpening at all times. 
You can be equipped to handle whatever the hunting day throws your way by having a knife and a knife sharpener.
Rope
A rope has a lot of uses. Why not keep it close at hand as it also doesn't take up much room in your bag? Rope can help carry your bow or gun into your stand and hanging game for skinning or hauling wildlife out of difficult-to-reach regions. So buy some quality rope and be prepared.
Scent Protector 
Never let your game get a whiff of your presence, whether you are scouting, setting up a new tree stand, or searching for that huge buck on your trail camera. 
Deer have been known to detect human odor for up to 10 days after it has departed, so masking your scent when you are scouting, hunting, etc., is a simple way to change the game.
Navigation Tools
Finally, it's critical to travel across your territory with ease. Nothing is more annoying to hunters than discovering a great new location only to forget how you got there after spending hours scouting. 
Because of this, it's crucial to know your surroundings and always have a set of navigational aids at the ready. 
Hunters can quickly designate new territory by noting scrapes, scat, ridges, etc., with the HuntWise app. Users can also design walking paths to recall each step of the entrance and exit to a site. 
Additionally, every user has access to all public and private land boundaries, which makes exploring new territory simple.
Headlamp
When it comes to flashlights, hands-free is unquestionably king. Too many times when trying to find our way in the dark, we have fumbled with our flashlight or held it in my mouth. I often use a modest headlamp around the house when working on home improvement projects because it is useful when field-dressing or skinning a deer in poor light. 
A robust headlamp can be purchased reasonably at almost any department or sporting goods store.
Hearing Protection
Although hearing protection isn't a gun accessory per se, I've included it on this list because only gun hunters need it. Hearing loss is a serious business. 
Older hunters had a valid reason to leave their hearing protection at home—they wanted to hear the deer!—but that is no longer valid due to technological advancements. Electronic earmuffs can be purchased for under $50, and good-quality, less intrusive earbuds cost between $100 and $150.
Binoculars or a Range Finder
Binoculars or a range finder are two other innovative tools to keep close at hand. Both of these things can help identify your game and help you be ready for spotting seasons. 
In the preseason, a good hunt depends on knowing your distances from different locations, like tree stands, duck blinds, etc.
You must always get one of these items and carry it with you. Using one of these tools can help you find a better location for your upcoming hunt.
Hunting boots
Hunting boots plays an essential role in any hunting game. This is one hunting gear you must always add to your hunting kit. While getting your hunting boot, it is essential to note that it should be firm, well-insulated, and have a decent grip.
Your boot should be light, comfortable, supportive, and moisture-wicking. The inner boot shell must fit the foot's shape and be impregnated with antibacterial material. 
For the best Insulated-Waterproof hunting boots, go to DeerHuntingGuide.net, where you will find a wide range of hunting boots and reviews from seasoned hunters who have recommended their picks.
Lens Caps
Lens covers shield your scope's lenses from the elements so you can see what you're shooting at. Lens covers are a common feature of scopes that comes with it. 
Get one if yours didn't, but order the correct size.
Sling
You realize how hefty they are when you carry a gun all day without a sling. Slings are helpful when covering a large area, but they can be useful even when walking to the tree stand. 
A sling frees up your hands, so you may tie your boots, use a lantern, or silently maneuver around.
Calories
After spending hours in your treestand as daybreak approaches, you feel hungry. Nothing is worse than caving into your hunger and calling a hunt off early because you need some lunch. 
Hence, be ready and bring some food with you. Hunters frequently choose the standard jerky, trail mix, and granola bar snacks, but according to seasoned hunters, honey buns are the ideal hunting snack.
Frequently Asked Questions
What makes a successful hunter?
Successful hunters can foresee the next move of the animal they are pursuing. Only by spending hours on the stand, gathering trail cam images, and scouting during the hunting season can you gain this intimate knowledge of the game you are hunting.
What is the most common type of hunting?
Deer hunting is the most popular type of hunting in America.
What is in the high-tech hunting pack?
The Koter CB-65 Bow, the Brightsight Rangefinder Bow Sight, the GenZero 8×50 Night Vision Rangefinder Binoculars, the GenZero 1-4×20 Night Vision Rifle Scope, and Tracer Arrows are among the high-tech products.
What shoes do hunters wear?
Field boots and rubber boots are the two primary divisions of hunting footwear.
Bottomline
The above 11 items should be included in any hunting kit, even though there are countless other goods that hunters believe we need. We promise these tools will help you on your subsequent hunts, whether you use them for preseason scouting or on your first hunt.
Additionally, if you want to improve your hunting skills and knowledge, why not check out our other article, Expert Hunting Tips: How To Improve Precision And Efficiency, where you will learn about the small details that make a good hunter.