Superyacht Charter – Water Toys for all the Family to Enjoy
The summer yachting season is upon us, and there's no better way to celebrate the warm weather than with a superyacht charter jam-packed with luxury water toys.
Superyacht water toys are the icing on the cake of yachting vacations, particularly for family charters with kids and teenagers on board. And with the trend for inflatable extras for the yacht just growing by the year, there's a whole world of water toy action to explore.
Endless hours of fun on the water await with this list of family-friendly superyacht water toys for summer 2018, as well as three great recommendations for yachts for charter with waterslides.
Yacht Waterslides
Charter yachts with waterslides are incredibly popular for family charters. Inflatable waterslides became one of the hottest toys to hit the yachting market a few years ago, providing hours of fun and laughter as children fling themselves off the top of the yacht and down the slide into the sea. Even better: the adults love having a go too!
Climbing Walls & Inflatable Water Parks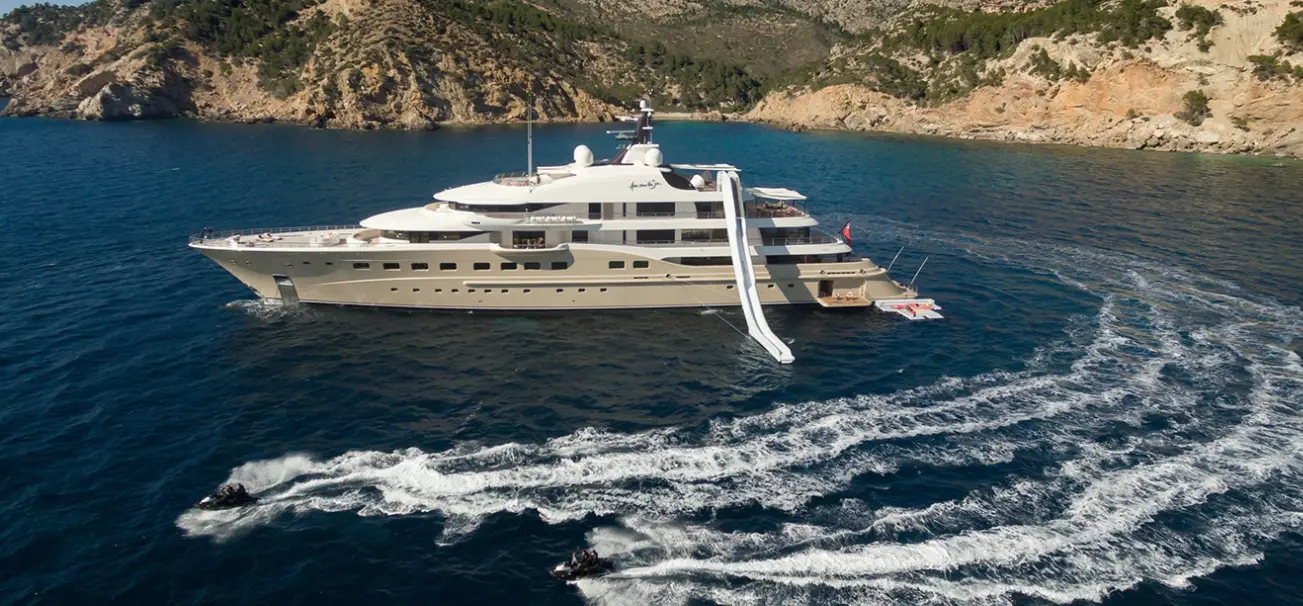 Imagine watching your children scale up the side of the yacht on a giant inflatable climbing wall, bouncing on the floating trampoline, and jumping between inflatable obstacles. They can channel their inner Ninja Warrior on the yacht's waterpark, tiring themselves out while you lie on deck sipping on a cocktail or sit down for a long lunch with friends. If the children are happy, you're happy. Everybody wins, right?
Floating Docks and Lounges
There's no better way to extend the yacht's 'real estate' on the water than with floating docks. Inflatable docks have become extremely popular in recent charter seasons, serving as either floating platforms for sunbathing and diving, or as docks to easily board the Jet Skis or tenders.
There are also inflatable lounges that you can tether off the back of the yacht, which the kids or teenagers will immediately claim as their own floating island (although it's also a top spot for the adults to read a book or have a chilled glass of rosé too!)
Floating Swimming Pool
Last up in our list of inflatable superyacht water toys is the floating swimming pool, creating a safe and stinger-free swimming experience off the back of the yacht. The inflatable swimming pool has a net to keep any nasties out and removes the danger of currents, while the inflatable edges are a great place to lay down and sunbathe.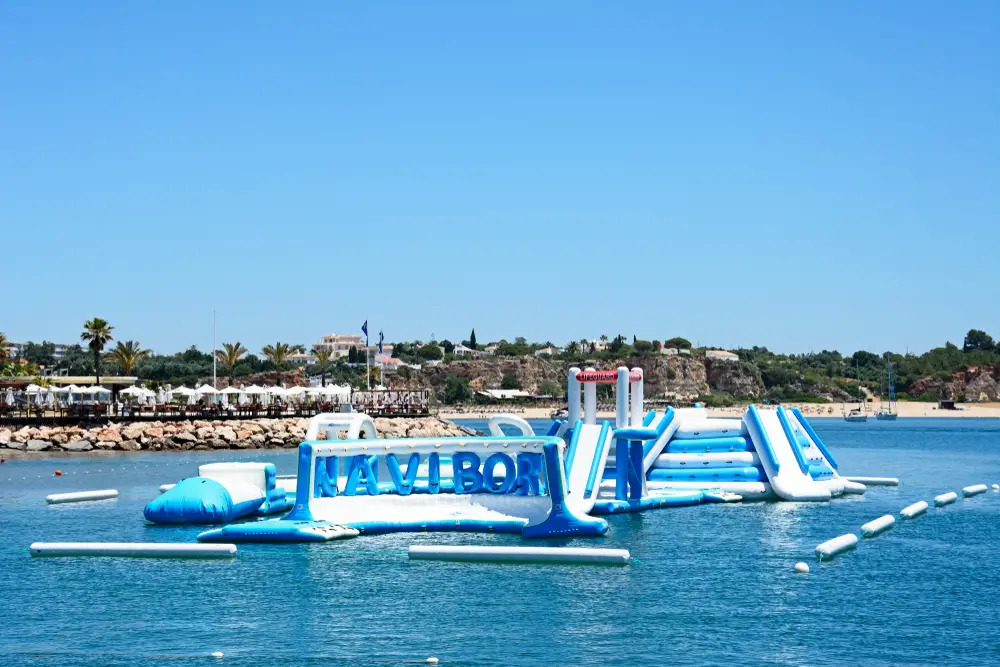 On days when the sea conditions aren't perfect because of jellyfish or strong currents, the floating swimming pool will keep the kids (and big kids) happy, making this luxury water toy a sensational choice for family charters.
3 Yachts for Charter with Waterslides
83m M/Y HERE COMES THE SUN was the pride of the Amels fleet upon launch in 2017 and comes with a vast array of water toys including a giant waterslide. The whole family will be thrilled with the facilities on board the yacht, with a plush theatre for movie nights, a spa centre for the adults, a beach club, and a deck swimming pool. Accommodating 12 guests in 10 spectacular staterooms, M/Y HERE COMES THE SUN is available for charter in the Western Mediterranean this summer from 1,200,000 Euro per week.
52m M/Y LATITUDE is one of the finest charter yachts on the market and is particularly popular with families for her stunning range of water toys, including a waterslide, floating lounge, fly board and jet-surf, as well as hybrid mountain bikes for adventures ashore.
Boasting an alfresco cinema and a world-class crew, M/Y LATITUDE has six staterooms for 12 guests and is available for charter in the Western Mediterranean from 203,000 Euro per week.
35m M/Y SIETE is a classic Benetti yacht for charter available in the Bahamas year-round. This superb yacht has a wide range of features that are rare in this size range, including an extensive array of luxury yacht toys including a waterslide as well as a large sundeck Jacuzzi and zero-speed stabilisers. The yacht can accommodate 10 guests in five gorgeous staterooms including convertible VIP, and looked after by an award-winning chef and crew. M/Y SIETE is available for charter from 75,000 USD.
Picking a charter yacht with a wide range of superyacht water toys is the perfect way to ensure that all ages are having the time of their lives on board. Which of these yachts are you dreaming of chartering this summer?