Let's get real, cleaning sucks. It is dirty, thankless, and unending. Even though everyone has to do it, We all wish there was a way to get it all done without lifting a finger. Well, I have good news!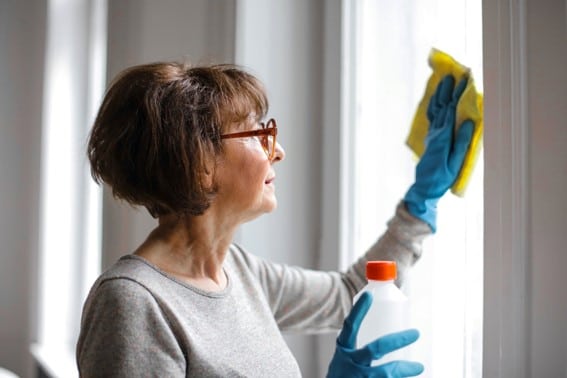 This article is about to make this bothersome, painstaking, finger-hurting task a whole less stressful for you. Without further ado, here are the top 10 hacks that allow you to be lazy, but achieve pro-cleaning results:
Easy Ways To Clean Furniture And Appliances Like A Pro
The Vinegar And Coffee Pot Trick
Over time, your morning coffee could begin to develop a skunky edge. It is because of the filth that has been built-up inside the machine, which is disgusting and upsetting, but it will not stop your caffeine addiction. So here's what you can do to get that filth out.
Fill the reservoir with up to 4 cups of vinegar, then let it stand for 30 minutes. After which, you run the vinegar through the brew cycle. Once that's done, follow up with two or three freshwater cycles until the smell of the vinegar is completely gone.
Dust Couch With Baking Soda To Remove Stains And Odors
Have a stinky couch with some stains? Don't ruin your fabric by scrubbing it. This hack should solve the problem!
Sprinkle baking soda on your couch cushions (the back and the base) and leave it on for 30 minutes or overnight. Next, vacuum it all up to reveal a cleaner, brighter piece of furniture with a more pleasant smell.
Clear Window Blinds
Window blinds tend to collect dust and grime, and they get hard to clean. This hack will make them easy to clean!
Wear an old sock over your hand and dip it in a diluted vinegar solution (half vinegar and half water). Grip on the slat and clean both sides of the blind at once.
Teak Trick
Teak furniture is usually sold with a natural finish. This means that no sealer or stain is applied to the finished product. Teak has a natural way of protecting itself when exposed to natural weather conditions. What it does is secrete a natural oil that preserves the condition of the wood, and significantly changes its colors from original golden honey to a soft, silvery gray. You should know that maintaining your teak furniture can be a tad tricky as it cracks after prolonged stays under harsh weather conditions. It is advisable to keep your furniture indoors when not in use.
Only clean with specially formulated cleaners. You can also protect your furniture from stains and mildew by using a hardwood protector.
Cleaning Your Microwave
Splashed tomato sauce, butter, eggs…everything is proof that you use your microwave often. Although these small appliances can get dirty and look old, there's an easy way to make them look good as new.
Mix equal amounts of vinegar and water in a microwave-safe bowl, then place in the microwave on high, for 5 to 10 minutes. Let them cool, then use a sponge or a paper towel to wipe it down. Voila! Very easy.
Using Toothpaste To Get Rid Of Crayon Stains On Your Wall
As much as you adore your kids, you don't like them being Pablo Picasso or Leonardo Da Vinci on your gorgeously painted walls.
Just use a layer of white (not colored or gel) toothpaste to erase crayon marks on walls. Apply on markings with a sponge. Let it sit for an hour or more, then wipe it off with a clean, damp sponge when you're done.
Washing The Dishwasher
It's ironic how you still have to clean an appliance that's supposed to clean other things. Can't it just clean itself?
Well, there's a simple way to get rid of food, grease, soap scum from your dishwasher.
It's as easy as just sprinkling some Tang (the orange drink you loved as a kid) or Gatorade powder in an empty dishwasher and running it hot. The citric acid in this powder makes it sparkle.
Wipe The Grime Off The Tiles
Tile grime? No problem! Clean the specific area with a vacuum, then get some light detergent and a rag.
Put the detergent on a rag and scrub the spot until clean.
Is that tile super stained? Use a toothbrush with hard bristles to scrape dirt away.
Get Pet Hair Out Of Your Couch With Tape
Even the best vacuum cleaners for the home can't remove every bit of pet hair from the upholstery. Especially when you deal with fur that is short and thick. However, you can take out pet hair from the fabric with paper tape.
Wrap the tape around your hand as if it were a glove, with its adhesive side facing out. Tap gently on the upholstery and you'll be surprised at how much you'll get. Use this trick for easy food scrapes and grit removal.
Salt Vs Grease Stains
Grease stains are always bad. If you let them sit, they might become a permanent stain. When dealing with a grease stain on your upholstery, it's best to remove it with salt.
Cover the oil spill with some paper towels to get rid of the extra towels. Then directly onto the stain, sprinkle a large amount of salt. Let this sit for 30 minutes and vacuum. Salt will get rid of most of the grease.
After this, treat the upholstered furniture with the right stain removal product.
These simple tricks can help you keep your furniture and upholstery clean with preventative maintenance and a little extra care. Follow these tips, and you may not have to rent expensive equipment or hire professionals ever again.