If you've been shopping for furniture, you've probably already noticed how the prices are all over the place. What makes one piece of furniture so much more expensive than another? And, is it really worth it to spend a lot of money on quality furniture? Or, should you just save your money and buy cheap furniture?
So, what's the best way to stretch your furniture budget as far as possible and still buy pieces that will not only last, but will also look great once you get them home?
Believe it or not, there's actually an art to buying the right furniture. And, it's not that hard to master. It's really about evaluating each individual piece of furniture that you are looking for and thinking about a few key points. Here are some tips.
Size
If you are searching for particular pieces of furniture, it can be a little time-consuming to find exactly what you're looking for. And, the last thing you want is to put all of that effort into finding the exact piece only to find that it doesn't fit where you plan to put it.
Always measure the area where you are planning on putting your new furniture: width, depth, and height. It will make it a lot easier to find the right pieces.
Start With the Essentials
While it would be really fun to just go out and buy every piece of furniture that you need all at once, it's probably not a good idea. For one thing, you'd be easily overwhelmed if there are a lot of things that need to be put together. And, then you'd have to figure out where everything goes, hoping it all fits together perfectly.
It's a lot easier, and you'll get better results, if you buy the furniture that you really need at first. They'll usually be the larger pieces like your sofa, dining room table, and definitely your bed. Then, once you have those in place, you can begin to search for the other pieces that will fit well and complement the furniture that you already have.
How Long Do You Plan to Use It?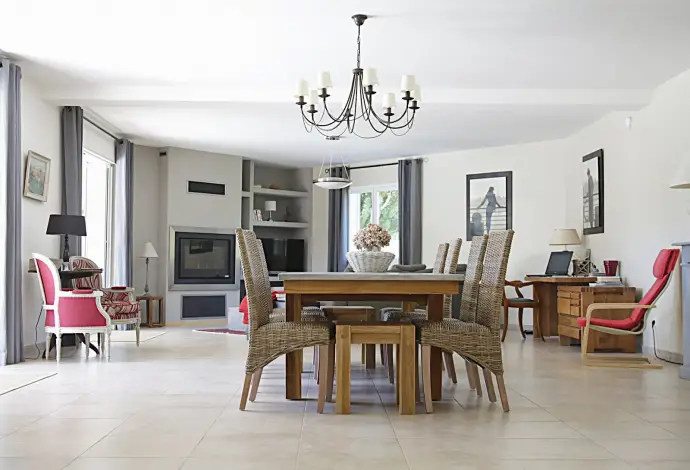 If you're not planning on living where you are for very long, and won't be moving the furniture with you when you go, maybe you're only looking for furniture that will last a year or two. If that's the case, it would make sense to buy cheaper, lesser-quality furniture that won't last very long.
But, if you are planning on keeping your furniture for a long time, it really is worth the investment to buy quality. Jamie Fielden from SWJames.com advises investing in high quality furniture that is comfortable and will retain its shape for many years to come. For instance, they've brought the classic, long-lasting quality of the Chesterfield design back to life with solid oak, kiln-dried frames, luxurious leather, intricate wood legs, and polished brass details.
Buying high quality, long lasting furniture will not only be a long-term financial win for you, but you could also be creating a family heirloom that will be cherished for years.
Spend Your Money Where it Counts
If you want to incorporate as much quality as you can, but still need to maintain your budget, buy quality pieces that will really matter and enhance your comfort and lifestyle. And, think about how often you will use each piece of furniture.
Things like your bed, your sofa, and even your eating area are things that will be used a lot more often than a beautiful armoire that will barely get touched. Spend your money on the things that you need to last the longest.
Where's the Best Place to Save Money on Furniture?
You always have the option of shopping at furniture stores in your area. You'll find plenty of styles, varieties, and price points. But, be prepared for the furniture salespeople. Your budget can quickly be blown by a pushy salesperson trying to increase their commission.
You'll notice more and more furniture available online lately. And, there can be some real advantages of buying online. You don't have to deal with any salespeople. You can find exactly what you want from the comfort of your home. And, you can plan your budget better, looking for the right high-quality items, without any pressure to buy. The cost of delivery is even usually included when you buy furniture online.
The most important things to remember about buying furniture are knowing your budget, carefully measuring your area, and buying quality where it matters the most. You can always add more quality pieces as time goes by. But, in the beginning, focus on what makes you the most comfortable.