Working from home isn't for everyone – but during the coronavirus pandemic, it became a necessity for most office workers.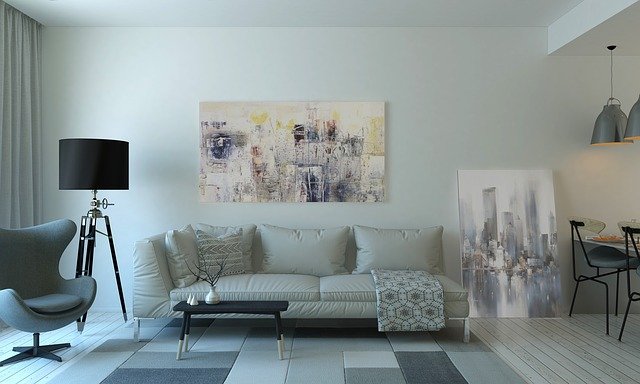 According to figures from the Office for National Statistics, 46 per cent of people in employment did some work from home in April 2020. Of that percentage, 86 per cent did so because of coronavirus restrictions.
And there's nothing like a pandemic to make you appreciate the space you work and live in. To battle the COVID blues, many took to DIY to spruce up their spaces, turning their lacklustre living rooms into luxurious palaces.
If you still haven't found the time to make your living room a masterpiece, then we're here to give you a hand with a few design hints and tips.
Luxury matters
Shelling out for top-of-the-line furniture isn't cheap, but it's often worth it in the long run as higher price points usually imply a better quality of product. And with better quality comes greater satisfaction.
To understand what we mean more fully, simply compare a sofa from a high-end provider like SM London to its high street counterpart. The former will let you slip into comfort like a warm bath, while the latter will leave you with a sore neck for the rest of your days.
Large items like sofas, tables and chairs, then, deserve a considerable budget. It might hurt to part with your cash, but a long-lasting product will turn your financial loss into a quality of life gain.
Add richness to your design
All the luxury in the world won't mean squat if you don't have the right colour scheme to match.
If you want to make your living room pop, drape it in vibrant colours like deep reds, purples and emerald greens.
Not only will your new colour palette look amazing, but it'll make your living room feel that little bit warmer.
Create a main feature
Gone are the days when rooms had to conform to the binary choice between wallpaper or paint. Now, feature walls are all the rage, allowing you to combine the two for maximum impact.
A feature wall is effectively a wallpapered section of your room, usually with an eye-catching design, to create an effective counterpoint to your painted walls.
We recommend browsing some of the incredible selection from World of Wallpaper, which provides paper particularly designed for feature walls.
Bring the fire to your home
A long day of working indoors requires warmth and comfort. After all, no one wants to feel like a starving artist in a nineteenth century cholera-ridden French garrison while they bang out a day's work.
That's why the installation of a traditional fireplace in your living room should be your first port of call to keep you toasty.
You can purchase a fireplace from your local branch of B&Q for less than £200, providing you with an attractive focal point and making sure you don't freeze during those long winter working days.
Those are our top tips to make your living room match-fit for living and working in. Got some tips of your own? Then let us know in the comments below.