The days are getting shorter and darker, which means that winter is well on the way.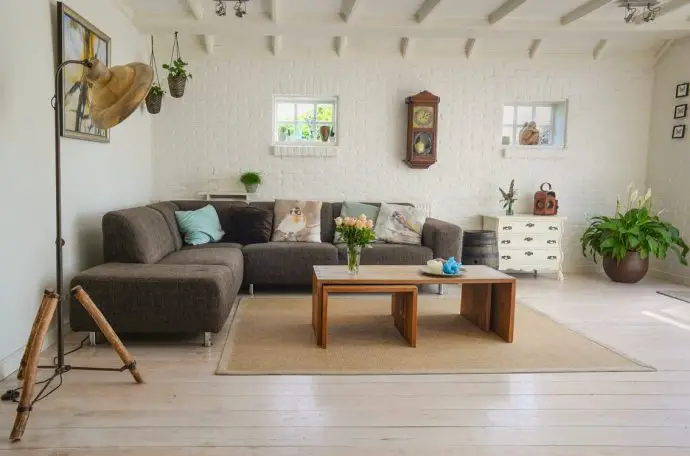 With daylight becoming weaker in the change of season, you might want to find ways to brighten up your home in the cold months ahead.
Here we have five tried and tested ways of making your home seem brighter and cosier for the months ahead.
Change your Colour Scheme
Your colour scheme plays a large part in how light is reflected around the room, and darker colours will absorb light, meaning that the room could appear darker.
Changing your colour scheme to lighter colours and having lighter shade of soft furnishings will help to reflect any naturally occurring light.
You can use tools like the Dulux Colour Chart to browse and choose paints that best fit your dream colour scheme.
Avoid Heavy Curtains
Having heavy curtains around windows can soak up natural light and prevent it being distributed around the room.
Swap curtains for blinds to reduce the amount of light being absorbed around the window frame.
Be Clever with Your Lighting
Although most houses have ceiling lights, other more subtle lighting can be overlooked, when it can provide the most understated effect.
For softer, more atmospheric light, you could try placing table lamps on sideboards, bookcases, and coffee tables.
With companies like Rockett St George, you could even add a splash of colour to your pale décor with a variety of lamps like the world's most unusual orange table lamp.
Use Mirrors and Metallics to Reflect Light
Mirrors are a great tool for reflecting light back into a room, and simultaneously making rooms appear much bigger by creating the illusion of borrowed space.
You can buy small mirror 'tiles' that have adhesive backs, which can be used for smaller spaces, or even invest in a statement mirror with a fancy frame to create a centrepiece.
Place a large mirror opposite a window for the biggest effect on your lighting levels, and introduce metallic colours in your furniture, fabrics, and paint to create some additional reflections.
In fact, having statement pieces of furniture in a metallic shade will contrast with paler colour schemes – for example, gold and silver both works well with white furnishings. You can even buy wallpaper that is slightly reflective that will help to spread the light around your room.
Clear Your Garden
Before the cold and rainy weather gets going, it might be a good idea to do some garden work to trim any hedges or bushes that may block your windows. Ivy can cause you plenty of plant life problems by blocking the light if they grow too far over windows, so it's a good idea to keep on top of them.
Spend some time with your secateurs and shears, but if you don't fancy doing it yourself, you can use websites like CheckATrade to find gardeners in your local area.
Do you have any tips for creating more light in the home? Leave your answer in the comments below!