Whether you're a frequent flyer or have never flown before, we all know that boredom hits hard when having to wait at the airport. Arriving early, having a delay and layovers can leave you with hours and hours of free time on your hands. Due to the increase in airlines and flights today, travelers spend more leisure time at the airport. What you do with it determines how tedious your time at the airport can get. Some people use the time to  There are a number of things you can try to keep yourself occupied to avoid frustration and a painful experience.
Explore the Airport
You could take a stroll around the airport and explore what kind of services, people, and interesting things it entails. Many airports have lounges and bars where you can spend a little of your time. Grab a bite to eat at a place you haven't eaten or if you've eaten at all the restaurants the airport has, try something a little outside your normal to experience new flavors.
Or Take a look around and people watch. You'll notice some interesting things about people and realize small details that go into making an airport run. You may even catch some security action that will keep you entertained. Talk to someone next to you and get to know them. You'd be surprised at what you could learn from a stranger. Everyone has their own story and its always interesting to experience someone telling that story. Learn their favorite travel places or travel experiences to help you decide where you would want or not want to go next.
Network
Because there are so many different types of people, having leisure time at the airport grants you the opportunity to network with the people around you. You could meet your next business partner or get a new position. Being open and conversational with those around you could lead to endless possibilities.
Grab something to read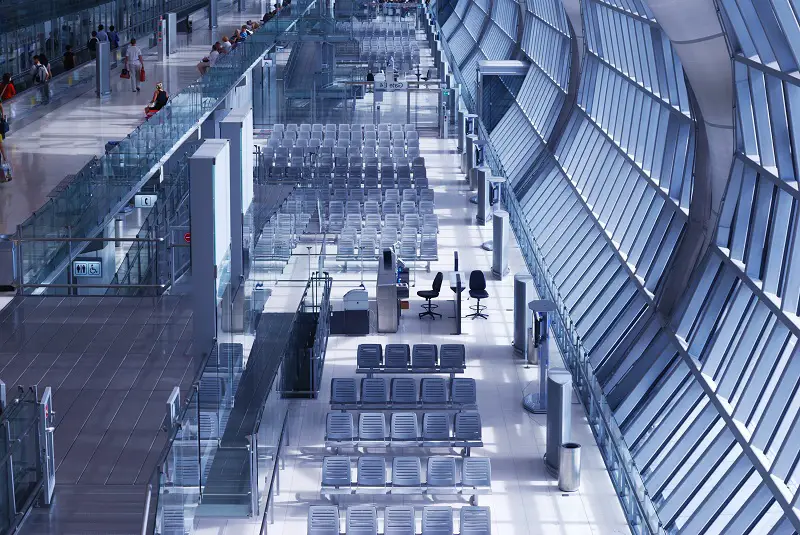 Reading is not only a great pass time but also a great way to expand your vocabulary and your mind as a whole. Kick your feet up and take time dive into some interesting characters in a new novel. If you don't enjoy reading novels, try a magazine or newspaper to get updated on what's going on in the world. Either way, you will be maximizing your time waiting by educating yourself. You will see many people around with their faces in a book as this is the most popular thing to do to waste time at the airport.
Exercise a little
While reading is one of the most popular things to do, working out is the least. It may feel awkward to jump up out of nowhere and start doing push-ups, or jumping jacks because there are so many eyes around you. If you don't feel comfortable doing something like this, don't worry, you could easily take a walk around the airport. While it is easy to stay sitting idle for the duration of your time, moving around is healthier, and doing a few simple exercises will not only make your body feel better but burn some calories. Working out while you're traveling has its advantages.
Here are some easy exercises you could try while you wait:
Squats
Lunges
Wall sit
Chair push ups
Stretch
Meditate
Shop around
If retail therapy is your thing, this will probably be the first thought in your mind as something to do with your free time. While you are on your stroll around the airport stop in a few stores and shop around. You could grab some souvenirs or gifts for your friends and family as well. Airport shops can be a little expensive so if you're not intending on spending extra money but still want don't want to sit in boredom, window shop to stay occupied.
Watch a movie or catch up on your favorite TV shows
Having technology always in the palm of our hand or nearby make it easy to stay occupied while we're waiting for something. Social media especially helps with boredom and gives us something to look at while we sit idle. Walk around an airport and the majority of the people there will have their faces in the phone or using some kind of device to keep them entertained.
While some are scrolling on their feeds, others are watching video or listening to music. Streaming movies and other media online has become easily accessible. More and more people are turning their attention to apps like Netflix, Hulu and HBO Go to catch up on their favorite shows. You can stream all kinds of movies and shows on any of your devices at any moment in time due to the advances we have today. Take advantage of this and keep yourself entertained during the painstaking wait at the airport.