There are some items that you gather throughout the progression of your life that have sentimental value. These things shape who we are and influence our lives. The journey a boy takes to become a man is a challenging one, but there are a few things that help you not only discover yourself but create yourself. On that note, here are 6 essential items every man should own to win in life.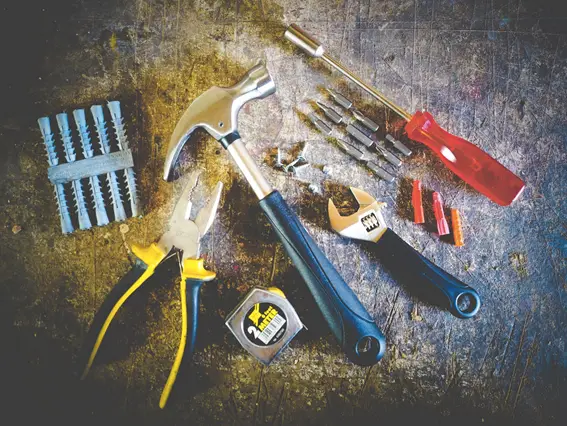 Every man should have his own tool box that has incurred a little wear and tear. Something about your own tool box makes a man feel like he can conquer the world as he takes matters into his own hands. Being able to independently fix anything provides us with a sense of accomplishment and confidence. Ultimately, every man should have his own treasure chest that includes essential tools such as measuring, electrical, and duct tapes, screwdrivers, a hammer, a drill, saw, and safety gear. This toolkit will become one of your prized possessions that helped you build and fix the contents of your home. Thanks to these items, you no longer have to worry about handling basic to moderate handyman problems.
Listing a watch as one of the most essential items to have might surprise you since we can all tell time on our smartphones. But, a wristwatch does more than that. Owning your own watch is a powerful accessory that represents your individualism. It complements any outfit and it's timeless. It's a special part of manhood when you pick your very own watch and learn to appreciate it. After all, you shouldn't rely on your phone to check the time since every time we do, we end up scrolling through apps and completely forget what the time was. 
A pocket knife is an essential item every independent, self-sufficient man should carry with him. Aside, from the fact that it truly reflects one's personal style and taste, this versatile tool comes in handy in various situations such as simple tasks like cutting open a package or slicing a piece of fruit to carving or sharpening an object, and emergency situations. It's no surprise that pocket knives are highly sought after by men of all generations since they may be used for multiple purposes. Whether you're a camper, fisherman, or handyman around the house, you'll benefit from its functions. 
Now there are some men out there who are determined to never own a tux, but even if you're adamant about sticking to your surfer lifestyle or bohemian tastes, you should still own at least one custom-made suit and here's why: There is no stronger connection you'll have to all the great men that came before you than by wearing the uniform of said great men. You'll immediately feel a sense of self-worth and confidence and this will encourage you to stay in good physical shape. Furthermore, you'll always be prepared for someone's professional event, wedding, or special occasion. First impressions matter, and a suit will show people that you're a sharp, classy, and distinguished man. 
Tom Ford believes that every man should wear a signature scent which is why most of his colognes for men are bold, rich, and inspiring, solidifying the way a man should feel about himself. Studies show that our memory and emotions are linked to smell; therefore, a scent can establish or reaffirm our connection to a person. Choosing your own scent will help you convey the person you hope to be and ensure that people remember you and all those great qualities you possess. 
Barbecuing your own beef cuts seems to be a rite of passage for men all over the world. In fact, men usually bond with their fathers, sons, and friends over a grill. Grilling is considered to be sort of dangerous and dealing with fire allows men to recall their primal instincts. Therefore, owning a BBQ grill will help you get in touch with your innate desires. While some people may roll their eyes at the stereotype, every man who takes over a grill quickly finds fulfillment in the task, not to mention the great steaks!  
A man who seeks to be better is one that finds success and happiness. These 6 items may seem rather ordinary, but it's the sentiment and influence of these ordinary items that provide you with the strength and motivation to live your life the way you want. This isn't about living a materialistic life; this is about learning to take control of your life and be proud of the man you've become.