Impressive culture, turquoise water, mouthwatering dishes; Santorini is a paradise on earth. It is one of the unique islands in Greece that is a must visit at least once in a lifetime.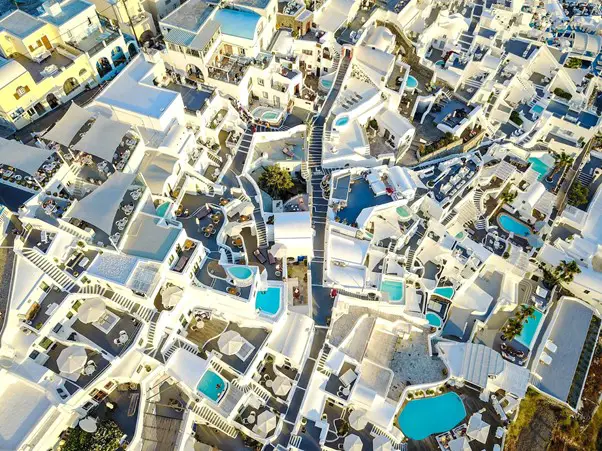 Whether you are a beach lover or want to enjoy breathtaking scenery, there's so much you can do! If you're planning to go on holiday in Greece, take time to experience the beauty of this island.
Not sure about what to include in your itinerary? I can help. In this post, I highlight eleven fun things you'll certainly enjoy in Santorini:
Go on a cruise in Caldera
The Caldera is an aftermath of volcanic activity. The bowl, like volcanic depression, lies in the bay. Sailing around the Caldera is quite refreshing, particularly at sunrise or sunset. Although there are many tours that you can take, you also have the option of chartering a private boat. Click here to make a reservation.
Take a swim at her red sand beach
The Red sand beach lies next to Akrotiri, an ancient site. This little beach has varying shades of red that you can easily spot from the headlands should you decide not to pursue the rocky path on the sidelines of the mountain to the beachfront.
See the sun set in Santorini from Oia
If you ever want to see the most stunning sunset in the world, then Santorini is the place to be. Watching the sunset in Santorini from Oia is one of the things that attracts tourists from all over the world. Watch out for the prime spots where you can get the best view of this wondrous scenery, the most popular being Byzantine Castle ruins. While here, you'll be treated to stunningly gorgeous sunset views it is also an opportunity to gaze at the panoramic view of the city.
A word of caution; this viewpoint attracts crowds so be sure to get there early!
You can then catch the sunset from Akrotiri lighthouse while dining at the restaurant that overlooks the Caldera.
Have a feel of the local life in Pyrgos
Step into Pyrgos, Santorini's largest preserved village, to experience a blend of medieval charm and cheerful vibes with a backdrop of eye-catching scenery. This village sits at the peak of a quaint hill and is dotted with labyrinths, greenery, fortified walls, Cycladic houses and taverns.
Take a walk along the narrow passages, look out for the stray cats strolling on the paths, stop and shop at local stores and join the merry chatter in cafes and bars. Don't miss a tour of Pyrgos Castle that sits at the top of the hill.
Indulge in wine tasting at Santo Wines Winery
If you're a wine lover, then you'll certainly appreciate a tour of Santo Wines Winery that is also a great place to catch a spectacular sunset in Santorini.
That's not all.
You also get a rare chance at Greek wine education by indulging in a wine tasting flight. Imagine having an eighteen-wine flight. That is, you get a chance to taste eighteen different wines with cheese while overlooking a spectacular view. Be ready to experience a bit of everything; from a romantic rose to a rich crescendo and dry Assyrtiko and more!
Hike atop a volcano
Hiking to the top of Nea Kameni is one of the best things you can do in Santorini. You'll need to take a boat ride from the mainland. You can purchase tickets at the old port at Fira or charter a private boat as this is one of the highly rated trips that includes a visit to hot springs. You can swim at the hot springs (the water is lukewarm) and take the therapeutic advantage of the red soil. This hiking tour takes you to the crater from where you get to take a steep and rocky climb to the top. Along the way, you'll get a rare opportunity to see smoking craters, incredible lava formations and fantastic views.
Experience history at an archeological excavation site
Greece is known for its rich history and Santorini doesn't disappoint!
The Akrotiri archeological excavation site has ruins from Akrotiri city that was buried through volcanic eruption in 1700BC. The first habitation is estimated to date back to the late Neolithic period (4th millennium BC). This visitor friendly site has walkways that lead you round the perimeter. You'll do well to take advantage of the services of a tour guide especially if history makes you come alive since there are not so many information pamphlets or placards.
There you have it…And the list is endless.
Santorini is a rich gem with a unique landscape making it one of the must visit spots in Greece. Be prepared to fill your days here with many fun activities and attractions to see.