The worth of a picture is compared to a thousand words for a good reason. The main reason is that a single picture could communicate a broad range of meanings depending on the perspective from which you look at it. These meanings could be expressed through colors, shapes, shades, lighting, and so much more. Precisely, this is what art and design are majorly about.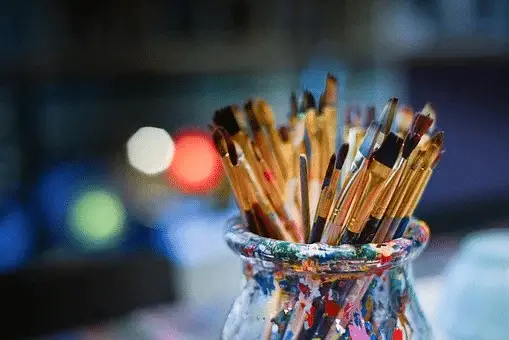 While there are various forms of art, this piece will have a larger bias on visual art and design elements. If you have an interest in paintings, drawings, or similar forms of art, you must have heard of names like Leonardo Da Vinci, Michelangelo, and Artemisia Gentileschi among others in the list of the most famous painters in history. This aside, art and design elements go a long way in elevating décor in residential and commercial spaces. With some skills and talent in this discipline, one can have a world of great opportunities to inspire, educate, communicate, learn, and earn decently. This is especially if you are creative enough to come up with unique impeccable work from scratch. Just for some inspiration, below is a brief list of awesome art and design ideas you cannot miss.   
1. Paint Something on Empty Vodka or Wine Bottles 
Most people will take the old wine bottles and store them away or off in the bins they go. These, however, can be put into decorative work if at all you have an artistic mind. You don't really have to be a pro to make something out of them. The correct pattern of colors painted on them would do just great. In her post on the Top Five Fundamentals of Art, renowned artist CecelyV shares a bunch of tips that beginners can find helpful. The post recommends understanding Art aspects like form, light, drawing from life, and perspective. These are all tips you can utilize in your wine bottle paintings.
For starters, you can try making an image of something and stick it on your wine bottles. You can then display your final piece anywhere in your home or use it as a vase for a houseplant. Here, it's all about your creativity and some basic knowledge of art.
2. Graphic String Art 
Do you know how to embroider? If so, this painting would be ideal for you. Basically, all you need are some brightly colored ribbons and, say, some beads to finish it off. You can make any design you like with different hues of embroidery thread. For example, you might write a message on it that says something like "relax, work hard, love," or whatever else you want to say to the world. You can make something unique, have some fun in the process, and enhance your talents using the most basic of stitching abilities.
3. Balloon Garland 
If you want to be the most stylish friend in your crew, you might want to learn the trick behind one of the most popular decor trends: balloon gardens. They're simple to build with only a few materials, and they look fantastic on a wall or in an entryway. Make them your own by choosing sizes, shapes, and colors that complement your theme. Being smart with colors for your house or crib is quite essential. Once done, make sure to hang your balloon garlands strategically so anyone coming in can see them. You wouldn't want to hide all that beauty in the basement or attic.
4. Photo Collages 
One of the things that make art so precious is its historical validity. We cannot, however, ignore the impact that technology has had on the field of design art. Making a photo collage simply entails getting a few images from some of your most memorable days and cutting them out into shapes of your choice. From there, all you have to do is stick them on a piece of canvas or anything that will create a reliable support background.
While you can accomplish this with your hands, you can also use picture collage software to combine different pictures before printing your final copy out for visual display. This gives your photo collages a modern touch, plus you will always have the digital copy for purposes such as sharing with friends. Moreover, there's a diverse range of photo collage techniques and apps out there. Some of them allow you to apply different effects when modifying your photos to achieve a particular theme, mood or portray a specific message. Only your creativity will limit you.
5. Drip Painting 
Someone once said that art doesn't have to be complex to be awesome. The logic behind that remark is exemplified through drip painting. It is created by allowing the paint to flow down a canvas, resulting in stripes. Your major task will be to adjust the kinds of paint dripping on the canvas, selecting the ones that will truly blend together to create something amazing. This art can always be hung someplace in your home. It's a fantastic painting, as basic as it appears. Make sure to try this one out the next time you feeling like getting dirty with some paint.
Art and design is quite an interesting field. Anyone can try it and take it up despite their level of education. You can even make your own creative work to spruce up your home décor. All you may need are a few tutorials online and you are good to go.