When we travel or do things we enjoy we tend to take a lot of photos in order to save those moments in time forever. Thanks to the landscape or the people we are with, those photos end up looking great but what if I told you it's possible to make them even better? This is where photo editing programs come into play. With such a program you can change, enhance and even improve photos, revealing their true potential. One of the best programs to do this with is the Movavi Photo Editor. Below are some tips and tricks on how to modify your favourite photos.
What can you do with Movavi Photo Editor
Movavi Photo Editor is known for being very user friendly and also for being a free program for Windows. One of its much praised features is the ability to enhance images with a single click. It's called the Magic Enhance and allows you to improve the quality of any photo in a very simple step. However, Movavi also has advanced editing options such as color correction tools for total precision. These would require a bit more work on the user's part but the results can be outstanding.
Another tool you'll find irreplaceable is the retouching tool which will allow you to crop, rotate and even straighten photos in order to achieve more pleasant results for all your profiles pictures and portraits.
Another very useful tool when it comes to computer space and images taking too much of it, is the compression tool. It allows you to compress photos without losing any quality, in order to be able to create, edit and save even more photos without running out of space.
Movavi is a very promising photo editing program that has managed to stand out from other photo editing apps filled with filters. One of its features that have set it apart is its object and background removal tools which allow users to truly create magic on their photos, completely transforming a boring photo into an amazing photo that can make anyone smile and admire.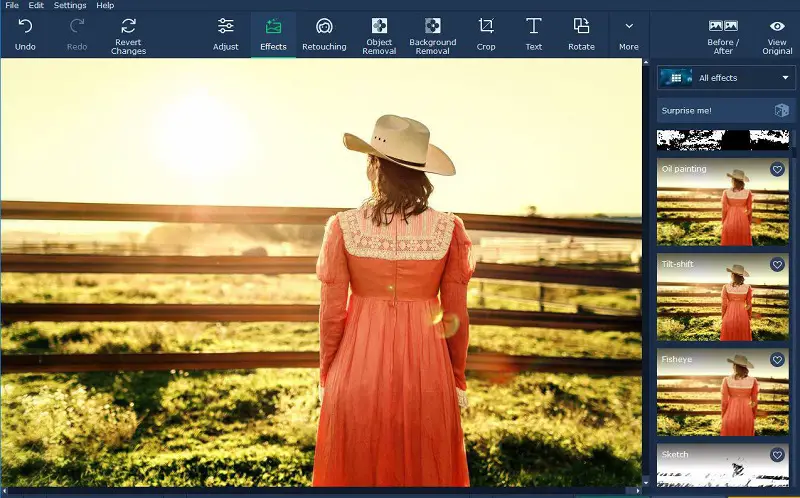 Conclusion
Movavi Photo Editor is a unique photo editing program that combines the best of all we know so far such as filter, quality and color enhancement and more but also adds its personal touch with a clean interface that makes it easy to understand for new users.