Atlantic City has become a favorite destination for fun seekers and leisure tourists from all over the world. Located on the Jersey Shore, this coastal city is a haven for some of the most popular casinos in the United States. Many put down the expansive growth and popularity of this coastal resort city to its geographic location and rich history.
However, the opulence and luxury of Atlantic City's casinos have turned the city into the leading gambling on the East Coast. It's hard to tell how many casinos are in Atlantic City. Still, with more than 27 million visitors each year, the city's hospitality and entertainment industry has evolved over the years to produce some of the finest New Jersey casinos.
The Borgata
The Borgata has lived up to its Italian translation 'little village' since it opened in 2003. Owned and operated by the Marina District Development Corp.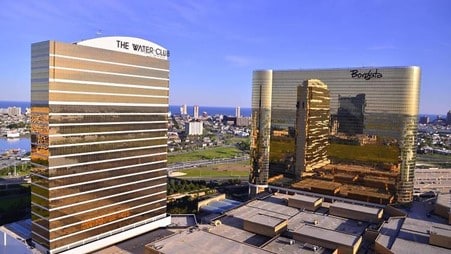 The Borgata Hotel Casino has been a major contributor to the growth of the entertainment market since its opening in 2003. This casino adds to the New Jersey casino revenue, making the industry a fast-growing and innovative arena. Along with other casinos and sportsbook operators, this casino has paid over $526 million in taxes for 2022.
This high-rise building carries a mix of modern and Italian Gothic architecture and serves its adjoining casino and spa. Its long floor plan is bounded by two circular ends. Tourists identify this unique structure by the bold Borgata signature. It's framed with fluorescent lights.
In addition to its exquisite design, The Borgata has state-of-the-art rooms and facilities that make it very popular. Along with its Casino, this four-star resort also has a spa, a fitness center, an outdoor swimming pool, a nightclub, and a restaurant. Several delicacies are served at the restaurant, from high-end Italian fare to classic American cuisine.
Sitting on 161,000 square feet of premium real estate, The Borgata boasts over 4,000 slots and 200 game tables, making it one of the best casino in Atlantic City.
The Casino also offers 2,000 guest rooms and 70,000 square feet of event space for fashion and live shows. This resort also has adequate parking for over 5,000 vehicles, and guests enjoy a relaxing stay without any security risks.
The Golden Nugget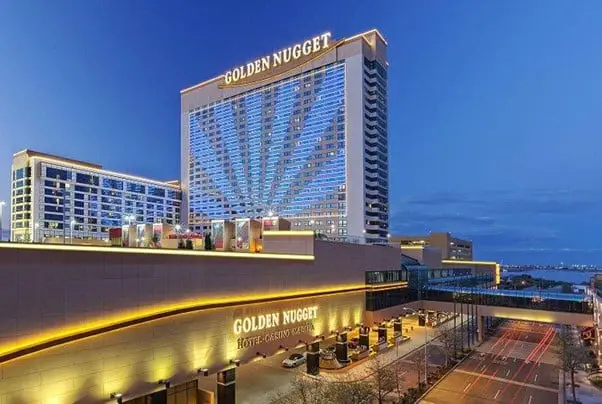 This huge tourist favorite has undergone many significant changes since its initial establishment. The casino has also undergone several renovations to get its new modernist feel in the past decades. Nevertheless, the resort retains much of its original Barbary Coast style.
The hotel's main entrance displays its letters curved against a royal gold background. Large arched windows shaded with white awnings dominate the walls facing Fremont Street and Casino Center Boulevard.
The resort interior carries an exquisite white and gold theme, just like its external facade. Glass globe chandeliers and carved wooden furniture lend more credence to the luxurious ambiance.
Sitting on over 14 acres of real estate, this casino boasts 27 floors and offers 717 guest rooms. The "gaming area" covers about 74,000 square feet of floor space and has five video walls for guests. There are also more than 50 TVs in the sports betting area for sporting events.
The Golden Nugget also has lots of other facilities for visitors to explore. The most popular facilities are the health spa, an outdoor heated pool, tennis and basketball courts, and a jogging track.
This spot also hosts live music shows in its 462-seat theatre, event space, and a 2,000-capacity ballroom. These facilities help provide alternative entertainment for visitors as they take breaks between games.
The Tropicana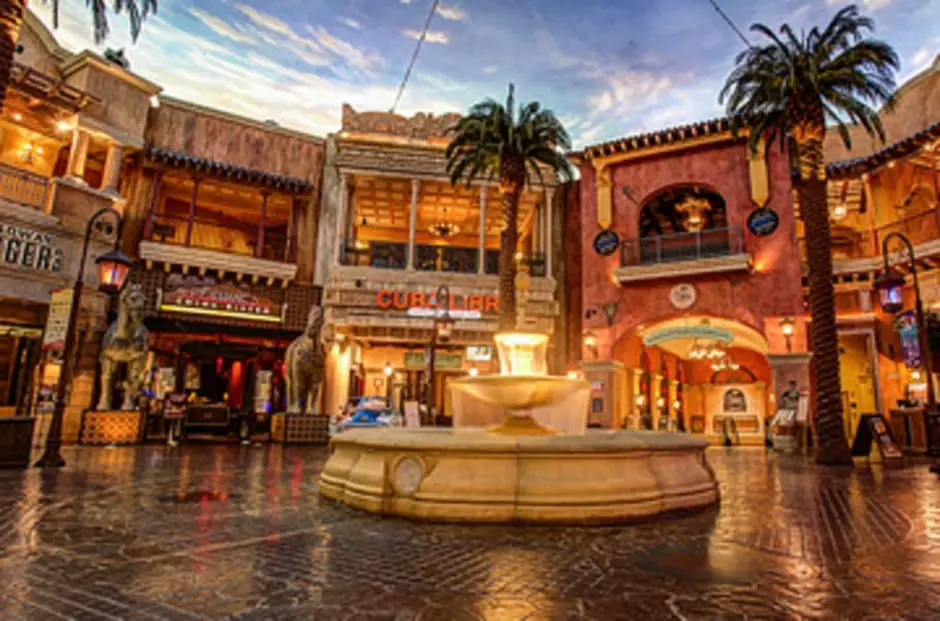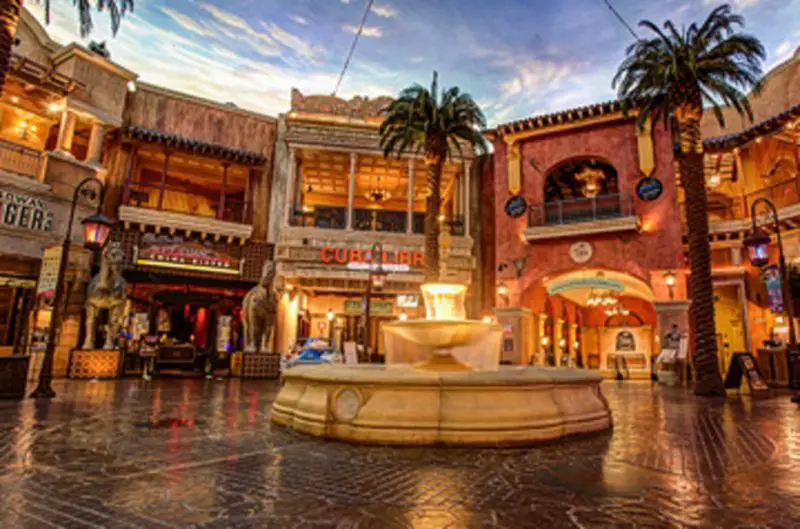 With over $200 million spent on renovations in 2016 alone, The Tropicana is a popular casino in Atlantic City. The Resort is operated by Tropicana Entertainment and is located at Brighton Avenue on the Boardwalk.
This Atlantic City casino retains much of its original Old Havana theme and has an expansive area of about 148,000 square feet. The Tropicana Casino offers more than a hundred table titles, a poker room, and an Asian-themed arena. Guests also have access to more than 3,000 slot titles to choose from.
Folks access various bonuses and rewarding prizes from this casino. The no-deposit bonus is the most-competitive option for new visitors; learn about such a promo from the expert review by NJCasimile, and how to claim it. Using such a bonus should help make your experience better and boost your bankroll.
All the rooms in the Tropicana are stylish and spacious. They also offer guests a full view of the coastal city and the ocean. In addition, players get to explore different intercontinental cuisines in each of its 20 restaurants.
The four-star casino resort offers a wide range of relaxation options to provide maximum comfort to guests. These facilities include two swimming pools, a gymnasium, a nightclub, and an IMAX movie theatre. The Tropicana is also one of the most child-friendly tourist traps in the city.
The Caesars Palace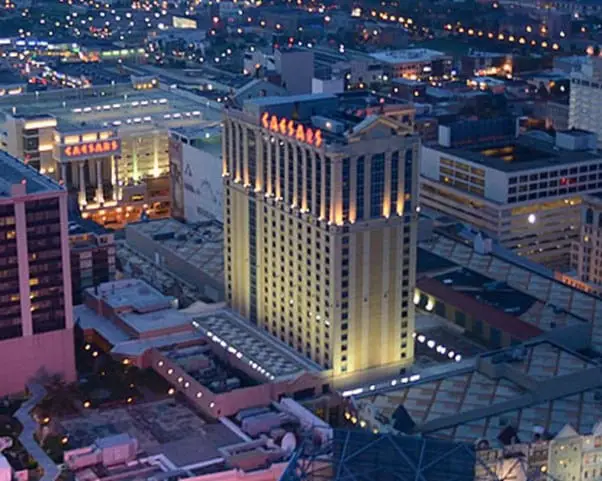 Caesars Palace holds a reputable position among the Atlantic City Casinos in the region. Visitors to the coastal city can easily identify the resort by its unique ancient Roman theme. This resort has four different gaming zones spread across a 145,000 square feet area.
As one of the biggest casinos in Atlantic City, the building has undergone extensive renovations. One of its most notable additions is the 25-floor centurion tower which was added in 1997.
With over 3,000 slot machines and 135 slots table available, this place remains a huge favorite amongst punters. The resort also provides semi-private seating and a 36-foot video wall for visitors to enjoy the races.
Visitors will find the ambiance of the spacious Greek-themed hotel room too immersive to break away from. And if they ever manage to do that, there is a classy shopping center and Playground Pier they can always check out.
Conclusion
If you are searching for a perfect blend of comfort, luxury, and finesse, look at the most beautiful casinos in Atlantic City. Each of these tourist traps offers every visitor a unique and unforgettable experience. Casino resorts also provide a wide range of entertainment options for tourists to enjoy while taking in the most famous landmarks in Atlantic City.
With lots of exciting game titles and state-of-the-art facilities, visitors enjoy weekend getaways or month-long vacations by lodging in any of the resorts listed above. Are you planning to hit the coast soon? Visit an Atlantic City hotel to see these exciting features for yourself.
This article provides a map of Atlantic City casinos to help you find your way around them.