A sea of ice surrounded by land vs an entire continent covered by an ice cap. Long-inhabited vs inhospitable. cold vs very cold. When weighing up the characteristics of the Arctic vs Antarctic, which is the ultimate charter destination for the truly adventurous?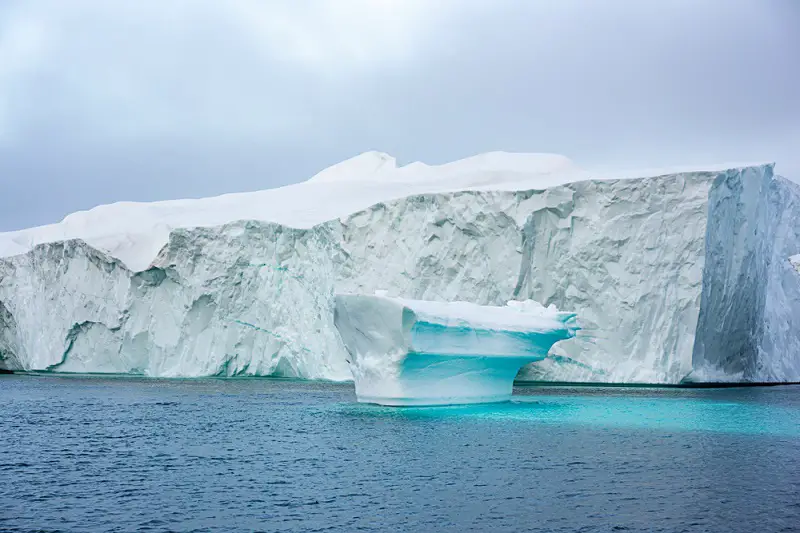 There is no doubt that the Mediterranean and Caribbean are the world's most popular cruising grounds. What's not to love about Croatia's sun-kissed beaches, Venice's rich cultural legacy or Antigua's rum-soaked parties? But as delightful as all three may well be, more and more yachting enthusiasts are expanding their horizons, lured by the excitement of Arctic adventures and Antarctic sailing expeditions.
Although both regions are known for below-zero temperatures and pristine landscapes, the Arctic and Antarctic are vastly different, as are the experiences each offers. From sipping drinks poured over glacier ice in the middle of the Ross Sea to seeing a 500kg polar bear in its natural habitat: here's a taste of each pole's envy-inducing possibilities.
The Antarctic is… floating through castle icebergs and glimpsing blue whales
You'll see no towns or even houses on Antarctica, apart from the odd research station or expedition hut. In fact, the frozen continent's extreme cold, challenging remoteness, and surreal scenery make the Antarctic unlike any other place on the planet. It's also where you can interact with some of the globe's most extraordinary species: imagine mingling with gentoo penguins, seeing albatrosses circle above the yacht dipping their giant wings in the water or catching the occasional whale spout!
Bucket-list activities include climbing rugged peaks, kayaking through icy waters and polar snorkelling. Snooping around the huts built by Scott and Shackleton or cruising past dazzling castle icebergs by means of the yacht's Zodiac are another two spectacular highlights of exploring the world's most southern continent. Charterers who have succeeded in ticking Antarctic sailing expeditions off their 'cruising-list' can vouch for it being a trip like none other.
The Arctic is the magic of the Aurora Borealis and seeing a glacier calve
Not many super yacht charterers can say that they made it to the Arctic, but the ones that have will attest to the rewards being second to none. Visiting Alaska's remote, windswept towns and seeing Norway's Northern lights dance in the sky are only two of the many extraordinary Arctic experiences that come to mind. Passionately told stories involve paddle-trips through Alaska's many rivers and/or (snow shoe) treks through the state's stunning national parks, perhaps glimpsing a lone moose, a wolf or even a bear.
A luxury yacht brokerage's charter expedition could give you access to thrilling afternoons spent ice-fishing, snowmobiling or floating in a natural hot spring. Descriptions of Norway's craggy peaks and vast skies are also sure to catapult the Arctic to the top of your travel list. North of the Arctic circle lies Greenland, home to sharp summits, glaciers and some of the world's most impressive fjords. It's where the adventurous-minded go sea kayaking, dog-sledding or fly-fishing, while white-tailed sea eagles dip and dive overhead.
Arctic vs Antarctic: The verdict
Both the Arctic and Antarctic are as far afield as you can get and a challenging destination to navigate, making it an ideal choice for adventurous yacht travel. Both regions' unfenced wilderness, peaceful solitude and raw power of nature make for about as unique a travel experiences as you can have. The jury's out on which is best as they each shine as singular charter destinations. But one thing is clear: whether you've got your sights set on experiencing a humpback whale breech or being awed by the crystalline world of the Weddell Sea, you're sure to have the trip of a lifetime.