It's hard to disagree with the opinion that the look of your bed can make or break the overall atmosphere in your bedroom. So, if you want to lend a particular charm to your bedroom, you should consider investing in quality bedding. It will not only spruce up the look of your bedroom but also help it feel more personal and welcoming. 
The bed is the first thing your visitor's eye falls on when they enter your bedroom. And you definitely want to make this focal point even more aesthetically appealing and cozy. Most designers go for stylish pillows, luxury throws, and decorative cushions when it comes to dressing their beds. But it's not necessary to be a professional to make your bed look stunning. Below are some hacks that will help you adorn your bed like a pro.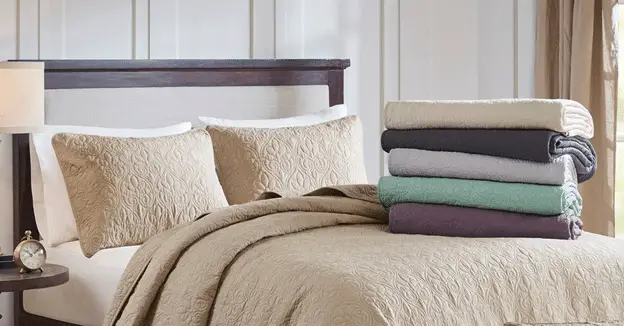 Choose Bedding Wisely
The first thing most customers pay attention to when looking for bedding is visual appeal. And while this criterion should in no way be ignored, you should also consider quality.
You want to do some homework before making a purchase. After all, there are so many great linen stores online for you to choose from.
It's also a wise idea to learn more about the most popular materials used in bedding. You can never go wrong with pure cotton duvets, sheets, or pillows. Also, make sure your preferred item has an optimal thread count. Normally, 400-thread count linen boasts the best durability properties. What's more, the high thread count ensures a smoother feel and more wear resistance. If you need bed coverings for decorative purposes, polyester, microfiber, bamboo, or tencel options can be your best bet. You can also opt for traditional linen bed coverings with decorative edges. Not only will they provide more comfort to your body but also elevate your space. To add a more luxurious and sophisticated look to your bedroom, go for silk, modal, and bamboo viscose. Note that manufacturers use only the highest quality materials for luxury bed linen. Therefore, they cannot be inexpensive by default.
Double-Sided Bedspreads
If you're on the lookout for a universal bed covering that can instantly help you enliven your bedroom, a double-sided bedspread is your go-to. Depending on your personal preferences and bedroom design, you may want to choose a nice duvet, throw, comforter, or even a traditional quilt to create a cozy, homey atmosphere. The reason why two-sided options are always a win-win solution is the ability to switch up looks based on your mood. You can get a duvet featuring a quirky print on one side and restrained floral ornament on the other. If you gravitate toward a more traditional aesthetic, choose reversible coverings with classic stripes or a houndstooth pattern, and monochromatic neutrals on the reverse side.
Let Pillows and Cushions Do the Talking
Sometimes your boring bedroom can instantly look refreshed if you put the right pillows on top of your bed. But to make the most out of this accessory, you should follow some simple rules.
First of all, make it your habit to always fluff up your pillows when dressing your bed. If you're using pillowcases, ensure the open side is hidden from view. For a finishing touch, consider investing in some elegant pillow shams. Look for the ones that can complement your bedding. Also, make sure your pillows are congruent with your bedroom's overall vibe and atmosphere. Remember that even one unwisely chosen detail can detract from the five-star-hotel look of your bedscape.
For a truly cohesive look, coordinate your pillows with your bedspread. Ideally, you should purchase the pillows that match your sheet, comforter, and bedspread not only in color but also shape and material. But if you're not much of a perfectionist, just make sure your top pillows match your duvet.
Want to instantly spice up your bedroom? Let the decorative pillows do the job. Accent or throw pillows are not only indispensable décor elements but also the surest way to bring out the personality of your bedroom.
Invest in some bold, bright cushions to add a particular flavor to your bedroom and your life! Small throw pillows are a great way to get rid of those unaesthetic gaps between your sleeping pillows for a finished look.
You can also experiment with layering cushions to achieve that 'straight from the magazine' look. But don't go overboard when picking your cushions. Always keep the size of your bed in mind. As a rule of thumb, you can opt for 3-8 decorative cushions. Also, be sure to group them by size, with the smallest pillow sitting at the front of your bed.
These are some simple recommendations that can help you dress a bed like a professional interior stylist and turn your bedroom into a relaxed and inviting sleeping oasis!