The outdoors are a personal space, which also means they can be decorated to suit your personal taste. What is more personalized than literally making the outdoors yours, through unique decor ideas? Outdoors are best decorated for summertime events or just spending time with family and friends on the weekends. However, this does not mean that you have to stick to traditional outdoor decorating ideas of all white furniture and green plants. Here are some innovative decoration ideas that will transform your outdoor spaces into beautiful ones.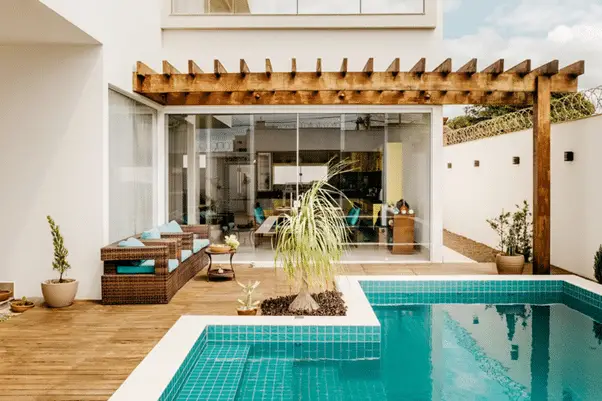 Furniture
The right outdoor furniture can help create an inviting setting for family and friends to gather. There are many types of furniture that can be used outside, but these days the most popular choices are made from wicker or cast aluminum materials; the wicker is typically made from either rattan vines or wood fiber which has undergone a steaming process. The material is lightweight and durable making it perfect for areas with high humidity or lots of rainfall, like coastal regions or near water features. Cast aluminum has become increasingly popular since its introduction in the 1950s because not only does it weather well, but cast aluminum furniture comes in many different colors and styles, some designs even mimic wicker furniture.
There are also other unique decorating ideas when choosing furniture, such as using tree stumps or stacking driftwood. Tree stumps are usually used in place of wicker furniture on patios or on the veranda so they can sit in a corner where they will not be knocked over easily by children/pets, but also provide comfortable seating with back support. Driftwood is typically used for tables and chairs instead of traditional wood because it provides rustic looks, especially when placed next to water features like fountains due to its material's natural look.
When choosing seating that will be comfortable for everyone, especially because outdoor spaces are used often add cushions. Different cushions for outdoor areas can be made from various fabrics like cotton or acrylic/polyester because of their durability and easy maintenance properties. 
With so many decorating ideas available on the market, there is definitely some furniture and cushions that will fit your specific tastes. As long as they are durable enough so they will not weather or fade away easily, you should feel free to experiment with various outdoor seating options.
Accessories
Accessories play a large role in any outdoor decorating ideas. Adding accessories helps to make a personal statement about your love for life outdoors and can turn any space into a beautiful one if planned well.
Accessories should not only be functional but also aesthetically pleasing too, so take your time when planning your decorating ideas because it will be worth it in the end. Some suggestions include:
Carpeting: outdoor rugs are great for creating focal points around seating areas as well as being aesthetically pleasing throughout the entire space

Pouffes: these give off great color and texture especially if they come from natural fabrics or have metallic textures with patterns

Vases & Planters: perfect to place near seating areas as well as water features to make a statement of freshness and life

Statues: whether they are new or antiques, statues can add an elegant touch of culture and history to your outdoor spaces
Remember not only the functionality of accessories but also think about how it matches with the overall theme of what you have planned for the space. This way, you will achieve a beautiful space that is welcoming too.
Outdoor Lighting
Outdoor lighting is important because it provides additional ambience to the area and can extend the time people are outside on summer nights after dinner has finished being served. Lighting not only looks great but lights up pathways so no one will trip or hurt themselves when walking around at night, which also prevents accidents for children who tend to run around without looking where they are going during playtime. Lanterns are very popular as homemade DIY lighting, either hanging them from tree branches or attached securely to patio beams or wooden poles, lanterns are great for lighting up the exterior of your home.
Entertainment Areas
Entertainment areas such as barbeques can be used for entertaining guests within your outdoor spaces with customised barbeque units that fit your patio décor perfectly. There are many types of barbeques ranging from gas to charcoal, so make sure the barbeque you are choosing is consistent with your overall decorating ideas.
Another great entertainment area for all outdoor spaces is games tables which include ping pong, cornhole, basketball hoop or even swings for children who may want to play outside after dinner has finished being served. Entertainment areas are helpful not only for keeping guests busy but also helps individual family members occupy themselves too. 
Outdoor decorating ideas are a great way to add functionality and beauty to your outdoor spaces. Whether you want to lounge around on comfy sofas while sipping lemonade or have a full-blown party with DJ's, food and games – there is definitely something out there for everyone. Whether is adding cool furniture or better lighting go ahead and plan your awesome decor ideas!