Although there's more to a person than their looks,  your style is certainly one of the first things people notice about you and it is an essential element to projecting a professional image. Being stylish doesn't only improve your image in your workplace; it helps you create an impeccable first impression wherever you go. If you want your style to speak about you without having to utter a single word, there is a list of essential items your wardrobe should have. This list includes the following items.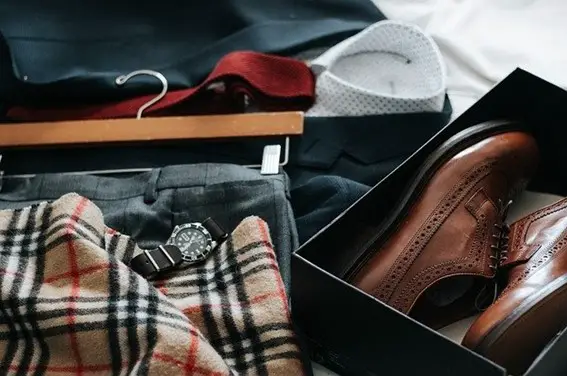 Shirts 
Let's start with the basics of the basics: your shirts. You need to choose your shirts well; you'll either use them as undershirts or wear them separately. As such, you'll need to start with the following:
White Oxford Shirt
You can never go wrong with a white oxford shirt; it's the most versatile piece of clothing you'll ever get. You'll find it a life-saver whether you want to wear it in a disheveled manner over a pair of jeans or if you want to dress it up with a formal blazer and trousers. You'll want to get one that's long enough to be tucked in your jeans but short enough to go untucked. 
Grey Crew-Neck T-Shirt
A grey crew-neck t-shirt is another versatile item that needs to be included in your wardrobe. Grey goes with practically every other color, so you can use it as an underlayer or wear it alone on a pair of black jeans. A crew-neck t-shirt will also suit all face shapes, so you can never go wrong with it. 
Formal and Semi-Formal Wear
Moving on to formal and semi-formal wear, you'll need these items to be prepared for the more important occasions in your life:
Navy Blazer
We could argue that it's best to get a full navy suit, but that's not always practical for everyone. If you're tight on budget, it's better to invest in a high-quality navy blazer rather than get a low-quality full suit. 
Medium Grey Suit
If you absolutely have to get a full suit, then you definitely need to go for a medium-grey one. You'll be able to use its jacket as a blazer on its own or dress up fully for a formal event. 
Dark and Solid Tie
Formal clothes will never be complete without a decent tie. It's best to stay away from patterned and colorful ties; you'd do better by choosing a dark and solid tie that can go with the blazers and suits you've bought. Your best picks would be a grey, navy, or black tie. 
Black V-Neck Jumper
If you're looking for the easiest way to look elegant, then you shouldn't look further than wearing a black v-neck jumper on a pair of formal trousers and the white shirt you've bought. Alternatively, you can just wear the jumper on a pair of trousers and enjoy the chilly summer evenings. 
Accessories
Can you really call it stylish if you don't complement it with a few accessories? If you're not sure where to start, you can never go wrong with these items:
Leather Wallet
Whether you're after a professional or a stylish, casual look, you absolutely need to get a leather wallet. Be sure to look around until you find the best vertical western wallet that can hold all your essential cards and money. You can take it a step further and carve your initials into a customized leather wallet if you want to make a statement!
Basic Beanie
Sometimes, you'll find yourself short on time during your rush. For those times when you don't have the time (or if you're just lazy) to style your hair, you can still maintain your elegance by wearing a basic beanie; just go for a solid and neutral color that goes well with a variety of colors. 
Decent Watch
If you can only choose one item to wear around your wrists, you should definitely make it a decent watch. You can go for a classic leather-band watch, choose a full-metal one, or just wear your flashy smartwatch. 
Pants
You can certainly wear your comfy sweatpants, but if it's the style you're after, then you need to get dark slim jeans and a pair of chinos. 
Dark Slim Jeans
The dark slim jeans will go great with a formal blazer, but they can still be worn with practically anything else. Slim jeans will also go well with a pair of lace-ups or loafers, keeping your options versatile. 
Neutral Slim Chinos
Likewise, the slim chinos will come to your aid during your formal events. Keep the colors neutral though; camel, beige, or olive will give you the utmost versatility, but you can go for brown as well. 
Shoes
When it comes to shoes, you'll only ever need two options: a pair of decent trainers and a pair of lace-ups. The trainers will allow you to dress comfortably, but be sure to get a sturdy and branded pair so it can last you for years. As for the lace-ups, you can never go wrong with a pair of brown or black leather shoes. 
You don't have to break the bank to become more stylish. If anything, you only need to develop a sense of fashion and learn how to choose items that go well together. When looking to improve your style, there is a list of essential items you can never neglect. Start by filling your wardrobe with basic shirts, formal or semi-formal wear, accessories, pants, and shoes, and you'll be ready to rock any outfit on any occasion!