Are your own photos stolen by others? Are your own photos used in other sites by others without your permission? If you want to prevent this situation, what you can do is add watermark to your photos.
WonderFox Photo Watermark is an easy-to-use software which can protect your pictures from being stolen or copied by adding watermarks to them. It's a great and effective way to protect the copyrights of your photos from unauthorized use using WonderFox Photo Watermark.
Main Functions of WonderFox Photo Watermark
Add Text Watermark
WonderFox Photo Watermark can let you watermark your photos by adding text, such as adding your name, the dates, a description or anything you want. Besides, after you add the text, you can choose the text effects, such as stroke, chalk, 3D, tag, hollow and more.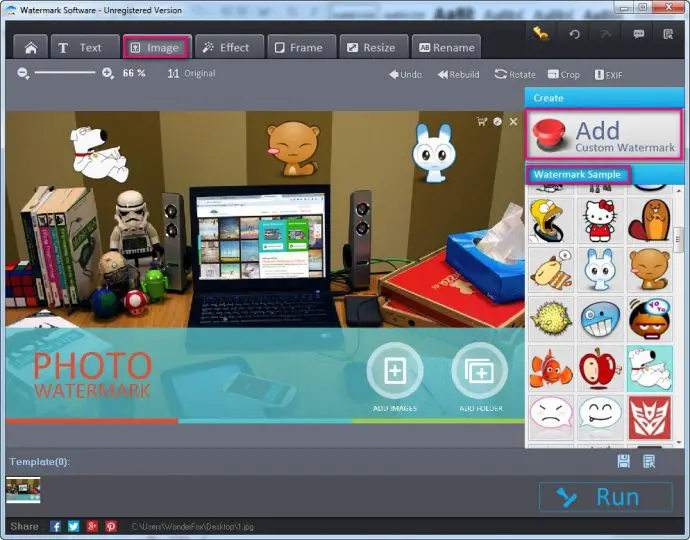 Add Image Watermark
If you want to add images to your pictures, there are two ways for you to do so. One is to select an image from the watermark sample, and the other one is to add custom watermark.
3.Add Special Effects to your Photos
Special effects can make your photos different. You can use the effects to make your photos more attractive. Once you click the "Effects" button, many special effects (including aged photo, lighting, mosaic, darken, blur, sharpen, elegant and green etc.) will appear at the right bar of the interface, so you can choose one of them from so many effects.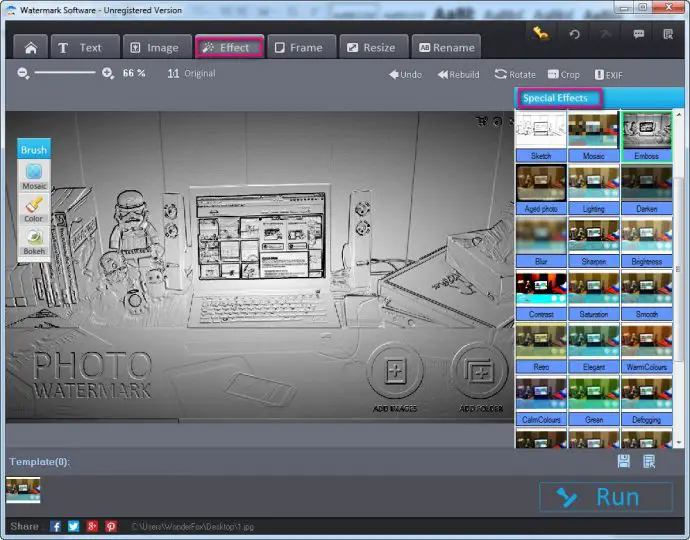 Support Many Image Formats
WonderFox Photo Watermark enables you to input or output many images formats, like JPG, GIF, BMP, PNG, TGA, TIF, ICO, PCX, etc.
Other Functions
Apart from the above functions, WonderFox Photo Watermark also has other functions. You can use this program to crop, rename, frame and resize your photos as well as edit your EXIF information. In addition, this software can also support batch watermark.
How to Use WonderFox Photo Watermark to Add Watermarks to Your Photos?
WonderFox Photo Watermark has an easy-to-use interface and you can easily finish the watermarking process.
Load photos which you want to watermark;
Add texts or select the images to watermark your photo;
Click "Run" to finish the watermarking process.
Final Words
If you share your photos without a watermark on the web, you never know what will happen in the next second. Perhaps someone copies them and republishes them for misuse. Watermarking can effectively protect your copyright and with WonderFox Photo Watermark, you can add a watermark to hundreds of photos in just 1 minute and can make good morning images for WhatsApp. If you want to protect your own photos, you can use WonderFox Photo Watermark.