Rwanda has invested heavily in her key tourist attractions and particularly the national parks attracting thousands of tourists each year. From tracking chimpanzees and mountain gorillas to seeing beautiful sceneries, Rwanda has a lot to offer. As a relatively small county, one can't help but admire the tremendous effort put by the government to position it as a leading tourism destination in East Africa. There is now so much to do in Rwanda and if we haven't convinced you by now then read this guide on Rwanda's national parks and see it for yourself?
Volcanoes National Park
The Volcanoes National Park is one of the oldest national parks in Africa, dating back to 1930 when the Belgium government established it. This park lies right in the border between three nations (Rwanda, Uganda, and Congo). It is part of the Virunga Rainforest and is famous for being a haven for mans closest relatives, the mountain gorillas. Inside this park, there are 8 volcanoes (Karisimbi, Bisoke, Muhabura, Gahinga, and Sabyinyo).
Some years ago, this park was the base for Dian Fossey, a zoologist who protected gorillas. Now, because of her and many other people's efforts, it is one of the main mountain gorilla protection areas in the world. Gorilla tours in Rwanda are very popular but the recent hike in the prices of permits has seen her lose some potential visitors to the equally popular Bwindi Impenetrable National Park in Uganda.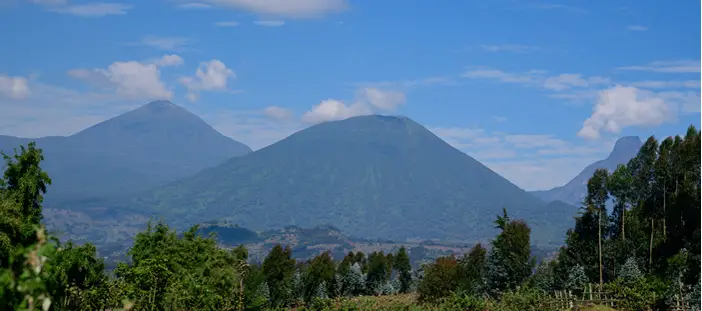 Apart from the mountain gorillas and volcanoes, there is an opportunity to visit the Musanze Caves found within the Buhanga Eco-Park (an ancient forest). These caves are 62 million years old! The park also offers opportunities for hiking, mountain biking and canoeing
Nyungwe Forest National Park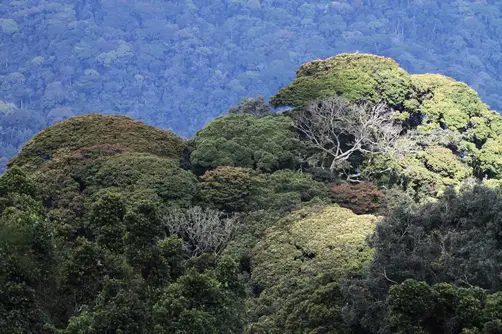 This forest is also one of the oldest in Africa. It has the richest biodiversity in Rwanda. You can find 7 different species of primates including chimpanzees and golden monkeys. Golden monkey trekking is not yet open to tourists here but chimpanzees are. There are six trails in the park you can hike. If you wanted to explore the whole forest, it would take you over a week! It rains so much that this park is the major source of water in the country, providing 70% of it.
Nyungwe is home to more than 1000 species of plants, including beautiful orchids. There are more than 300 colorful birds and 120 species of butterflies. You can observe this flora and fauna and also walk up to the Izumo waterfalls. Plus, there are beautiful tea plantations everywhere.
Akagera National Park
This park is next to the largest lake in Africa, Lake Victoria, and the Republic of Tanzania. It holds a savannah full of different species and flora. There are elephants, buffalos, giraffes, zebras, among others. Up to 2014, there were no lions in this park, as somebody poisoned them during the Rwandan genocide in 1994. Currently, the government has been reintroducing lions from South Africa since 2014.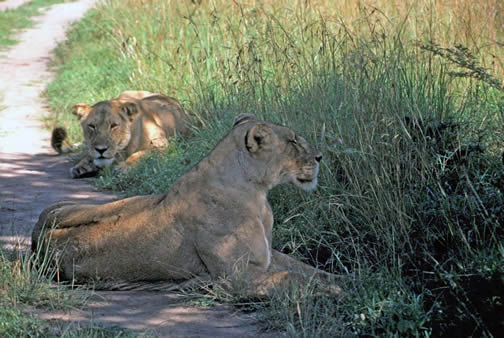 You can also take the boat trip on Lake Ihema to observe the hippos, crocodiles and water-birds. They are found on the island that is in the middle of the lake. The only way to explore the park is by using a 4×4 vehicle, so you can rent a vehicle or a tour which will include transport. You should also hire a guide to explain everything to you.
Gishwati Mukura National Park
Source: Link
This park gets its name from the two forests found inside: the Gishwati and the Mukura. Together they expand for 34 square kilometers. There's the ridge that divides Congo and Nile waters. Here you can find more than 50 species of trees, like bamboo. Gishwati is the home of golden monkeys, blue monkeys, along with plenty of birds. You can do a nature hike with a guide and track different birds and monkeys.
In the past, this park was almost ruined because of illegal mining and farming. In 2015, the government intervened and turned it into a National Park for greater protection. Since then, they have planted hundreds of trees. This has helped not only the biodiversity of the forest but also the people who live in the area. Trees prevent floods and keep the flora and fauna alive. You can visit the tribes that live around the park and see their handicrafts, beehives, and tea plantations.
When should you visit these parks?
Any time of the year is great for visiting these parks, but the best time to go there is during the dry season. From December to March, and then again from June to December, the weather is sunny and dry. Though it is usually very hot there, it doesn't rain as much as in the wet season.
Rules in the parks
If you go to these parks, make sure you are healthy. If you think you might have got flu or any other disease, please don't visit the parks. They try to protect the animals, mainly the gorillas and monkeys that are sensitive. As a caution, visitors are not allowed to go too close to the animals. Also, remember to be subtle in front of wild animals. This is their home and you are just a visitor. So, don't litter and don't move fast or yell or you might frighten them.
Certainly, visiting the national parks in Rwanda can be a life-changing trip. This small country holds some of the most incredible people, animals and plants in Africa. Rare species of plants, birds, and other animals await you.  You can follow animals such as monkeys, gorillas, hippos and be left in awe by their beauty.