Music is one of the great unifiers which brings people together, and for musicians and music enthusiasts, there is nothing quite so exciting as having your own home music studio. Having a dedicated space to experiment with sounds and really let your creative juices flow is such a privilege, so if you are lucky enough to have your own home studio, you want to make sure that it is absolutely perfect. Once you have taken care of all the instruments and equipment you need to produce your sounds, the next thing you need to focus on is the overall design of the studio. After you have ensured it has great acoustics and is soundproofed as required, you can have some fun creating an awesome interior that will be conducive to your music-making.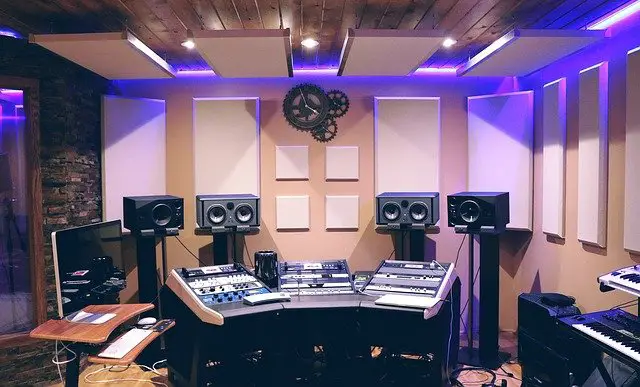 For all the music lovers out there looking to make the next big hit, here are some simple yet stylish ways to decorate your home music studio.
When designing your home music studio, you want to create a space that is totally inspirational to you. One great way of doing this is to surround yourself with posters of the album covers, which have been the most influential on your musical journey. Not only are these a really cool design feature, but they will also help to give you that creative spark at moments where you have a little musical writers' block or need a fresh idea or sound. 
Musical studios are very functional spaces, and one way to make them more comfortable is with a nice soft rug. These days, you can buy guitar area rugs or another musically themed rug to make your studio floors pop. You can have your rug custom-sized so that it perfectly fits the floor of your music studio. There are many different versions available, so if you love Stratocasters or you are a Les Paul fan, you are sure to find a rug to suit your style.
If you have already had a hit record, there is no better place to celebrate your success than your home music studio. Framed gold and platinum records adorn the walls of all the top musical artists, and while you may not have reached these heights just yet, just releasing a track is something to be proud of. Get some copies of your tracks and put them in a cool frame to decorate the walls of your studio.
Paying tribute to your favorite artists in a mural is a cool way to inject some color into the walls of your music studio. If you are a big hip hop fan, why not have a local artist paint a mural of all the icons who have passed away. Just imagine how inspired you will be with Biggie, 2 Pac, and Easy E looking down at you. Alternatively, get a mural painted up of your band so that your studio is a genuine headquarters for your group.
The best home music studios have quirky design features, and one awesome way to express your love for music is to put up on the walls of your studio. There are specialist companies who will take the musical score or lyrics of your favorite tunes and print genuine wallpaper. Just think about the creative inspiration you will get when you are literally surrounded on all sides by your favorite music. The wallpaper can be printed in any color scheme you like so you can make a really awesome design.
Different tunes need different vibes, and there is no easier way to instantly create a new mood in your home music studio than installing smart lighting. With just the press of a button, you will be able to drop your lights to produce some romantic chords, then switch it up when it is time to knock out some funky beats. Smart lighting is incredibly versatile and is a must-have addition to any home music studio.
Having your own home music studio is a huge blessing, so it is vital to get the design right to maximize its potential. Surround yourself with inspirational things so that you are at your most creative every time you step into the studio. If you can create the perfect vibe in your studio, it is only going to have a positive effect on your tunes. Try out some of these simple yet stylish design ideas and create a home music studio in which to weave your musical magic.