Going surfing is a great way to experience the beauty of nature. There are many different ways you can do this, like surfing in waves or surfing in calm waters. Today you're going to learn about the coolest destinations for SUP surfing!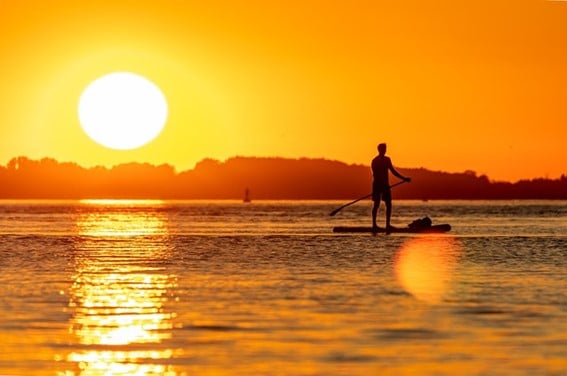 The Great Lakes
The Great Lakes are a smart choice for surfing because they are freshwater and offer wide-open spaces. The Great Lakes also have consistent waves, which is great for surfing, depending on what kind of surfing you want to do. 
Lake Superior has the best swell window in all five lakes, with an average wave height of six feet (two meters). 

Lake Michigan works well when it's small due to its flat floor that only breaks every once in a while. 

Lake Erie can get up to ten feet (three meters), although this isn't very frequent; however, there are some days where the lake gets swells that break perfectly without any interference or obstruction from other waves. 

Lastly, both Lake Huron and Ontario aren't known for their surfing but still work fine if you're looking to try surfing or already know how to surf.
It's important to find a destination where you can do this type of surfing safely. Lakes are perfect since you need to make sure your paddleboards will not pop during regular use and that you won't have problems with that. Calmer places that are not too rocky should do the trick. 
Pensacola, Florida
Another good place for SUP surfing is Pensacola, Florida. This destination is known for its surfing school and many people come here to take surfing lessons or advanced courses. Furthermore, this location has some of the best beaches in America, which makes it a very popular place among SUP surfers who love spending their time on the beach relaxing after surfing all day long.
Pensacola's downtown area also offers multiple opportunities for surfing fans as they can visit numerous breweries where they will be able to taste local beers while enjoying breathtaking views over Santa Rosa Sound Bay. 
Mendocino County, California
Mendocino County is a great SUP surfing destination. You can get into SUP surf competitions and races that happen every year. SUP surfing is a great activity to do in Mendocino County because the weather and water conditions are perfect for it! The SUP Challenge also has SUP yoga classes that you can take part in it if it is something that interests you. There's no better way to practice SUP than by doing SUP Yoga with others who enjoy this sport as much as you do!
The best time of year to come to visit Mendocino County, California, for SUP surfing would be between June through September or October during the fall months when there aren't any major storms happening yet. During these times, the waves are mild enough where beginners won't have trouble catching them, but they're not too small either, so more advanced surfers will still find some fun waves to ride on too.
Monterey Bay  
You can choose Monterey Bay as a destination for SUP surfing. It is, after all, where SUP surfing began in the US! There are so many things to do here that you'll never get bored of this place. You can go kayaking or paddleboarding while enjoying nature at its finest and then surf SUP on calm waters when your activity time comes to an end for the day.
Monterey Bay has become increasingly popular among SUP enthusiasts due to its great weather conditions, which allow perfect visibility even during foggy days (not like other SUP destinations). Its rich marine life makes it a hotspot for wildlife lovers too. Whales can be spotted quite often if you're lucky enough! So pack up your SUP board; Monterey Bay awaits.
San Diego (Coronado)  
Another great idea for a SUP surfing destination is San Diego. It is a very popular destination for this sport because it has the perfect waves for SUP surfing, and surfers from all over come to San Diego just to get a taste of it. Also, if you're not into SUP surfing but more interested in sea kayaking or regular paddleboarding, then this place will interest you as well. In San Diego, SUP surfing is a great way to spend your day with family and friends, just hanging out in the sun on a SUP board. 
Oahu (Hawaii)
If you're more interested in exotic places, then SUP surfing in Hawaii might be what you're looking for. Oahu, also known as the Gathering Place, is an island that SUP surfers are not only drawn to, but it's often considered a top destination around the world. With plenty of beaches and great weather conditions throughout much of the year, SUP surfing on Oahu offers everything from beginner to advanced SUP surfers. A few notable places to SUP surf on Oahu include Waikiki Beach, Kailua Bay, and Sunset Beach Park. 
SUP surfing is a popular sport, but your enjoyment will be bigger if you know where to do it. The Great Lakes are a good start, but you can choose multiple places in California or even Hawaii for this activity. You should also give a chance to some places in Florida. Have a fun SUP surfing trip!