Getting the logistics ready for the big day alone is stressful enough. You don't need to spend a fortune on a dress that is probably only going to be worn once? Check out the following tips for the frugal bride looking for a cheap wedding dress.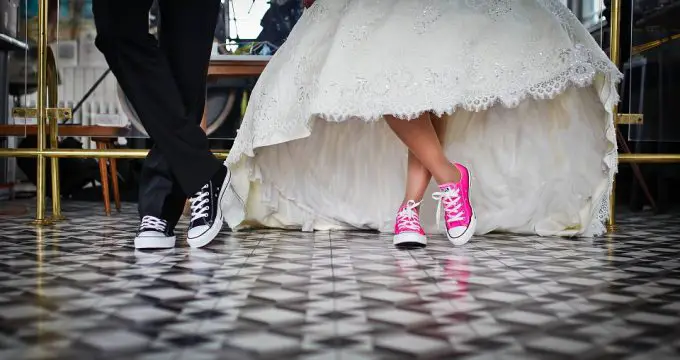 Buy at Non-Bridal Outlets
Often, the word wedding adds a couple zeros to whatever you are buying. Boutiques dealing with wedding dresses are particularly pricey. Try your everyday dress shops for dresses that can be modified into a wedding dress.
Try Second-Hand Sources
Brides typically wear their wedding gowns just once and for between 6 and 8 hours, sometimes even less. This makes the dress virtually flawless having been worn for such a short period. When you buy a pre-owned dress, you not only get a comparatively new product but in most cases at a cheaper rate.
Buy between Thanksgiving and Christmas
Stores typically expect a huge demand rush at the end of the year as that's when most people make their engagements and they start stocking up around that time. So if you time your shopping before the New Year, preferably after Thanksgiving, you are likely to beat the rush prompted by the newly engaged, and possibly benefit from the older stock that stores are trying to dispose of.
Go Non-Traditional Dresses
Buying a dress that has been made specifically for a bride may cost you more because most retailers know that you are willing to pay big bucks for that dream wedding dress. If you are ready to try a non-traditional dress for your wedding, you will not only look unique but also and spend far much less.
Off-The-Rack Retailers
These have now become the go-to sources when you are on a budget. They not only offer attractive styles but fair prices. Even big department stores are embracing the bridal attire business.
Check Boutique Samples
Sample boutique gowns are those which brides try in boutiques and usually sold off cheaply. Some of them could be having broken closures or small hem stains and the boutiques could be selling them at highly discounted prices.
Start Shopping Early
Begin shopping for your dress at least 6 months before the big day. If you wait for too long, most shops will want an additional fee to do your rush order and your choices will also be limited. When you start early, you not only have the chance of trying out different options, but also the opportunity to consult more and even possibly get a dress that can be modified at low cost or altered slightly.
Use Coupons and Store Discounts Codes
Did you know that Britain's Queen Elizabeth II accumulated her coupons to save towards the gown material she needed for her wedding to Prince Philip in 1947? She also received a coupons gift from the government. You too can stack your coupons and use the store discount codes when it comes to buying your bridal dress.
Buy Dresses Online
Everything is cheaper nowadays online and wedding dresses are not any different. You will certainly get a good gown at a cheaper rate online than at the local brick and mortar wedding boutique. Some sites even send several dresses from which you can make your pick and return the others to them.
Set a Budget
Figure out how far you want to go for the gown, and let the salesperson know before they begin bringing out different dresses. That way, you get what you can afford and don't end up getting heartbroken when you see that dress which is beyond your budget.  Go through bridal magazines and websites to know the rates for the kind of dress you want or are looking for.
There you have it; top 10 simple tips to find great wedding dresses cheaply. Yes, with the above tips, you can still dress fabulously and look stunning on your most important day without necessarily breaking the bank.You can even combine several of the above shopping tips! For example, why not start shopping early, visit several off-the-rack outlets and also do it off-season between Thanksgiving and Christmas? That way you are sure of getting a decent yet cheap wedding dress.