In this article, we won't just talk about expensive hookahs. We will talk about authentic works of art adorned with the most valuable metals and precious stones that exist. Today we present the top 5 of the most expensive hookahs in the world. Hookahs have changed a lot throughout history. It has been a long time since the first hookahs were made with rustic and austere materials. Currently the most common materials in the manufacture of shishas do not have a high value. They are mainly glass, stainless steel, aluminum and silicone. But there are unique pieces that are made of 24 carat gold and are set with precious stones such as diamonds and rubies.
In the publication of the history of the hookah, we commented that its possession has always been a sign of social status associated with luxury. Luckily, this has changed thanks to globalization, and now everyone can have a quality shisha at an affordable price. Unfortunately, not everyone can afford any of the most expensive hookahs in the world that we are going to see today. All of these hookahs have been made by hand with the most luxurious and valuable materials in the world. We will start this list of expensive shishas in the world starting with the lowest priced ones and we will leave the jewel in the crown for last.
Shisha 2.1 by Porsche Design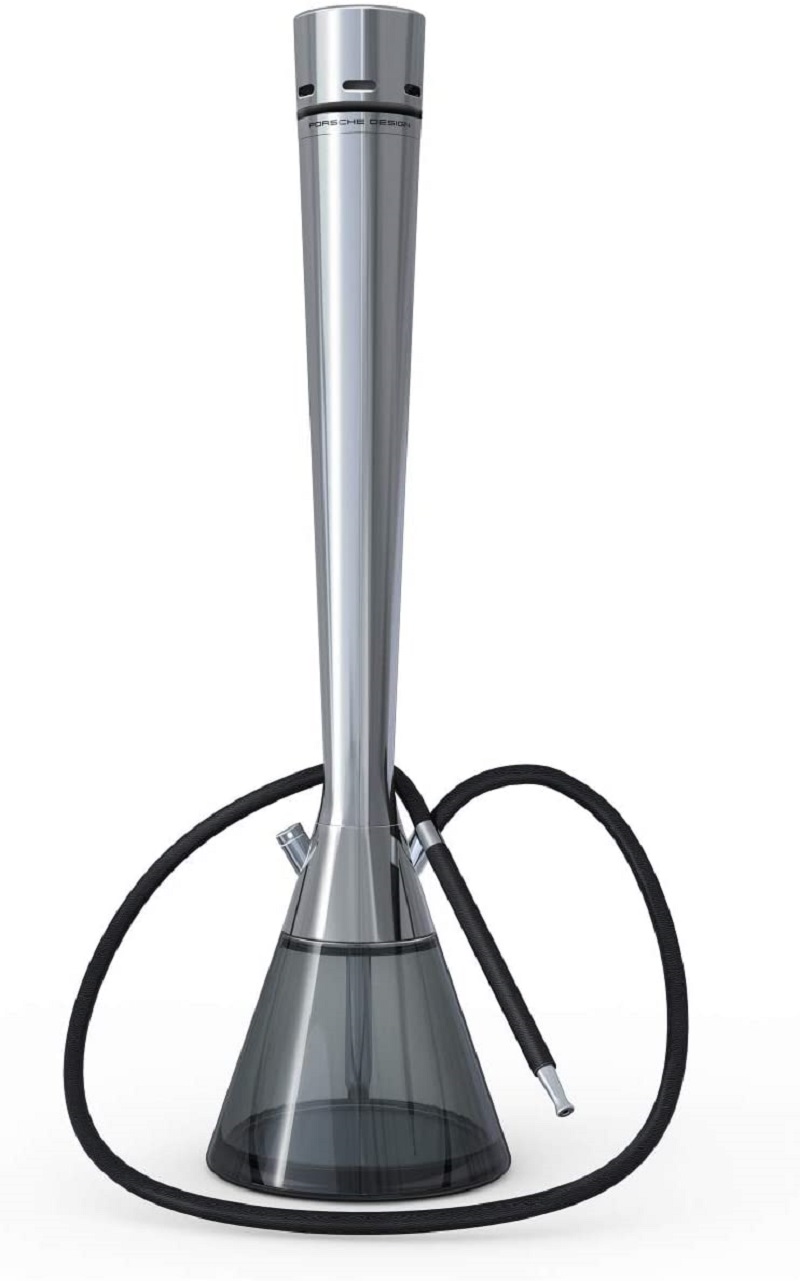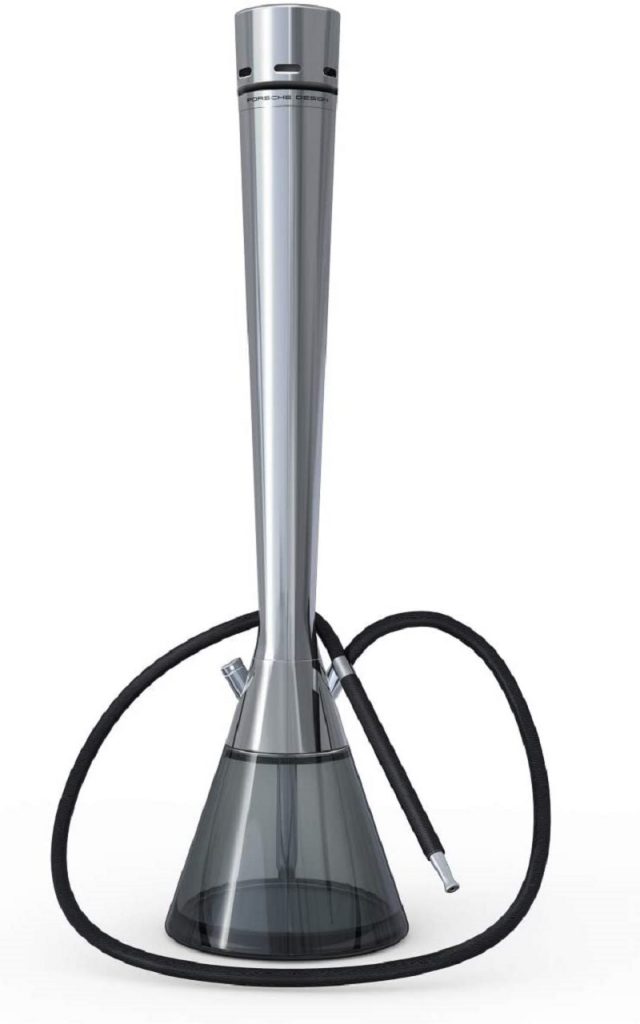 We start this ranking with the Shisha 2.1 from Porcshe. This well-known car manufacturer has managed to bring its high efficiency and elegance to the hookah world. The metal parts are made of anodized aluminum and stainless steel. Your vessel is made of tempered glass. The hose is made of silicone and covered with synthetic leather, which gives it a very elegant appearance. It is ready to add an additional hose, which is always appreciated. The bowl is made of highly resistant ceramic. The Posche Shisha 2.1 measures 71 cm making it a large water pipe. Its price is very cheap if we compare it with the rest of the hookahs in this ranking, for € 1,650 we can get this model. If by chance you have a car of this brand and you want to buy this matching hookah, you can buy it here.
Steamulation Exclusive The Tiger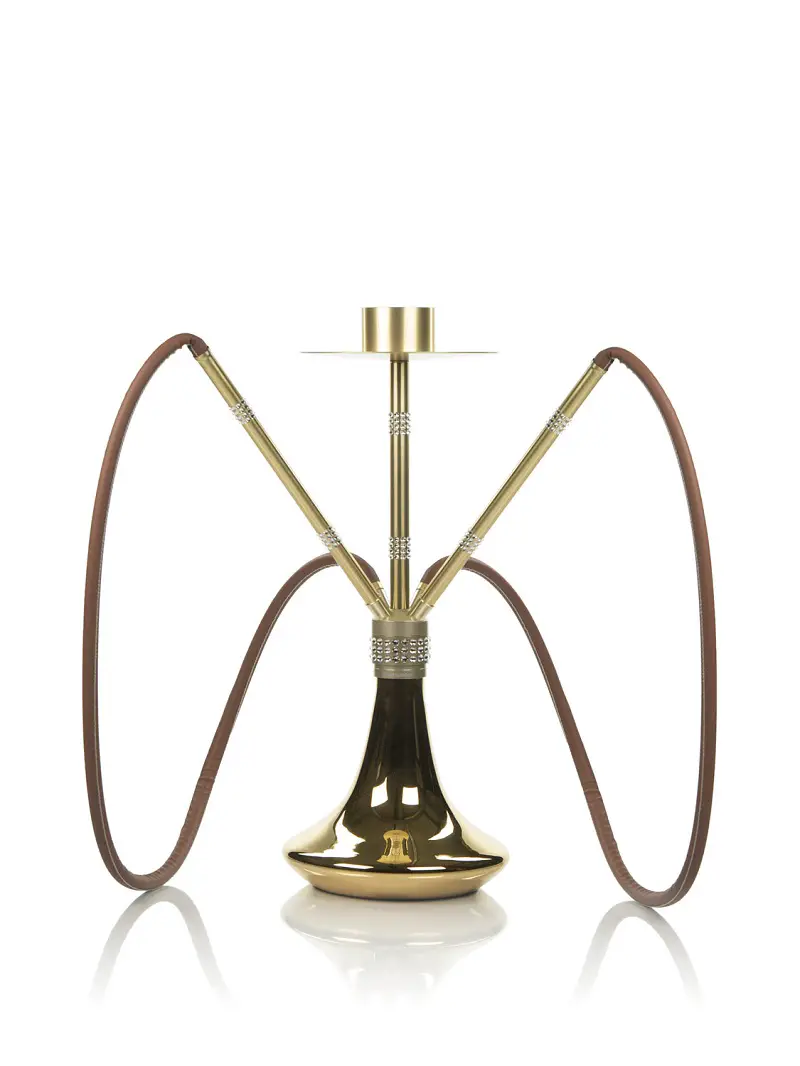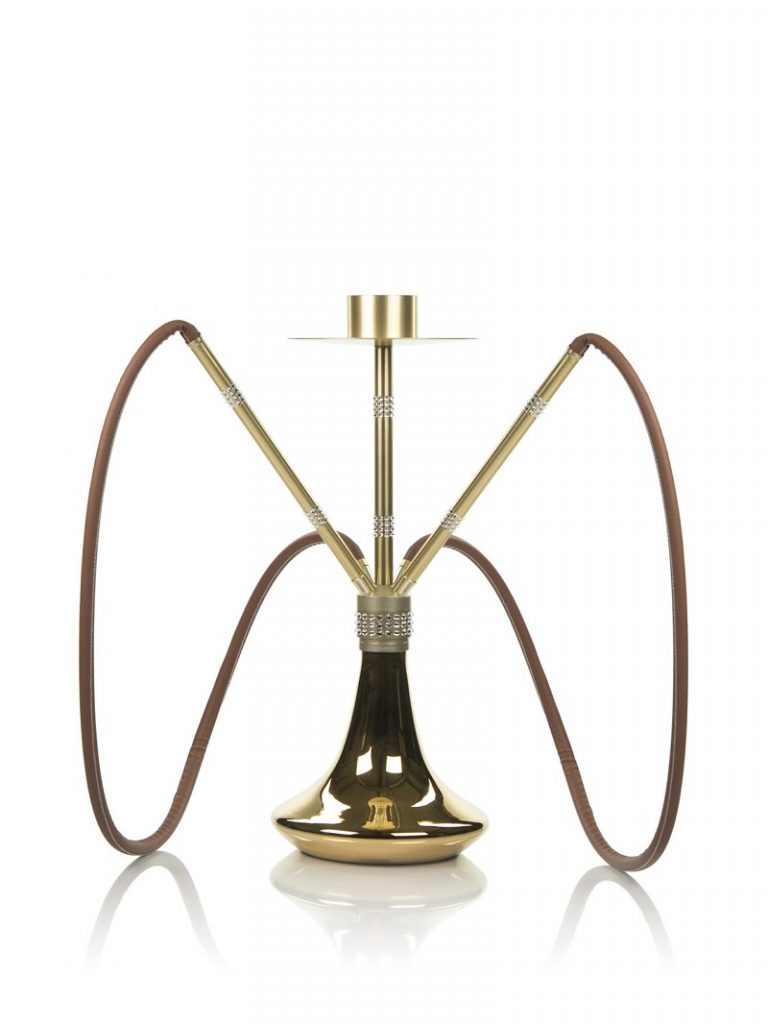 This well-known German hookah manufacturer has designed a unique piece of great elegance. It is not the most expensive hookah in the world, but it is one of the most luxurious and beautiful. The metal parts of this hookah are made of anodized aluminum and are plated in 24 karat gold and platinum. 228 Swarovski crystals adorn this shisha, making it a unique piece within the reach of very few people. The vessel is made by hand with tempered glass and like the rest it is also plated in gold and platinum. It comes equipped with two hoses made of silicone covered with hand-stitched leather. Being able to choose between 4 leather colors. The mouthpieces of these are also adorned with Swarovski crystals. It incorporates a system of LED lights to make this hookah something even more spectacular. The Tiger Shisha look 85 centimeters, so we have before us one of the largest hookahs on the market. Its price? € 3,900, for the middle class it is only a few months of work.
Desvall Shisha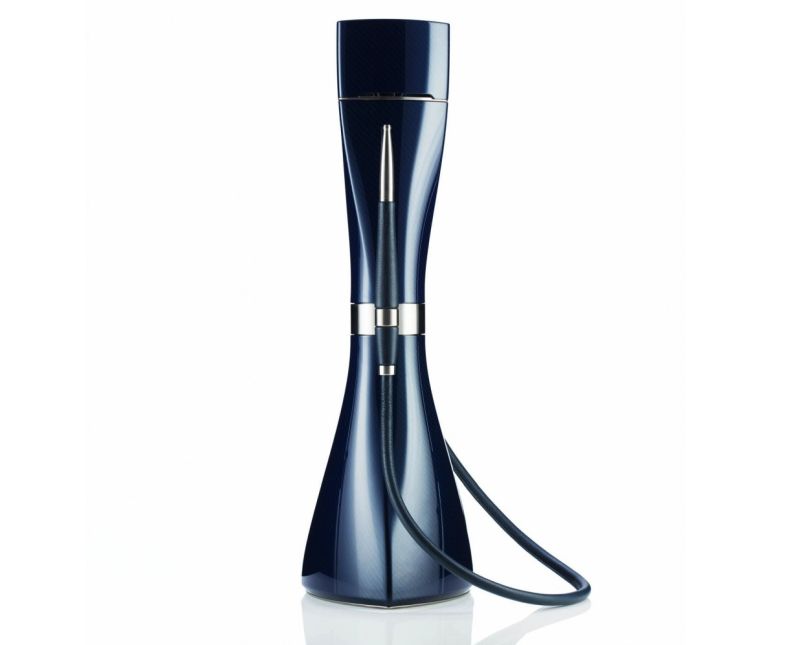 Desvall has many of the most expensive hookahs in the world. This manufacturer has the largest range of the most expensive shishas in the world. For this reason we will include the entire range in the third position of our ranking. Among its best known models we can find the Bugatti by Desvall. A limited edition of 150 units fruit of the collaboration between the manufacturer of luxury cars and this manufacturer of luxury hookahs. Each Desvall hookah is a combination of the most innovative technology and traditional craftsmanship. Each piece has a unique serial number and it takes 200 hours of a master craftsman to make it. These shishas are adorned with 24 karat gold and Swarovski crystals. The internal ducts and hoses have been designed with the utmost precision, combining stainless steel, hand-blown glass, traditional Swedish design ceramic, leather and silicone of the highest quality. Desvall shishas incorporate a patented system that allows the shisha to rotate on its central ring, thus allowing it to rotate 360​°. In addition, these hookahs have a magnet installed to hold the hose nozzle so that it is always collected. The price of Desvall hookahs is between 40,000 and 100,000 dollars depending on the model, between 36,000 and 90,000 euros. This manufacturer has among its models the most expensive shisha in the world. If you want to know what it is like and how much it is worth, keep reading. To make a hookah like this you need to be a master craftsman.
Aurentum Switzerland Hookah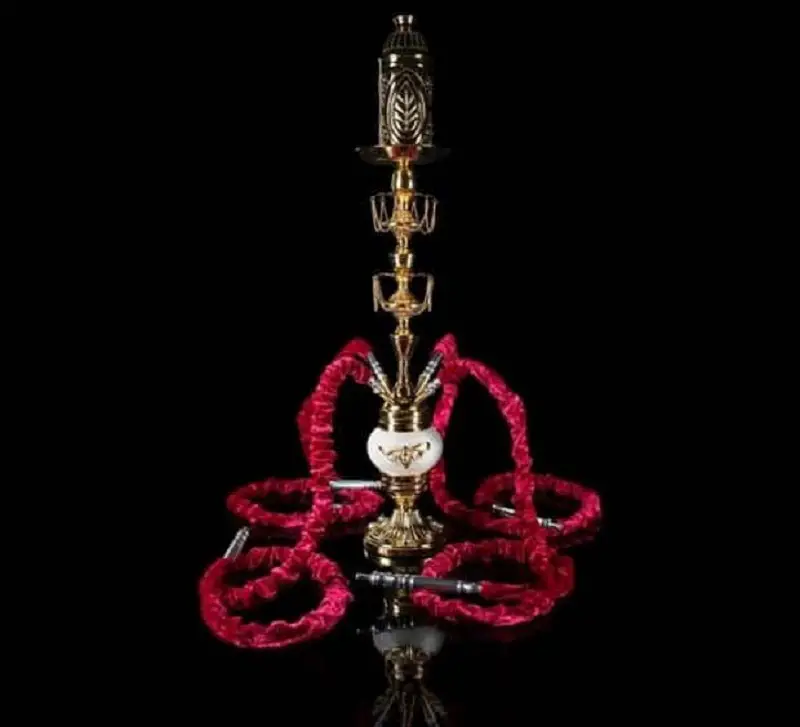 Known as the million dollar hookah. Fall in love and dislike in equal parts. Many people think that to be one of the most expensive hookahs in the world they could have chosen a more elegant and sophisticated design. Aurentum Switzerland has partnered with two Swiss artists to design one of the most luxurious hookahs in the world. "We wanted to keep the old traditions and complete them with modern art, in a very luxurious way," says the manufacturer on his website. Aurentum Switzerland Hookah is solid gold and weighs over 12kg, so it can be said to be worth its weight in gold. The vase is made of Murano glass and coated with 18-karat silver. It incorporates 8 handmade platinum beetles adorned with diamonds and rubies. The hoses are made of high quality food grade silicone and covered with Venetian velvet. The mouthpieces are made of 18-karat silver. Its price is 900,000 dollars, about 810,000 euros. The manufacturer of this hookah has indicated that it will donate 10% of the profits of this hookah to charities. This has been the most expensive hookah in the world for a long time, but its throne has been taken away by the top of our ranking.
Desvall Royal Diamond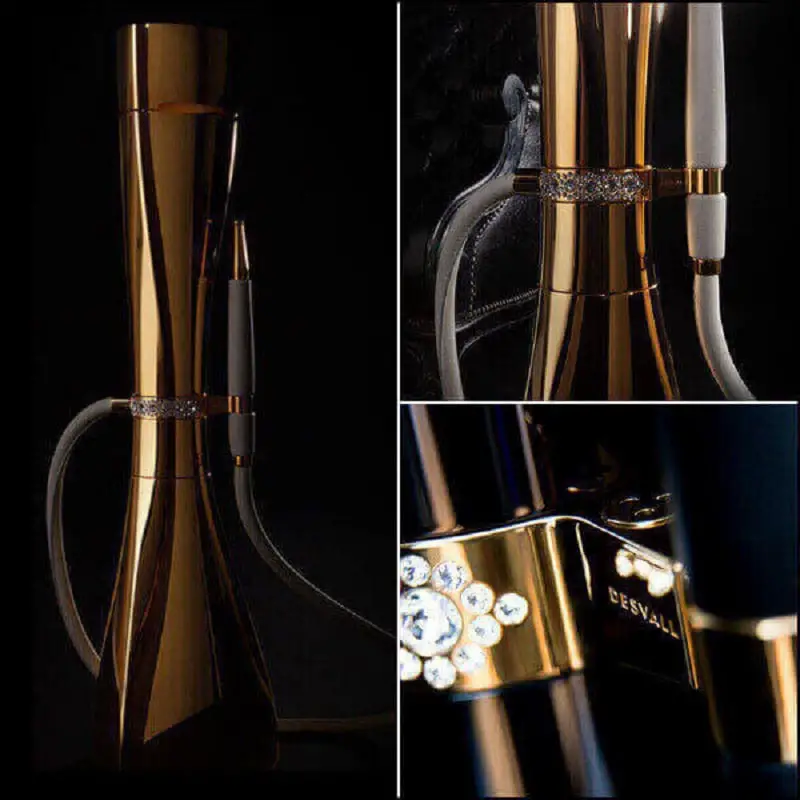 Desvall Royal Diamong is the most expensive hookah in the world. We finally got to the most expensive hookah in the world. The Desvall Royal Diamond hookah is made of 24-karat solid gold and the center ring is embellished with diamonds. The hose is made of food grade silicone and covered with hand-sewn white leather. The mouthpiece is also made of 24 karat solid gold. Like all hookahs from this manufacturer, it incorporates a 360° rotation system. There is only one unit of this model, this is one of the main reasons for its high price. The manufacturer has commented on occasion that the Desvall Royal Diamond is aimed at the high-class public in the United Arab Emirates. This is not surprising, since you have to be among the 1% of the world population with the highest purchasing power to be able to buy this hookah. And now the most important data, its price. Nothing more and nothing less than 2,400,000 euros, yes, you read that correctly, 2.4 million euros. Quite an expensive treat, don't you think?