Shopping for a pair of glasses that will perfectly fit your face is an extreme sport. You will likely need to try a dozen on before arriving at the best choice. It does not matter whether it is medically recommended or it's just for fashion, glasses have to rest comfortably on your face to avoid pain or slippage.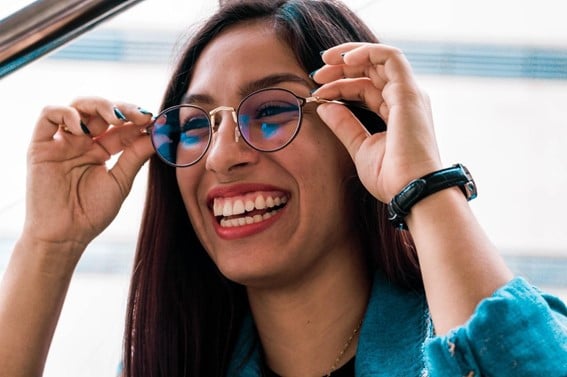 Apart from the face shape, other factors like eye and hair color, preference, and fashion style are important factors to consider in choosing a perfect frame. With the availability of different glass shapes and designs, you can go for a pair of glasses depending on your mood, the occasion, or the environment.
Just as it is to have the right outfits, shoes, or hairstyle for an occasion, it is also essential to choose suitable eyeglasses, as different frames suit specific circumstances. 
To ease your stress and make what's supposed to be an overwhelming task become an enjoyable experience, below is an essential guide to help you pick the perfect pair of glasses that complements your face and enhances your look. 
Do You Know Your Face Shape?
The first important thing in choosing the perfect glasses is to know the shape of your face. The versatility of face shape means that there is no 'one frame fits all' glasses. There are original glasses for different face shapes. If you want to know more, you can find more here. However, whether you have an oval, heart-shaped, or square face shape, there are different glasses for all shapes. You can identify your face shape by tracing it out using a dry-erase marker in front of a mirror. 
According to the celebrity stylist and Zenni Optical Consultant, Lindsay Albanese "an oval face shape complements almost every frame style. You can get away with anything." For square faces, the uniformity of the face makes sharply angled or curved glasses perfect for square-faced people. 
What Is Your Size?
Finding a pair of glasses that perfectly fit requires you to know the size of your face and the frames that will match it. Manufacturers inscribe glasses sizes on them as lens width, bridge width, and glass arm length. Choosing the right size is essential to avoid loose-fitting or sagging.
Consider Your Eye And Skin Color
If you pick glasses primarily for fashion's sake, eye and skin color set the undertone for a stylish appearance. Go for a frame color that matches your skin, and try as much as possible to avoid contrasting and flattering colors if the occasion is professional. However, you can choose a frame contrasting to your skin but complementary to your eye's color in a more relaxed setting. 
For skin color, consider:
Blue, silver, or gray glass frames are perfect for skin with blue or pink undertones. Avoid harsh color as much as possible. 
If you have a warm complexion. It would help if you chose from red, orange, gold glass frames, as they perfectly suit your skin color. 
A combination of cool and warm skin, usually gold and pink undertones, can wear any glass frame. Look for a glass frame that matches your eye color. 
Glass frames in contrast to eye color make bold statements and make the eye pop. 
Orange and blue glasses complement the blue eye and make a face more appealing. 
The bold color makes the brown eyes shine brightly. Colors like purple and green are great for brown eye color. Most people are brown-eyed colored, resulting in a multiple choice of frame colors. 
If your eye color is green, consider red color glasses and other earthly colors to subdue the green eye. 
What Style Does Your Work Permit?
Examine your lifestyle and the demands of your work when choosing a glass frame. If your type of work is intensive and requires constant observation, you need a durable glass frame that fits at the bridge of your nose. 
Sunglasses are fit for relaxation on the beach or for a walk under the glare of the sun. If you are constantly operating a computer or working on a screen, photochromic glasses are best to guard your eyes against blue light.
Nonetheless, ensure to express your personality in your choice of glasses, as they are part of your dressing
Consider The Brand
Different brands of glasses offer elegance and authenticity. Although more expensive than non-branded glasses, they are of noble quality and durable for an extended period. Designed by professionals, branded glasses are made to match personality and taste. From anti-reflective lenses to photochromic lenses, you have a pool of options to choose what type of lens suits your lifestyle. 
In the end, once you figure out your face shape and consider other guides discussed above, finding the perfect glasses will be a more effortless and seamless adventure while you look stylish and comfortable.