A cafe with a vibrant and zippy design projecting strong hues and bright patterns that complement the elegance and style of its furniture is an immediate hit amongst people. An aesthetically appealing cafe furniture that depicts elegance and panache is where most would want to take their family for a hearty meal as part of a Christmas gift or a birthday surprise.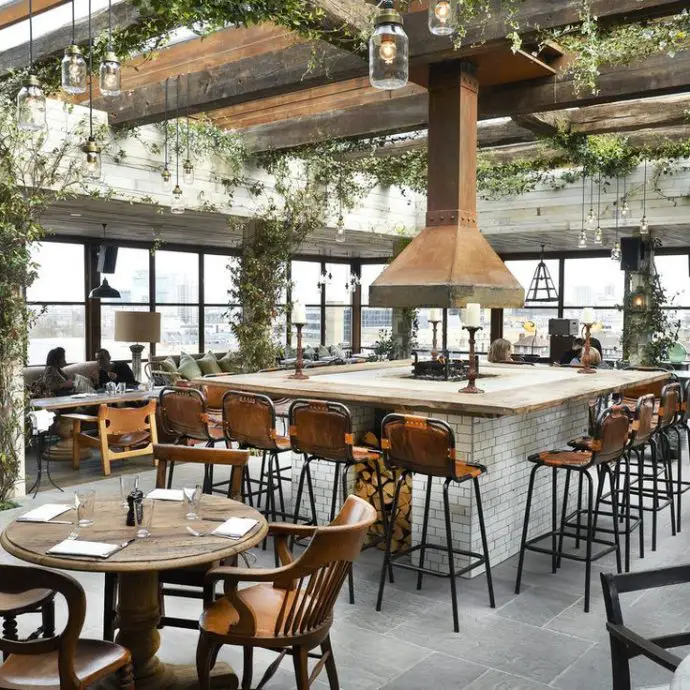 image source: here
As a cafe owner or restaurateur, you would naturally want to have a cafe with stunning vibes, awesome furniture, and great food because that is what makes people want to eat at your dinner. The key to a brilliant cafe design lies in the gritty combination of the theme and the furniture, which set the tone for an awe-inspiring ambiance. Decorating your cafe and selecting the right kind of furniture can be daunting, so here are a few design and maintenance ideas for you to use for that added vibe.
The Modern Industrial Vibe
When selecting cafe furniture, the first question to ask yourself is 'What sort of dining customer experience am I looking for'? The theme is naturally the first design aspect, so you should be searching for something classy that highlights the aesthetics. Your furniture should essentially match the tones and theme patterns to accentuate the dynamics. An industrial look for a cafe with large, more open spaces containing high bars and stools, long tables and trendy chairs including high ceilings with dangling lights-work is a great idea to exude a more fashionable and retro diner ambiance.
Industrial Style Table
Tables and chairs are the highlights of any cafe furniture and the key is to opt for innovative designs that not only promote the space's aesthetics but are also productive from an upkeep perspective. An industrial style table is a nice option for a design that has an industrial vibe to it. Such communal tables are usually long with eye-catching styles, snazzy corners, and leg-supports to suit the diner theme. Pair it with some voguish bora chairs or Tolix chairs to jazz up the vibe.
Outdoor Chairs
These are trending in modern cafes following the increasing popularity of outdoor seating amongst food buffs. If you are looking for some nice cafe furniture ideas, you might want to consider offering an outdoor dining experience to your customers. Outdoor chairs come in a variety of colors, styles, and fabric, so pick a design that goes well with space and surroundings. The material and fabric of the chairs are important for seamless upkeep and damage resistance. Most of the outdoor chairs come equipped with materials that provide protection against rust, warping and tear/fading that is mostly caused due to weather.
Tub Armchairs
These are built for indoor environments, especially those with narrow spaces and low ceilings to project a more cozy and private aura. They can be complemented with some jaunty table designs like timber tables to improve the café's interior. When selecting cafe furniture, do consider spares that may come handy for pets and kids, as these considerations play a key role in enhancing patronage. You might want to try shopping for some nice designs at Jason L for the armchairs.
Tolix Chairs And Stools
Most cafes are seen supporting these types of chairs and stools that ooze comfort, durability and add a touch of vibrancy and color to the cafe. Pick tolix chairs and stools with a rich blend of style and hues to spruce up the excitement and vibe of the interior. They are sure to make your customers elated with their homely aura and dainty designs.
Bar Stools
Cafes are normally equipped with a high-toned bar and what better way to furnish yours than to use some classy bar stools that are ever so popular with diners. Modern times make use of more refined and elegant designs for barstools compared to the traditional wooden look. Add some cool bar stools with a retro feel to them to improve the atmosphere.
When selecting a bar stool, the first thing to consider is the height. Most of these showpieces are around 71cm to 76cm tall. You'd want a size that fits well with your table size and style, so pick one that is closer to your table's height and design. These days you have the option of buying adjustable bar stools; they allow the height to change or vary. These work great for customers with children, as the barstools can be easily adjusted.
Tips For Cleaning & Maintenance
Selecting cafe furniture requires careful deliberation because the upkeep and longevity of the pieces are what will make the purchase worth the time, effort and money. For tables and chairs, always look for materials that are robust, strong and damage resistant for them to stay in perfect condition for a longer time. Metallic or plastic based surfaces require regular cleaning and you should make use of proper cleansers and accessories that could enhance the surface condition and protect it from dust and scratches.
For timber based tables, chairs and furniture pieces, maintenance is key to preserve its original look and feel. Most indoor tabletop finishes make use of matt 2 pack polyurethane, while those for outdoor settings have an oil finish to them. This protects them from damage, scratches, and water including problems related to weather conditions. Indoor timber furniture should not be exposed to sunlight, as it may discolor the wood or harm the polish.
Since wood tones can naturally darken over time, it is important to ensure that the surface is evenly exposed to sunlight for outdoor furniture to avoid uneven hues on tabletops and chairs. Cafe furniture should be regularly cleaned with a soft damp cloth to cleanse away dust particles and any other substances that may harm or damage the surface or its beauty. Remember to clean with a dry cloth later for thorough cleansing to preserve the original condition of the timber surface. Be careful as to not spill water on timber tabletops and clean off any spills immediately, as excess water can cause warping, swelling and stains or blotches.