Castles are more than just structures that were built for royalty, they are architectural marvels that represent a vast variety of cultures, eras, and styles. Whether you're looking for something new or want to visit an old favorite, this list has it all.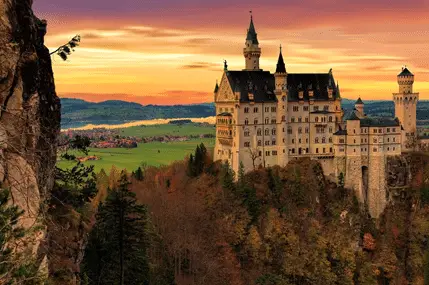 1) Waterford Castle, Ireland
Waterford Castle is a historic house on Little Island, Waterford, Ireland. Waterford is located in the southeastern region of Ireland and it carries a lot of heritage and history. Nature there is still untouched with the exception of a few luxury cabins and a golf course. Waterford Castle was owned by a branch of the Fitzgerald family for centuries and it was passed on to generations but it was developed into a hotel in the 1980s. Visiting this castle is a true opportunity to find yourself in Ireland and in the heart of history. This castle has a gothic style which provides a look at the old world.
2) Eltz Castle, Germany
Eltz Castle is a medieval castle built in romanesque and baroque style. It is still owned by a branch of the same family (Eltz) who lived there 33 generations ago in the 12th century. The castle is located on top of a hill surrounded by a thick forest in Wierschem, a small village in the Rhineland-Palatinate, Germany. People say it's a fairytale come true and you can see why when you visit this amazing castle. There are only a few castles in the world that have been passed from generation to generation to the present day without being sold or borrowed from so Eltz is definitely one of a kind.
3) Bojnice Castle, Slovakia
Bojnice Castle is a medieval castle built in romanesque style with some original gothic and renaissance elements. It was built in the 12th century. This castle was first built in wood, but then stone began replacing it. It was controlled by the Kingdom of Hungary in the past and now by the Slovakian Republic. The castle is popular for its attractions, including the popular Castle Fairytale, the International Festival of Ghosts and Spirits, and the Summer Music Festival. Bojnice Castle is one of the most visited castles in Slovakia, attracting hundreds of thousands of visitors each year, and is also a popular stage for fantasy and fairy-tale films.
4) Citadel of Qaitbay, Egypt
The Citadel of Qaitbay is a defensive fortress that was established in the 15th century in the eastern part of Alexandria on the Mediterranean Sea. It occupies an area of about four acres. The Citadel is positioned at the highest point, looking over the city and commanding all approaches to it. This magnificent castle provides views for miles. The architecture of the Citadel is a great example of Islamic military architecture. You can see that it was built to last with its rectangular-shaped towers and well-built walls, which are mostly intact even after being attacked multiple times in history.
5) Matsumoto Castle, Japan
Matsumoto castle, originally known as Fukashi Castle, is a three-story Japanese castle. It is one of the Japanese most popular castles. It was built in the 16th century and it has been beautifully maintained since then. The moat, stone walls, wooden doors, and floors are all original. If you truly want to experience Japan's history then Matsumoto Castle is where you need to go. You can see an excellent example of traditional Japanese architecture and history right there. The castle is located in Matsumoto, central Japan.
6) Windsor Castle, England
Windsor Castle is the largest inhabited castle in the world. It was built in the 11th century and it has been expanded by English monarchs ever since. The castle was originally designed to intimidate potential invaders. There are approximately 1000 rooms in this magnificent building, including state apartments which are open for visitors when no State Banquet or other official event is taking place. The castle is closely linked to Britain and the British royal family and embodies nearly a thousand years of architectural history. It is currently owned by Queen Elizabeth II to the right of the Crown. Windsor castle played a key role in World War II since the young Queen and her family spent their time as the Germans bombed England.
As you can see, there are many amazing castles that you must visit in person. If you're considering traveling to Europe or the Middle East, be sure to include these historical buildings on your itinerary!  Castles come in all shapes and sizes so no matter what architectural style is most interesting for you (Romanesque? Gothic?), we've got a castle for everyone. Whether it's the old-world charm or more modern design each of them has something unique about their history. And don't worry, this list only scratches the surface of some of the best castles around the globe. There are plenty of others waiting for us out there, so start exploring today!