If you're one to savor flipping through the biggest fashion magazines the minute they hit the stands, you will have noticed a rise in the trend of African print skirts this summer. Public figures and fashion icons are setting the trend and the rest of the world is starting to catch on – if they can pull off these bold, colorful prints on the red carpet, surely you can rock them anywhere, right?  There are many ways to wear African print skirts and they are a real eye-catcher with their vibrant colours and intricate prints, and there's no better time than the summer season to twirl your skirt around on a night out on the town.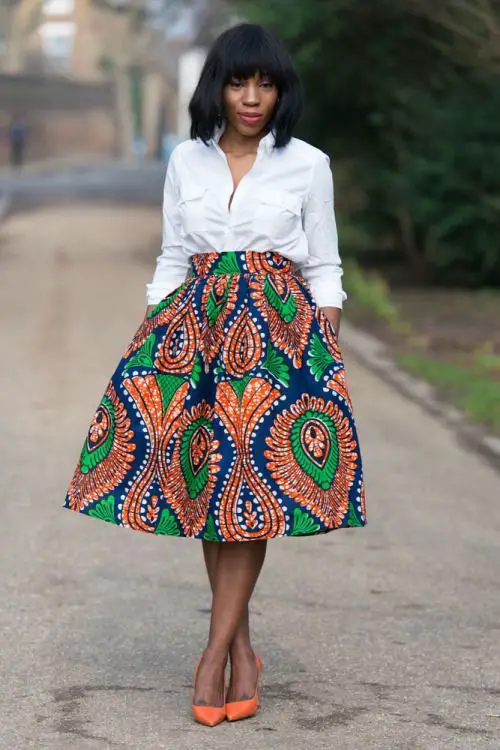 Celebrity fashion icons aren't the only ones responsible for popularizing the trend of these eye-catching skirts. Over the last few years, designers such as Nanawax and Lisa Folwaiyo have revived the trend on catwalks, giving the world a taste of prints and patterns that evoke memories of African tradition and heritage. Thanks to designers bringing these prints back into the limelight, financial organizations have started taking note and are investing in African women who are looking to make a business out of selling these prints. These businesses provide an economic boost for the local economy, which in turn provides more opportunity. For fashionistas looking to support sustainable fashion, these facts are another huge selling-point: the knowledge of having purchased a hand-printed garment from a locality that relies on these sales to grow their local economy, will look great on you.
African print styles are finally being regarded as the statement pieces they are – garments that are appropriate for any day in the year, for any type of event. With so many different skirt styles and prints, one can even find pieces that are ideal for the business environment when paired with a simple blazer and sophisticated pumps; but it will work just as well with a matching top, a playful head scarf and some flats – the perfect outfit for a summer frolic in the sun. Paired with Afrocentric accessories such as golden Fulani earrings, colourful beaded necklaces, or chunky bangle bracelets made of wood, all eyes will be on you. If you're not one for accessories, that's fine too – these skirts are so colourful and mesmerizing, they don't actually need anything else to elevate the look.
The summer season is all about strong, vibrant colors that mirror our inner landscapes – t'is a season to be joyful, bold, playful, flirtatious and to exude confidence through your chosen wardrobe. The African print skirt embodies all these sentiments and is comfortable to boot. June, July and August call for breathable materials that allow you to move through the heat with ease. The last thing you want while you're kicking it back at a park-festival, is to feel the material sticking to your skin, causing you to sweat more than the weather is worth. Cotton is the best material for the summer and while your newly purchased print skirt may feel somewhat stiff at first, it will become one of the most comfortable garments you own after just one wash. Show up to your next park festival in one of these beauties and you'll be pirouetting the night away in comfort and style, while mesmerizing onlookers with your contagious summer vibrations – courtesy of your African print skirt.