As anyone who has ever tried it knows, sexting is fun. It's a lot like sex, but you get to use your imagination. Plus, the idea that you're sending illicit messages to someone feels kind of dirty—making the whole interaction that much hotter.
How to Find a Good Sexting Partner? 
Knowing What You Want

Finding What You Want

Finding A Sexting Partner You Can Trust

Start With the Best Place to Find a Sexting Partner
The good news is that not only is sexting fun, but it's also good for you! Some studies have shown that 61% of people who sext are more satisfied with their sex lives than those who do not. What's more is that the less people sext, the less sexually satisfied they are.
Yet, sexting isn't that simple. First, you have to find someone that you are attracted to, that you trust, and who is interested in sexting you back. And that is easier said than done.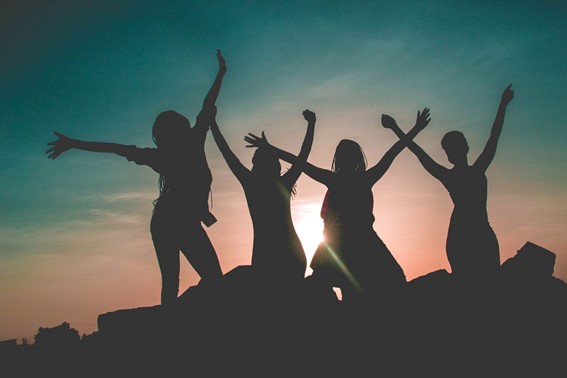 Knowing What You Want
If you've sexted with more than one person, then you already understand that sexting experiences run the gamut. One may be so hot that whenever you think about it, you feel all hot and bothered again. But the next time, the conversation might have been stilted and awkward. That's because whether sexting is good is totally dependent on context. You can't have a good time sexting if you and your partner aren't vibing.
So, the first step in understanding what you want is knowing about your sexuality. Do you have any fetishes or kinks? Do you prefer really explicit sexts, or do you like understated, less-is-more style communication? Do you want the encounter to be sprinkled with fun extras like nudes or even a sexy video, or is the text all you need to get off? Answering these questions can help you understand what you want and articulate that clearly to your sexting partner.
Further, some people want and expect a casual, one-and-done sexting situation, while others would like to leave the door open for a more long-term relationship. If you fall into one of those categories, you'll want to find a site that caters to your relationship needs. For instance, sexting someone on Tinder means that you might be able to find them and reconnect at a later date. However, if you use a completely anonymous app, you won't be able to find that person, so that might not be the right match for someone who would consider dating someone if they turn out to be good at sexting.
Finding What You Want
One of the barriers to finding a good sexting partner is the demographic statistics. For one, sites where you find a sexting partner often have vastly more men than they do women. If you are attracted to women, this can tilt the scales unfavorably against you. Not only are women in short supply, it places you in tough competition with a lot of other eager sexters. Further, if you live in a remote area, you may not be able to easily find locals to sext with. If location doesn't matter to you, you'll have a much easier time finding the perfect sexting partner.
Another thing that can make or break your sexting experience is whether you and your sexting partner have a connection. No, you don't need to be serious, but if you have something in common like a sense of humor or the love of exhibitionism, this can be a conversational foundation that you can return to if the conversation starts to lose steam. Though sexting is often casual, don't overlook the importance of connecting with the person who is about to send you their nudes.
Sexual chemistry doesn't necessarily happen immediately; sometimes, it takes time to curate. This is why some people end up sexting their exes. The sexual connection is already established, and the goal is usually that you'll effortlessly slide into your roles as friends with benefits so that you don't have to rehash the past. The problem is that this often gets complicated quickly, and then you're back to square one.
Finding A Sexting Partner You Can Trust
When you browse through sexting sites online, you should keep several factors in mind for your own safety. The first thing to keep in mind is protecting your privacy. Sexting with a stranger can feel like an anonymous interaction, but it's all too easy to look people up on social media. Use a nickname and cover your face or easily identifiable moles and tattoos in any photos you send. Keep anything else recognizable out of the background, too.
Next, realize that when you are using free sites online, what you save in money will often cost you in time. That means that if you find a free site to exchange phone numbers so you can sext someone random, that someone random is usually going to disappoint you. Most of the people you'll encounter are bots, fake profiles, or people who want to scam you out of some of your hard-earned cash. There are even horror stories about people who got blackmailed after sexting with a stranger. These factors can make it even harder to find a sexting partner—plus a great deal more frustrating. With most sites, you'll have to be on your guard to ensure that your privacy isn't compromised while you sext.
Start With the Best Place to Find a Sexting Partner
Arousr just might be the best place to find a sexting partner on the Internet. Not only will you avoid the perils of sexting your ex, but you'll also find plenty of sexy women online waiting to have a one-on-one conversation with you. These are some of the sexters you could be messaging right now:
You don't have to worry about finding a good time next week that works for both of your schedules when you're turned on right now. Instead, you can join and start sexting at arousr.com by browsing through the profiles of whoever is online and pick the one that seems like the best match for you.
Plus, Arousr takes care of your privacy and security for you. They verify the identities and ages of every chat host, so you'll never worry about meeting a minor or talking to a bot. And, unlike other websites, the interactions are all one-on-one, making the encounter as unique and intimate as you'd like. Use your 100 free credits and start sexting on Arousr today!