Switzerland tourism is full of great adventures and sightings for visitors to experience. For those who are new to the country, it has a beautiful countryside, ancient castles, memorable mountain peaks and great landmarks among many other places to view and visit. Even though it is a small country, there is so much to see that it is often recommended to take an extended trip or make plans to return for a second tour of Switzerland. Whether you are interested in skiing on the snow-capped mountain peaks, hiking through the fields or checking out the Swiss carnival, it is essential to decide what time of year you would like to visit in order to perfectly plan your time away. A Swiss holiday is full of wondrous sights and entertainment no matter the season, and here are ten things to do to so you can experience the best of Switzerland.
The Matterhorn
If you're in Switzerland, you should visit the Matterhorn, which is the country's most popular tourism spot as it is the most famous Alpine peak, standing at 4,478 meters high. This is not a location for those who fear heights. However, this attraction draws daredevils and mountaineers from all over the world for skiing, snowboarding, hiking and more. There are even cable cars that will zip through the Zermatt, which is the highest cable car station in the Alps. If you are athletic and enjoy sports, this may be a great location to visit on your trip to Switzerland.
Corniche Lavaux Vineyards
If you love food and wine, then you've picked the right place for your holiday. As Savanah Collins from Interhome explains, food is a big part of travel, and the chocolate and wine in Switzerland are among the best to be had. If you are interested in exploring the vineyards, you should visit the breathtaking Corniche Lavaux Vineyards, which make up the largest vineyard region in Switzerland, covering approaching 800 hectares. The Corniche Lavaux Vineyard tour starts off in medieval St. Saphorin, which has winegrower houses from the 16th to 19th centuries. Additionally, the Auberge de l'Onde has local delicacies and wine served on its three floors. The tour will also take you uphill and downhill on the trail to Lutry as well as take you through the World Heritage Region for a hike. Those who visit the Corniche Lavaux Vineyards can appreciate the lake next to the vineyard and the backdrop of the mountain, adding great beauty to the vine terraces.
The Schweizerischer National Park
There's more to Switzerland than being a snowboarder's dream. If you are looking for an authentic Swiss experience that even locals still love to visit, stop by the Schweizerischer National Park. This park is 172 square kilometers of scenic pastures, glaciers, waterfalls, woodlands and more. For those who enjoy exploring the country trails, this park has 21 hiking routes, allowing visitors to enjoy long walk or hike with the chance of seeing marmots, golden eagles and other rare animals.
Lac Léman
As one of the top three largest cities in Switzerland, Geneva embodies the essence of Switzerland through its world-renowned restaurants, gorgeous green spaces and classic museums. It also has an amazing art scene where locals and tourists alike enjoy its grit, multicultural influences and vivaciousness. Geneva also houses one of the tallest fountains in the world, the Jet d'Eau. Lake Geneva is now referred to as Lac Léman by those of French descent who live in the area. If you are visiting the city, Lake Geneva is a great gateway to the Canton Vaud's wineries, the Vaud Alps and the Jura Mountains.
Chateau de Chillon
Everyone loves a castle, especially one with a four-century old water fortress. One of the most visited historic sightings in Switzerland, The Chateau de Chillon (Chillon Castle) is in Swiss Riviera, which is on the banks of Lake Geneva. The premises consist of three courtyards and 25 buildings, which are accessible through the town of Montreux. Whether you are traveling solo, with a companion or in a group, you will enjoy a stroll through the ancient halls of this castle. Inside its walls, you will find paintings, bedrooms, weaponry, towers and rooms that date back to the 14th century.
The Town of Gruyères
H.R. Giger, the creator of the Alien movie franchise and other horror films, was born in Switzerland and chose to live in Gruyères. Today, it houses a museum dedicated to H.R. Giger. Matching his horror-style, the museum is designed to have a dark, grim atmosphere, evoking feelings of terror. In addition, the inside of the museum has the feeling of an alien's lair with Giger's works hanging on the walls. From his paintings and drawings to his old furniture, the museum captures the essence of Giger's artistic vision as well as his lifestyle. While in this town, you should also check out the Skeleton Bar, which is across from the museum. This location also has a similar theme with an ambiance that resembles the inside of a ribcage. If you're a history buff who loves a good fright, this location will not disappoint.
The Rhine Falls
Switzerland is the home of the Rhine Falls, which is Europe's largest waterfall, which is approximately 150 meters long. For those who would like to visit the Rhine Falls, there are canoes for rent that will take you to nearby castles where you can see the falls. You can also see the waterfall from afar from many viewing decks in the nearby area. If you happen to be in Switzerland on August 1st, the Rhine Falls hosts an amazing firework show for Swiss National Day.
Lugano
Because of its Italian influence, the town of Lugano demonstrates a very different side of Switzerland. Its romantic villas and fusion cuisine draw many tourists to the Ticino region. As this city is located north of Lago di Lugano, it also attracts many wealthy and famous visitors. This area is composed of many heritage sites and museums for viewing as well as memorable restaurants to dine. With its great weather, which is a result of the warm Mediterranean air, this is a must-visit city in Switzerland during spring and summer months.
Medieval City of Bern
Bern is the capital of Switzerland, which is also the country's medieval touchstone. Once you visit the city of Bern, you will see a very-well preserved historical center, which houses the UNESCO World Heritage Site. This area has archaic towers over the city's many fountains and sandstone and brick facades in addition to its cafes, bars and boutiques. For those who are interested in visiting the city of Bern, you will experience historic grounds with vintage-style homes, a botanical garden and marketplaces. This city also houses the seat of Bundeshaus, which is the Swiss parliament.
Zurich
Zurich is known around the globe as one of the world's most livable cities. Not only is Zurich the financial hub of Switzerland, it has a great, stimulating nightlife full of variety in musical tastes. Additionally, as a cultural staple, this city hosts the Street Parade, which is one of the largest annual rave parties in Europe. Zurich also has many heritage sites, cultural spaces and over 150 museums and galleries to visit, offering tourists and locals a thriving city life experience.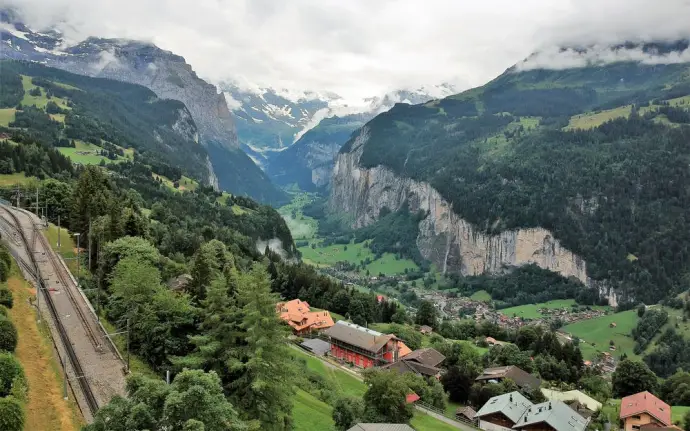 If you find yourself in Switzerland, you will experience the holiday of your dreams. The historical towns, epic castles, vineyards, alps and lively cities are just the tipping point of what you will see during your stay in Switzerland. Spending time in this country will make you appreciate its diversity in culture, landscape and atmosphere, fulfilling every getaway wish that your heart could desire.