Mexico has year-round sunshine, stunning beaches and luxurious resorts. Thousands of kilometres of coastline span around the both Caribbean Sea and Pacific Ocean. Holidaymakers can book a resort in Los Cabos or stay in one of the high-end playa del carmen vacation villas. Either way, you guaranteed a holiday of a lifetime. If this is your first time to Mexico, check out these top beach resorts to help you plan your dream trip.
Riviera Maya
The Riviera Maya is the most popular beach resort in Mexico. The region stretches from Cancun on the northeastern corner of Yucatan down the peninsula. You'll find hundreds of resorts and vacation rentals lining the Caribbean coast. Throw in the classy restaurants, beachside bars and water sports. And all this is a stone's throw from ancient Mayan ruins which are scattered around the landscape. The Riviera Maya is a favourite destination with both North American and European holidaymakers. If you do visit this part of Mexico, take full advantage of the day trips. You can head inland to the colonial centres of Valladolid and Merida. Or even take a day trip across the border into neighbouring Belize.
Cancun
Cancun is the postcard beach resort in Mexico. Holidaymakers can book their luxurious vacation and stay in the classy hotel zone. Expect five-star resorts lining the Caribbean coast with plenty of opportunities to explore the rest of Yucatan. Cancun acts as a gateway to Mexico. Airlines from around the world fly into Cancun making it a hub for tourism. When you arrive in the hotel zone, you'll find everything you need. The region itself transformed into a tourist hub in the 1960s after the Mexican government identified it as a perfect place to develop a beach resort. Flash forward and it certainly lives up to its reputation. Most holidaymakers stay in the comfort of their resorts or villa overlooking the coast. But take the time to head across to Cancun Town to get a glimpse of the real life in Mexico. This also gives you a chance to eat Mexican street food and shop for souvenirs from the markets.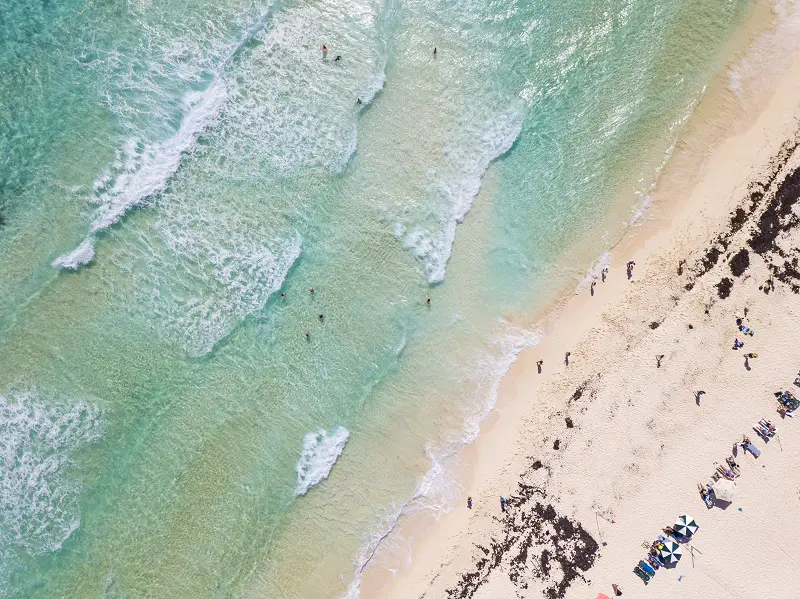 Isla Mujeres
Isla Mujeres near Cancun has stunning beaches, but fewer tourists than its neighbour. Ferries depart several times a day taking holidaymakers across to the island from the hotel zone in Cancun. Most only visit on a day trip leaving the island relatively empty on the evenings. As soon as you step off the ferry, you'll find soft-sand beaches and plenty of space to put down your towel and relax. One of the highlight's of Isla Mujeres are the water sports. Operators conveniently line the beach next the ferry giving tourists a chance to go snorkelling, scuba diving and jet skiing. Pro tip: If you want to do water sports, plan your trip the day before to guarantee a spot. At certain times of the year, you can join a whale shark tour out in the Caribbean Sea. Isla Mujeres is the perfect beach resort for anyone looking to have a more isolated beach experience compared to Cancun.
Playa del Carmen
Playa del Carmen offers some of Mexico's best beaches and is like a fairy tale! The soft sand stretches for dozens of kilometres along Yucatan's eastern coast. You'll find plenty of high-end villas to rent for a slice of your own luxury. And as such attracts some of the world's rich and famous. Step away from the resorts and beaches and find a thriving food and drink scene. Five-star restaurants serving up fresh seafood and Mexican dishes line the coast. After dark, the bars fill up creating a thriving nightlife scene. If you want to have a high-end vacation in Mexico while enjoying the night life, Playa del Carmen is perfect for you.
Tulum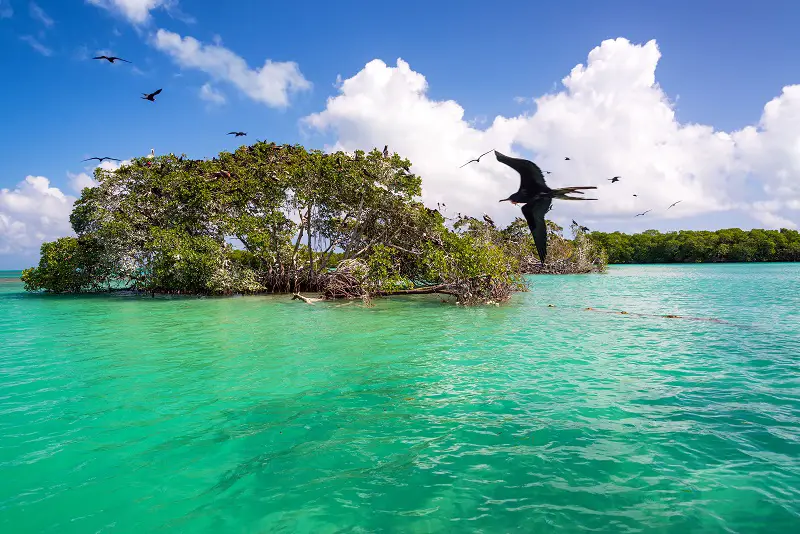 Tulum is a smaller beach resort in the Riviera Maya and attracts more of a health conscious crowd. Instead of the bars and restaurants, Tulum has spas and massage parlours. This is the ideal place for a relaxing break to recuperate. Spend the mornings getting world-class spa treatment before attending a yoga session in the afternoon. Throw in the beautiful beaches and nearby Mayan ruins and you're in for a treat.
Los Cabos
Moving away from Yucatan and the Riviera Maya, you can visit Mexico's most exclusive beach resort: Los Cabos. The region sits on the Pacific Coast along the Baja California Peninsula. Most of the holidaymakers come from North America. Expect over 300 sunny days in a year and a fantastic stretch of coastline. Bars and restaurant provide all the convenience you need on your luxurious getaway. If you want a quiet vacation, book your resort or vacation rental in San Jose del Cabo. Or stay in Cabo San Lucas to enjoy a more active nightlife.
Zihuatenejo
This tiny beach resort along Mexico's Pacific coast is growing as a popular tourist destination. At the moment, Zihuatenjo is off the radar for most visitors who prefer to head to Los Cabos. Only a handful know about this town's spectacular coastline and of its reputation as Mexico's diving oasis. Compared to Mexico's other beach resorts, this town has a healthy mix of upscale tourists, families and backpackers.
The best beach resorts in Mexico
Most of Mexico's beach resorts are in the Riviera Maya along the eastern coast of Yucatan. Check out Cancun and stay in the hotel zone for a convenient beach getaway. Or head south to Playa del Carmen for better beaches and easy access to Mayan ruins. Fly to the Baja Peninsula for guaranteed sunshine in Los Cabos.