Dubai is just not a modern city with tall skyscrapers. It has so much to offer to every kind of traveler.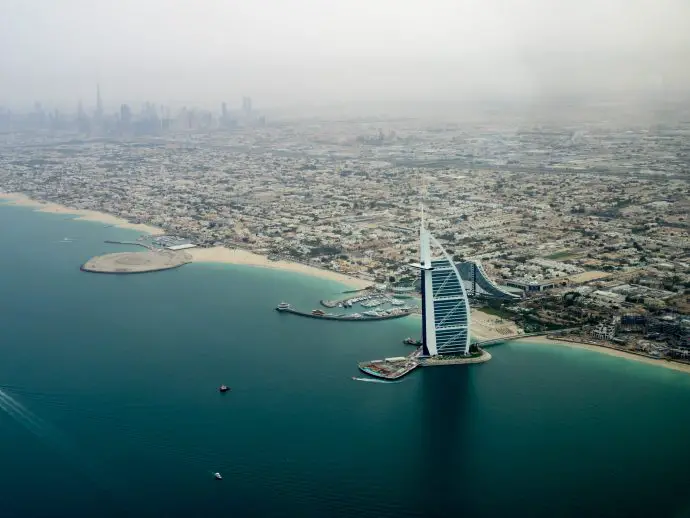 If you are yet to visit Dubai, here are some of the top reasons you should plan for your first Dubai trip:
Spectacular architecture And City Skyline
Dubai is a terrific center of architecture in that it is able to successfully combine modern sensibilities with traditional design. Newer buildings like the world's tallest, Burj Khalifa, and sail-like structure of the Burj al-Arab reflects Dubai's commitment to innovative architectural practices. Meanwhile, the presence of Jumeirah Mosque and other traditional buildings is proof that it is not about to forget its past anytime soon.
Dubai may be the city with the best skyline out there, with towering buildings built side by side with each other. The Burj Khalifa, Burj al-Arab, Dubai Frame and other key skyscrapers especially spectacular good when the sun is setting as it complements well with the orange tint of the sky.
Cultural Melting Pot
A big percentage of Dubai's population is made up of foreign expats and immigrant workers. This is why there is a level of tolerance that is practiced here in terms of culture and religion. The Emirati government even has a Minister of Tolerance appointed to make sure that people from different backgrounds coexist with each other. If you want to experience different cultures visiting a single place, Dubai is the place to be.
Desert Safari And Other Desert Adventures
If you want to be able to try out camel riding, dune bashing and sand-boarding in one go, booking a desert safari in Dubai is the best option out there. Make a reservation now! Stay for an overnight trip so you can also enjoy their barbecue while talented belly dancers do their routine.
Delectable Food
The diversity of the population in Dubai has resulted in an explosion of different culinary experiences. In this city, Chinese and American food is just as popular as Arabian viand. No matter what your budget, lifestyle or taste is, you will find something to your liking in Dubai.
Shopper's Paradise
Sure, Dubai indeed has a lot of shopping choices. There are fashion stores and malls here that would be able to give you whatever you are looking for. But, it is the shopping experience that is the highlight of buying things in this city. You can go to the Dubai Mall, which is the largest mall in the world. Or you can head to the Souk Madinat to be able to ride a boat in the waterway while transferring from one shop to another.
Dubai may be the metropolis of the future but it still has a few districts that would have belonged well in a 20th century painting. The traditional markets in Dubai, especially, offer a lot of locally made products and artwork that any traveler would be keen to purchase.
Affordable Precious Gems And Metals
Dubai is heaven for people who want to purchase precious gems and metals. Compared to other cities in the world, the prices of these commodities are affordable. While gold is its specialty, the Dubai Gold Souk is a good destination for anyone looking to purchase anything sparkly.
Vibrant Art And Cultural Scene
It is safe to say that Dubai is the center of modern art and culture in the Middle East. One solid proof of this is the city's art district that can be seen at Alserkal Avenue. Emerging artists from all over the world showcase their work in this area. There are also art galleries along the Financial Center, along with annual art-related events like Design Days and Art Dubai.
Artificial Islands
Dubai is certainly not the first city to build artificial islands. But it was the first to make the development of artificial islands an "event." A prime example of this is the Palm Jumeirah. Not only is it the largest artificial island in "the world", it is also among a few things made by humans that can be seen from outer space.
The Dubai Fountain
Move over, Bellagio fountains. The Dubai Fountain shows are lively and use music from different countries in an effort to impress a global audience. It can be seen every thirty minutes on evenings daily.
Lots Of Indoor Attractions
If you are just dying to get away from the heat, there are endless indoor attractions available for you. Among them are the Dubai Aquarium, Ski Dubai, IMG Worlds of Adventure and Bollywood Parks. It is perfect for entire families that want to bond together.
Luxury Yacht Cursing Opportunity
In Dubai, your party can be even more enjoyable if you do it in a yacht. Party yachts are available for those who want to rent. They come in various shapes and sizes so that you can book what you need. You can also enjoy relaxing time with family on a luxury yacht. Fishing, relaxing on the deck, eating freshly cooked fishes by the cook onboard are some major highlights of a luxury yacht in Dubai. To have this experience, you can rent a yacht charter in Dubai and enjoy your time with friends and family.
Unlimited Adventures
Dubai is perfect for any adrenaline junkie because there are a lot of thrilling adventures that can be done there. Water sports and activities can be played in the Jumeirah Beach. If you are into physically demanding outdoor activities, you can do hiking and mountaineering. You can even ride a hot air balloon.
The thought of skydiving is exciting. But skydiving in Dubai is something else in its magnificence and splendor. Where else will you be able to skydive while looking at the beautiful Palm Jumeirah from the top? It also helps that skydiving companies in Dubai are among the safest in the world.
Luxury like no other
To say that Dubai is luxurious is an understatement. The luxury cars that fill the streets are innumerable. You can even hail a Lamborghini Lyft or a Bugati taxi! This is not to mention the prime real estate properties that can be found within the city. You can find endless number of luxury hotels and resorts around this famous city.
Luxury dhow cruise
An evening dhow cruise Dubai is one of the very popular activities for any tourist. You will be able to view the skyscrapers near the Marina in their entirety while you are enjoying the delicious buffet dinner that they offer onboard. The lighting and decoration of the show ships make the ambiance perfect for enjoy an unforgettable evening in Dubai.