Planning to host a graduation party this year but don't know where to start? We know hosting a graduation party can be really a headache sometimes but you don't have to worry. We are here to guide you step by step. By reading our guide "Outdoor Graduation Party Ideas" you will be able to know everything from the beginning to the end of hosting, planning, and celebrating a graduation party in a perfect way.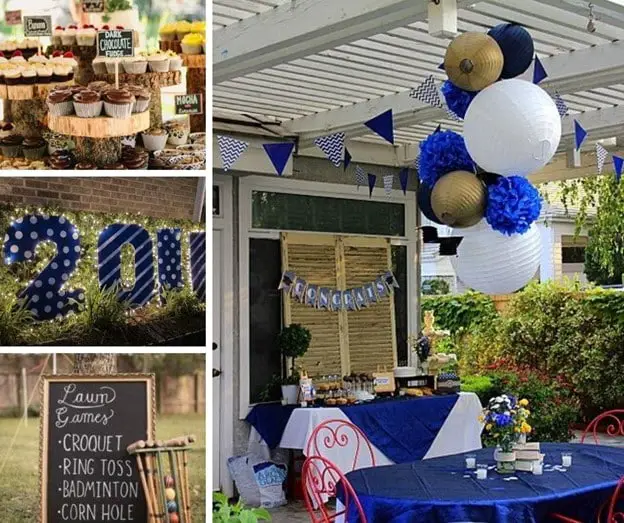 What is a Graduation Party?
The graduation party is the simple ceremony hosted by the grad or his/her parents on successful completion of the course at university, college, or school. It is more of a traditional or formal event to appreciate and honor the hard work and milestones crossed by a teen and wish him a bright future. You can announce the occasion or send invitations to whoever the grad wants to invite.
How To Host A Graduation Party?
Hosting a graduation party needs a well-planned schedule and proper management. You have to make a whole procedure and follow each step accordingly. Firstly, know your budget limit and decide where and how you are going to host the party. Then make a list of food, drinks, and decoration items and calculate the roughly estimated amount. Once the plan is finalized send an invitation to guests and announce the occasion. Keep in mind the hectic schedule of other guests and plan accordingly. It is best to host during the weekend.
15 Awesome Outdoor Graduation Party Ideas
There are countless options or themes when it comes to graduation party ideas. However, backyard graduation parties are currently the most common type of graduation celebration. It is best to host a party outside in the open area because it can accommodate more guests. Especially when your budget is limited you don't necessarily have to organize it at a fancy restaurant or banquet. It will save transportation costs, and rent as well as the decoration is under your control. Here are some of the best suggestions for hassle-free outdoor graduation parties.
1. Outdoor Buffet
Arrange an outdoor buffet for the guest with a few options to drink. They will surely love it to fill their hungry stomach. This will allow them to have what they want and you don't really have to worry about the serving.
2. Consider Joint Graduation Party
Along with your child, there might be some other children who have recently graduated. If they are also looking to throw a graduation party, it is best to co-host. This will save the budget and need less effort.
3. Open House
Sometimes the guest might have a hectic schedule and they might not be able to visit on time. In such a case, it is best to host an open house party. The guest will come and go according to their time.
4. Dance Floor and Music System
One of the main reasons to host a graduation party is to enjoy and have fun with your nearest friends, family, and relatives. Arrange the dance floor with a music system for entertainment. Those who love to dance will show their talent and the party will be awesome to remember.
5. Food, Drinks, and Seating
Arrange some tables and chairs in the backyard for seating. Serve some food and drinks to the guest. This will be a perfect arrangement if the limited guests are attending the part. If you don't like to arrange the tables, you can arrange for carpet, food, drinks, and cards. To serve drinks you can use graduation party koozies which can be a perfect graduation party favor. The guest will love to seat in the open environment and feel the fresh air with some drink.
6. Desert Table
Put some cakes on the table and decorate the background with some paper garlands or balloons. You can also expand it to the dessert bar to include more items. Also, add your creativity to the dessert table.
7. Party String Light
Buy some party string lights and decorate the backyard according to the theme. The outdoors will provide a magical setting for a celebration as a result. These lights look perfect for an evening party. In addition, set up the floor with round tables and graduation party table clothes.
8. Inflatable Serving Bar
Either on a table or on the lawn arrange the bar and put different beverages on it. This is a fantastic opportunity to get together and spend time with friends and family. It is more fun to seat on the grass.
9. Bloons Garlands
Decorate the backyard with some balloons garlands and a photo booth. Add some graduation quotes to make it more engaging. You can also add a number of balloons to represent the year of graduation.
10. Drink Station
Create a simple drink station by yourself. You just need some wooden crates and some big pots. Arrange them in a unique way to display. Add some decoration items to make the theme more attractive. This way you don't have to buy a lot of bottles and cans.
11. Organizing Some Games and Activities
After all, don't forget to have fun at the party. Make an arrangement for some lawn games or indoor games like chess, cards, etc. The DIY photo booth will be great for taking selfies and capturing some of the best moments with guests.
12. Simple Snacks
If you want to keep the party simple and spend less money, decorate the backyard with the graduate's favorite colors or school colors. Offer some simple snacks and drinks to the guests. This idea is simple and effortless yet elegant.
13. Decorate The Front Walk With Photos And Text
This is a milestone a teen has crossed. To display his achievement you can decorate the front walk with some of his graduation photos or text. The grad will love this kind of decoration and feel appreciated.
14. Gift Table
Bringing the gift is not mandatory while attending the graduation party. However, some guest doesn't feel comfortable being present empty hand. Arrange a table to collect those gifts.
15. Card Box
Many guests bring cards to congratulate the grads and wish them for the future. Arrange a card box to collect those notes. You can also arrange some scraps of paper, ribbon, and pens to let the guest write some sweet notes.
Conclusion
Next time you host a graduation party we hope you will celebrate the party with style using some of the best ideas we have given to you in our guide. We recommend planning for an outdoor graduation party rather than hosting it at some fancy restaurant or banquet. This helps you save a ton of time, energy, and cash. More significantly, everything will be within your control.