Are you looking for ways to make your home look more attractive and inviting? If so, you're in luck! In this blog post, we'll be exploring six great decor ideas that can help to improve the appearance of any home. From classic rustic décor options to modern contemporary styles, there are plenty of possibilities when it comes to interior design. We hope that by revisiting these timeless tips and updated techniques – you will come away with ideas and inspiration on how to spruce up your living space. So get ready – because here are six awesome decor ideas you should try today!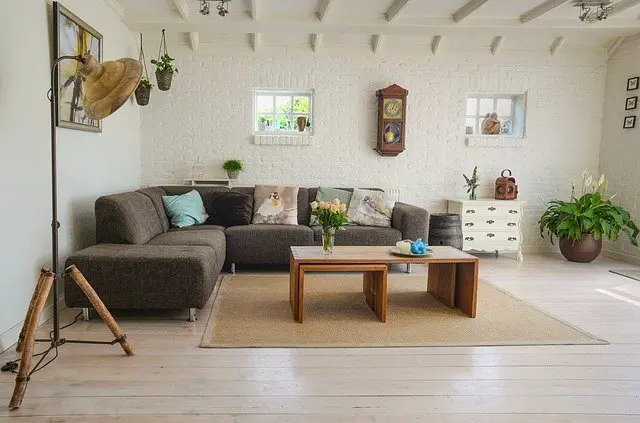 Install a Statement Water Feature
Adding a statement water feature to your home is a great way to make it look luxurious while still feeling comfortable and homey. Not only will the sound of trickling water create a soothing atmosphere, but the visual effect of cascading water framed by beautiful stones and plants will provide an eye-catching focal point for any room in your house. Plus, a statement water feature can also increase the value of your home if you ever decide to put it on the market. Get creative when you choose one; there is a range of outdoor water features  as well as styles, from sleek rectangular tanks to swirling infinity fountains. Whatever type you choose, be sure to install it as soon as possible for some much-needed relaxation.
Refresh Your Walls With Artwork or Wall Decals
If you're looking for a simple update to refresh the look of your home, why not add some artwork or wall decals? Artwork can add a personal touch that reflects your individual style, and it's easy to mix and match prints and frames to create an arrangement that works for you. Wall decals are also an excellent way to instantly transform a boring wall into something more interesting – find designs that range from vibrant abstracts to more traditional landscapes and photos. Both pieces will instantly breathe life into any room in your home – so don't be afraid to get creative! Also, if you are looking for a more permanent way to spruce up your walls, consider installing intricate wall paneling or adding a coat of paint.
Change Up the Furniture Arrangement – Try Something Different and Unexpected
Experimenting with the furniture placement in your home can be a great way to improve its overall appearance. Despite being daunting at first, it's actually easy to switch things up and create something new. For example, you could move the couch away from the wall, shift the dining room table into another corner of the room, or bring a new antique end table in from another room. The best part is that these changes don't need to be permanent – if you don't like them, just switch them back up! By transforming your space through innovative furniture arrangements, you can easily and efficiently give your home fresh energy and unique style.
Use Color to Create Visual Interest – Add in Pops of Bold Colors for a Dramatic Effect
Adding some pops of bold colors to your home is an easy and effective way to give a dramatic effect, without too much effort. The right hues can make your room appear larger and more vibrant, attracting the eye and making a real statement. Consider adding some bright oranges, reds, yellows, or greens if you're looking to create a truly striking aesthetic. A few well-placed splashes of color can go a long way toward enlivening the look of your space while still keeping things tasteful. Try experimenting with different combinations until you find the perfect blend and bring out your home's unique aesthetic—you'll be amazed by how much impact these few colorful accents can have!
Update Lighting Fixtures for a Modern Touch that Will Instantly Transform any Room
Updating your lighting fixtures can give any room in your home an instant modern makeover. You don't have to invest a lot of money to see the rewards – consider swapping out one or two old-fashioned light fixtures for something with a more contemporary vibe. Whether you prefer metal fixtures, Edison bulbs, geometric light shades, or all of the above – there are tons of options available to easily transform any space. And don't forget about different types of lighting levels too – be sure to highlight sections of your room by utilizing accent lights that draw attention to those special nooks and crannies in your home. You can, for instance, add a few track lights that you can point at artwork or special elements in the room, to bring them into focus. With the right lighting scheme, you can change the entire feel of your home and create a more inviting and appealing atmosphere.
Hang Curtains on the Windows to Add Softness and Privacy to Your Space
When it comes to decorating your home, one often-overlooked item that can really change the feel of a space is curtains. Hanging curtains in a room add cozy warmth – especially when sunlight streams through them. They also add an element of privacy, so you can easily block off windows from outside view when necessary. Depending on what type of fabric you choose, hanging curtains can totally transform any room from feeling flat and one-dimensional to inviting and multi-dimensional. Additionally, many fabrics come in attractive patterns or colors that allow homeowners to flaunt their personalities; experiment with different styles to make sure you find a look that appeals to you! For example, if you want something that's not too stuffy or traditional, try some sheer curtains with light and airy patterns. The effect will be immediate and stunning!
Giving your home a makeover doesn't have to be expensive or time-consuming. With just a few simple tricks, you can easily and effectively transform the look of any room in your house. Whether it's rearranging furniture pieces, adding vibrant colors, modernizing lighting fixtures, or hanging curtains – these small changes can make your space look and feel totally new. With a little bit of creativity and an eye for design, you'll be able to create the home of your dreams.