Atlantic City New Jersey: The Jewel of the East Coast
Atlantic City has often been referred to as the Las Vegas of the East Coast, but truth be told such comparisons are unnecessary. Atlantic City has a unique flavour – an ambience all its own. There are many features and attractions in Atlantic City that are notably absent in Las Vegas, such as the Boardwalk and the ocean. The Atlantic City Boardwalk begins east of downtown, and it is an impressive tourist haven of fun and games, sights and sounds, and pulse-pounding entertainment. Visitors to Atlantic City rate it as excellent, or very good, and it's thanks to the spectacular Boardwalk that this East Coast entertainment paradise has magnetic appeal to visitors.
So, what makes Atlantic City such an incredible destination for locals, out-of-towners, and foreign tourists? For one thing, Atlantic City offers spectacular views of the Garden State. It's also home to a series of incredible events, fun and games aplenty. If you like entertainment, AC is better than DC for sure. It is the adult playground of folks from Pennsylvania, New York, Delaware, Maryland, Florida, and the Carolinas, and is now a must-stop destination for everything ranging from sports contests to Boardwalk events, pop stars, concerts, conferences and so much more. It's hard to pin down just 8 reasons why Atlantic City New Jersey rules the roost. Folks can enjoy events like the Atlantic City Wine Hop Tour, the Beach Bash, the Borgata Comedy Club, the 21-Point Atlantic City Tour, Kiss My Burlesque, Boardwalk All Pipe Organ Tour, Disney on Ice, Indoor Auto Racing, Marlon Wayons, Jeff Foxworthy, Warriors Cup, and Fantasia among others. Now that you know what to expect, let's hit the ground running with the top 8 attractions in Atlantic City!
1.     Harrah's Atlantic City Casino
Located at 777 Harrah's Boulevard Atlantic City New Jersey, this iconic casino is affordably priced, and in the perfect location. It features the wildly popular Martorano's restaurant with Steve Martorano. There also loads of other activities at the casino and hotel, including the resort pool and pool after dark, the luxurious Veracruz restaurant where you can enjoy cocktails and sunsets, and plenty of redneck entertainment with the legendary Jeff Foxworthy. Of course, the entertainers only stay a short while in Atlantic City, but they have an enduring legacy, and fans will remember them long after the show is over. Atlantic City New Jersey is also the home of real money online poker games, with The World Series of Poker (WSOP). Other facilities at the hotel include a spa, fitness room, nightlife, scores of restaurants, tours and more.
2.     The Boardwalk
The Atlantic City Boardwalk has a rich history that spans generations. In fact, the very first Atlantic City Boardwalk planks were laid in June 1870. At a cost of $5,000, the Boardwalk is one of the most memorable tourist destinations on the East Coast. This promenade has seen millions of visitors come and go over the years. It was rebuilt a decade after it opened, and was designed longer and wider. Various hurricanes, storms and other weather phenomena destroyed the Boardwalk over time, but New Jersey residents were determined to maintain the magnetic allure of this tourist attraction. Today, the Atlantic City Boardwalk is a US institution; a virtual symbol of resilience through the ages. The boardwalk plays host to multiple parades, events, races, contests, shows and other featured attractions. It is definitely a bucket list item for anyone who enjoys fun and games along the eastern shore board.
3.     Absecon Lighthouse
Atlantic City is located on the coast line, and back in the old days, lighthouses were needed to inform sailors where the rocky shores were so that they didn't scuttle their vessels. Absecon Lighthouse stands 171 feet tall and is the third tallest lighthouse in all the US. In fact, it has a heritage that spans 162 years, after having been built in 1857. What's great about this is that visitors to Atlantic City can climb up the lighthouse and get a view once they reach the top – 228 steps of an amazing journey. The view from the lighthouse is breath-taking, and it's a great way to get your Atlantic City vacation started!
4.     Bally's Atlantic City
Bally's Atlantic City Hotel & Casino is located at 1900 Pacific Ave., Atlantic City, NJ. It is a towering establishment, and has been in operation since 1979. It features an incredible selection of casino games, notably Slots, Live Poker, Blackjack, and Baccarat. Visitors get to enjoy Bally's Salon and Spa, and Indoor Swimming Pool, a fancy casino, a steam room, racquetball courts and basketball courts, 7 whirlpool spas, 4 bars, Boardwalk Cupcakes, Harry's Oyster Bar, a 24-Hour front desk and so much more. There are 49 floors, 5 lounges, 10 restaurants, 22 meeting rooms, and a total of 1,250 rooms in the hotel. It is one of the Atlantic City giants, and a visit to AC would not be complete without taking in the sights, sounds and attractions of this spectacular casino.
5.     Caesars Atlantic City Casino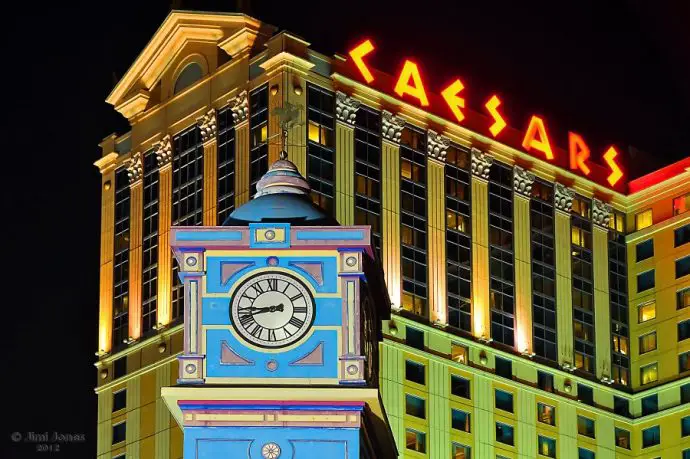 Caesars Atlantic City Casino is located at 2100 Pacific Ave., Atlantic City, NJ. Visitors looking for British pub cuisine will love Gordon Ramsay's Pub & Grill at Caesars. Other famous entertainers currently on the scene at Caesars include Weird Al Yankovic. Of course, poker games are always high on the agenda at Caesars, the home of WSOP.com.
Rooms come in multiple grades, including the Premium Room, Senator Suite, and the Deluxe Room. Caesars Atlantic City Hotel and Casino offers plenty of activities for visitors. There are Golf Courses, 24-Hour Gaming, the Boardwalk, Baths and Spas, the Playground Mall, the Toga Bar, the Rooftop Pool, the Salon at Caesars, and scores of promotional offers waiting to be redeemed.
The Caesars Casino features some 2,000+ slot machines, including superb video poker games, progressive jackpot slots, penny slots, nickel games, and more. Plus, anyone in Atlantic City can enjoy online casino games too. Erstwhile NJ Governor, Chris Christie signed online gaming legislation into law in 2013. Since then, anyone of legal age within the state of New Jersey can enjoy real-money online casino games. This is great news for visitors to any of the iconic Atlantic City casinos since they all offer their games online too. Players can get comfy with a fine selection of online slot games, Blackjack games, Baccarat games, Roulette, and Video Poker at Caesars.  If table games are your thing, Caesars offers high-octane games of craps, European Roulette, American Roulette, French Roulette and others. Beyond the casino, epic entertainment awaits players. Superstars like Celine Dion have graced the stage at Caesars casino, and That's just the tip of the iceberg. For anyone thinking of a visit to Atlantic City, Caesars Atlantic City is a must-stop destination.
6.     Borgata Casino
The Borgata Casino is a spectacular casino resort featuring a sleek and stylish experience for casino enthusiasts. Top slots, Roulette games, blackjack games and poker games are available. Plus, you can enjoy online casino games wherever you go in Atlantic City, or throughout New Jersey thanks to friendly online gambling legislation in the Garden State. Borgata offers visitors a variety of luxury, elegance and spaciousness. Rooms include classic rooms, grande rooms, standard rooms, suites and more. There are spas, salons, barber shops, fine dining, casual dining, and events galore. These include concerts, comedy, nightlife, dining, sports and other highly anticipated events.
7.     The New Jersey Korean War Memorial
This one made it onto the list because New Jersey's Atlantic City is so much more than a soulless entertainment enclave. There is plenty of history in Atlantic City, and the New Jersey Korean War Memorial at 124 Park Pl., Atlantic City is worthy of your time. It is a tribute to all the fallen soldiers in the Korean War, and is designed for the psychological and spiritual wounds inflicted upon Korean war vets, their family and friends. US veterans played an important part in preventing South Korea from being taken over by North Korea. South Korea is a prosperous nation today because the US helped it to maintain its independence from North Korea's belligerence. The plaque contains 890 names and they are carved under the eternal flame.
8.     The Golden Nugget Atlantic City
The Golden Nugget Atlantic City Casino is located on Huron and Brigantine Boulevard, in Atlantic City. The casino offers a 24-karat gold experience to players, with slots games, card games and table games galore. The range of table games includes Pai Gow Poker, Ultimate Texas Holdem, Four Card Poker, Three Card Poker, and Mississippi Stud. There are high limit table games including Mini Baccarat, Single Zero Roulette, Blackjack and Craps. When it comes time to relax after the games, the spa and salon at the Golden Nugget Atlantic City Casino is a prize destination. VIP treatment is available for all bookings, and there are plenty of shops to treat yourself to whatever your heart desires. Italian cuisine, Asian cuisine and cocktails aplenty can be enjoyed at the Golden Nugget in Atlantic City.