Have you bought an apartment that is a bit on the small side? Do you want to fit as much furniture and personal items as you can into the tiny space without making it look cluttered? Here are some ideas on how to furnish and decorate a small apartment and making sure it looks cool.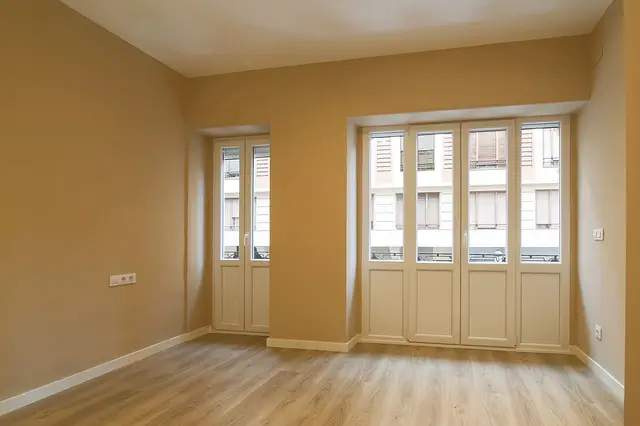 Colors
Choose light paint colors for your walls. Soft greys, off white and cream, will bounce light and give the illusion of space. Very dark shades can feel quite oppressive and bring the walls in. If you want some color, you could make a feature wall, decorated with a darker tone or beautiful wallpaper. Vertical stripes will make the ceiling seem higher, giving the illusion of height and space.
Using a single color theme can make rooms feel bigger. Blurring the line between areas tricks the eye into thinking the rooms are more extensive. Your eye finds it difficult to work out where wall edges and corners begin and end without clear color borders. This is a simple way to create larger rooms in a seamless manner.
Furniture
When buying furniture for a small apartment, you really need to be careful and do lots of planning and research. First of all, measure your rooms and measure again. Take into account how doors open and decide which pieces of furniture are essential and which are not.
Look for innovative furniture that can be used for a variety of uses, such as sofa beds and modern futon sofa beds. If you have a studio apartment, such an item is ideal because it can be used as a sofa during the day and a bed at night. Futons are usually a bit smaller and lower than sofa beds, so they are a great space saver.
Coffee tables and footstools with hidden storage are great for hiding clutter and storing personal items.
In the bedroom, opt for beds with storage drawers underneath or ottoman beds that lift up and provide massive space for storing bedding, pillows, quilts, or out of season clothes. If you have kids, furnish their rooms with bunk beds or high sleeper beds with wardrobes and a chest of drawers underneath.
Appliances
If your apartment has a small kitchen, but you don't want to give up luxuries, seek out smaller than average goods. Dishwashers, fridge freezers, and cookers are all available in narrower than standard versions. If you are really pressed for space, you could forego a full-sized cooker and opt for a countertop all-in-one hot plate and small oven. A built-in kitchen will take up less space than a freestanding one, and with the help of a professional kitchen designer, you can create a kitchen with all necessary white goods as well as plenty of storage.
Many space-saving solutions can be used in the kitchen, such as folding dining tables with chair storage, kitchen island on wheels that can be rolled into the middle of the kitchen when in use, and stored away when not.
Storage
You have to be very inventive with storage to prevent your home from looking cluttered and messy in small spaces. Take advantage of all wall space and build a floor to ceiling bookcase and storage cupboards. Make window seats and benches with hidden storage. If you have wooden floors, you could even cut a hatch in the boards and store items in boxes beneath the floor.
Clear clutter from floors by hanging lots of shelves on the walls and over heaters. Over the door hooks and storage pockets are great for storing shoes or shampoos, and other toiletries.
Make a feature of your storage solutions by purchasing attractive baskets or boxes and sitting them in storage units, shelves, or on the floor.
Light
Good lighting will open a space up and make it feel fresh and airy. Maximize the natural light in your rooms by ensuring that the windows are not covered in any way. Roman blinds are great because they can be pulled right up and away from the window. If you want privacy during the day, opt for sheer voile or net curtains.
Free up surfaces from table lamps by installing ceiling lights or small wall lights. If you don't like a lot of bright light, thread fairy lights around the room or buy a set of curtain lights.
Mirrors have been used for centuries to bring light into a room. They offer two significant advantages – they bounce light around a room, and they give the illusion of depth. Hanging a mirror opposite a window will maximize the light and will also bring a hint of the outdoors, indoors.