Greece has always been a glamorous superyacht destination, with its blissful mix of blue green coves, ancient temples, and sugar-cube villages of whitewash, bougainvillea and blue domes. For guests on a Greece yacht charter, there are five-star luxury experiences at every turn, from shopping in the haute couture boutiques of Mykonos and lazing by a clifftop infinity pool in Santorini, to living it up in sophisticated beach clubs and elegant restaurants across the Greek isles.
This summer, the glamour quotient of a Greece yacht charter has been turned up even higher, with a raft of ultra-luxury properties opening up, offering decadent spa and fine dining experiences for yacht charter guests. If you're looking to be pampered on your yachting vacation this summer, you'll want to drop anchor off one of these three fabulously swanky new spa hotels.
Kensho Hotel, Mykonos
Each summer, glittering Mykonos draws the superyacht set with its dreamy combination of fabulous beach clubs, boutique shopping, and world-class restaurants and clubs. The five-star luxury offering just stepped up another notch with the 2017 launch of Kensho, a boutique hotel which has won a bevy of international awards including Europe's Best New Hotel and the World's Best New Hotel. So, what's all the fuss about?
You'll understand the hype instantly when you have a cocktail by the Starlight Pool at sunset, watching the dramatic sunset over the Aegean and seeing the infinity pool light up with a million fibre optic stars. Or perhaps you'll descend the stairs into the breathtaking Cave Spa, where the Jacuzzi pool is carved into the rock and cosy treatment rooms are lit by candles. There's also a beauty and hair salon to get you looking your best for dinner at the award-winning Kensho Restaurant, where traditional Greek and Mediterranean cuisine and innovative gastronomy combine in spectacular ways. Expect art on a plate as you dine on signature dishes like Wagyu Beef Stifado, Octopus Confit, and White Grouper cooked in Seafood.
As you finish your meal and head back to your yacht lit up in the harbour, you'll be enchanted by the view of windmills and buzzy, vibrant Mykonos – one of the ultimate destinations on a yacht charter in the Greek Islands.
Canaves Oia Santorini
The next dazzling newcomer on the Greek five-star hotel scene is also in the Cyclades, on the jet-set island of Santorini, a vast volcanic caldera that rears out of the Aegean Sea, where whitewash villages sit perched on dizzying precipices, and mighty cliffs dwarfing the superyachts anchored below.
The Canaves Oia Santorini hotel has always been a standout on the Santorini lux scene, but as of May 2018, it stands to get even better, with the opening of Canaves Oia Epitome, a new villa hotel on the edge of Oia. For visitors on a Greece yacht charter, you'll want to take a cabana by the infinity pool or a table in the sunset bar and restaurant, watching the fireball sun plunge into the Aegean, which turns every shade of red and gold in the last minutes of daylight.
Canaves Oia Santorini also offers yoga classes and spa treatments to really bliss out in the zen-like hotel grounds, where natural stone and whitewash perfectly complement the endless views of sea and sky. For dinner, the chef creates delicate Mediterranean food to match the surroundings – fresh grilled lobster or grouper, and wafer-thin beef carpaccio with lashings of Greek olive oil, all washed down with a crisp, cool local Santorini white wine.
Abaton Island Resort & Spa
Our last special mention is on the dreamy island of Crete, where the glamorous five-star Abaton Island Resort & Spa opened in April of 2018 and is set to revolutionise the Cretan dining and spa scene.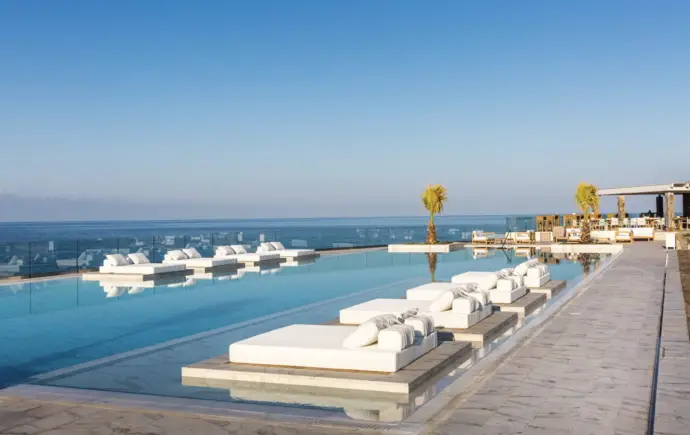 For yacht guests visiting this sophisticated property the appeals are many, from the luxuriously laid back C'est La Vie Beach Club, to the ultra-modern Ladies and Gentleman Lobby Bar with pleated white columns and glass bauble chandeliers.
However, the real attraction is the magnificent ElEMIS Spa, where you might swim in the glowing indoor pool with waterfall showers, channel you inner Cleopatra with a nourishing milk bath, or follow a massage with a sweet orchid nectar body wrap.
When you're done being pampered, the spa salon team will get you ready for your night out. This is where dreams are made, on an unforgettable Greece yacht charter.