Planning a Greek Islands yacht charter? Wondering when the best time to visit is? Here's the insider's guide to some of the best spots to visit during a yacht charter, Greek Islands, along with the best time to visit.
Greece is a fabulous year-round destination. The weather in summer is hot, with little chance of rain, so this is a great time for sun-lovers who want to soak up the Mediterranean sun. For those looking for warm sun-filled days and don't mind the odd chance of a shower, spring and autumn is the time to visit. If you seek cooler climes, then enjoy a yacht charter, Greek Islands, during the winter months. A bonus is that you'll find many of the Greek Islands bereft of tourists at this time, meaning you'll have far more opportunity to explore away from the madding crowds.
Here's the best times to enjoy a Greek Islands yacht charter
Winter exploration in Greece
You're likely to encounter cool weather and rainy days during a winter yacht charter in the Greek Islands, so heading to one of the larger islands that offer lots of things to see and do is a must.
Santorini – part of the idyllic Cyclades Islands – as well as Crete, Greece's largest island, all offer great spots to visit during a Greek Islands yacht charter. You'll find these islands mostly clear of tourists during winter, making strolling through quaint streets, shopping at the local boutiques, and sightseeing without the queues, far more enjoyable.
Winter is also an ideal time for hikers and walkers, when the cooler climes make these leisurely pursuits much more comfortable and enjoyable. Indeed, Santorini's stunning volcanic scenery makes for some wonderful hikes and spectacular views. After, enjoy the spectacular cuisine this island is renowned for at one of the many restaurants dotted throughout this island.
For thrill seekers, the island of Crete offers fantastic canyoning opportunities, when the winter rains fill rivers and gorges, bringing thousands of waterfalls to life. It is also one of the few Greek Islands that offers a host of winter pursuits, including Alpine skiing and snowboarding. Crete's Samarai Gorge is also a must-visit with nature enthusiasts during a Greek Islands yacht charter, offering spectacular landscape and scenery. Lucky visitors may even spot the Cretan badger or spiny mouse, both endemic critters.
Spring sunshine in Greece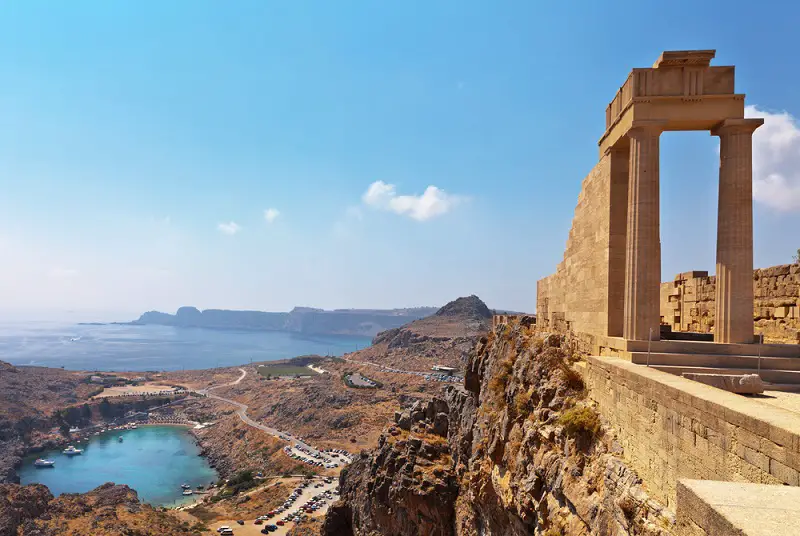 Warm sunny days are the norm throughout spring in the Greek Islands, and those who don't mind cooler sea temperatures will delight in relatively uncrowded beaches. Explore the islands of Rhodes and Paxos during a spring Greek Islands yacht charter and discover unique island charm, stunning flora and fauna, and a low-key island vibe.
Part of the Dodecanese island chain, Rhodes offers an abundance of culture and heritage, and spring is a great time for taking in some of the attractions before the high tourist season in summer kicks in. Be sure to check out the Acropolis of Rhodes, where visitors can view the remains of the Temples of Zeus and Athena, as well as the partly restored Temple of Apollo. Rhodes is also a popular island with windsurfers, especially during the spring, when the weather is warm, but the beaches are still relatively uncrowded. Foodies will also delight in the abundance of local tavernas that serve up lip-smacking fare inspired by the island's rich culture and heritage.
The island of Paxos is part of the Ionian Islands, and its compact size and laid-back island vibe makes for a thoroughly relaxing Greek Islands yacht charter soaking up the springtime sunshine. Explore quaint fishing villages, stunning beaches and hidden groves, or discover the island's myriad olive groves, the ideal way to enjoy a relaxing Greek Islands yacht charter.
Summer heat and parties in Greece
Karpathos
Ikaria
Corfu
Mykonos
Summer is when the Greek island are in full swing and with glorious days filled with sunshine, it is also the ideal time to enjoy the Greek Island's stunning range of beaches. If you want to avoid the crowds, then head to the islands that are off-the-beaten-track during your Greek Islands yacht charter. Quieter destinations tend to be harder to reach, making these islands ideal for exploring by boat.
Emerald waters and countless beaches define Karpathos, making this a great destination for beach lovers during a yacht charter in the Greek Islands. Ranging from sandy to pebbled, there's a beach for everyone on this paradisiacal island.
On the island of Ikaria discover natural thermal springs, known for their healing properties, explore the island's quaint villages, or check out stunning flora and fauna at beauty spots such as Halari Gorge, an area full of small lakes, narrow rivers, and waterfalls.
For those that would like to party into the early hours, head to the islands of Corfu and Mykonos, both filled with a spectacular range of bars and clubs that visitors flock to during the summer months.
Autumn wanderlust in Greece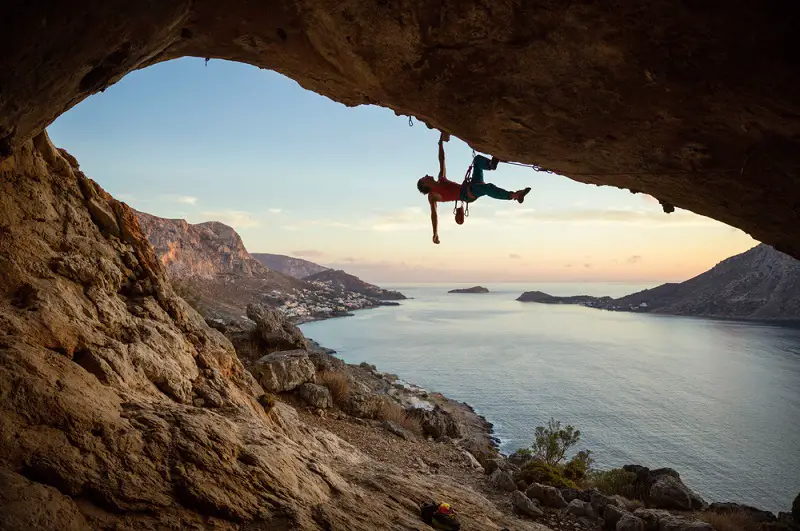 During autumn the weather starts to cool, and the crowds dissipate, yet the weather still remains warm, making this a great time of year for a Greek Islands yacht charter.
Mykonos is located in the heart of the Cyclades and offers an abundance of charm as well as things to see and do. A popular island, autumn is the ideal time to visit this stunning white-washed paradise during a Greek Islands yacht charter.
Explore the island's capital of Hora and stroll its quaint cobbled streets, discover sun-kissed beaches – many of which are great for windsurfing – or sink beneath the waves and explore stunning underwater marine life. For foodies, the island speciality Kopanisti, a soft cheese seasoned with pepper, is an absolute must.
Rock climbing enthusiasts should head to Kalymnos during a Greek Islands yacht charter in autumn, where the island's fantastic limestone cliffs make it one of the most popular rock-climbing destinations in the world. There's even an entire festival dedicated to the sport, held every October.
While each of the four seasons across the Greek Islands offer distinct experiences, any time of year is a great time to enjoy a luxury yacht charter. Which island tickles your fancy the most?