Switzerland is a charming, landlocked country teeming with turquoise lakes framed by majestic mountain ranges. A trip to this friendly country will have you an awe of its magnificent natural beauty. And there's plenty to see and do—from sampling cold cheeses and hot fondue to hiking some of the most breathtaking trails, there's a little something for everyone.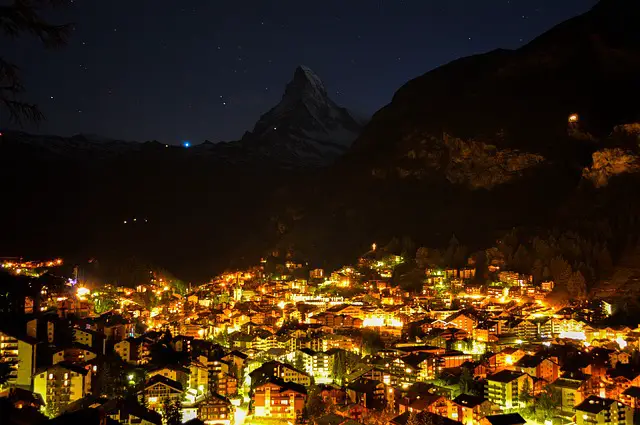 It's best to make travel arrangements early. Tiny snow-capped towns like Gstaad tend to have limited accommodation, and are booked far in advance. And to bear the brunt of the alpine weather, deck yourself out in warm union apparel like Carhartt and some sozy cold-weather resistant gloves. With the right equipment, you're properly set for an adventure.
With this in mind, if you're looking for a relaxing luxury retreat, you're in luck; there are plenty of opulent options in small mountain villages, where you can breathe in the fresh air as you explore new cultures. Here are five mountainous towns in Switzerland where you can have it all:
Zermatt
This bustling village is just the right size: large enough to find plenty of dining, nightlife, and art—but small enough get a community vibe and walk the area. Zermatt is so walkable, in fact, that it's remained carless since 1961. Instead, you'll find horse-drawn carriages strolling along the streets and long, pedestrian walkways. In the summer, herds of Blackhord goats descend into the village, roaming freely until their evening return.
From here, the mighty peak of the Matterhorn can be seen in clear sight, making this small pastoral village a perfect base for mountaineers and outdoor enthusiasts. It's also home to Europe's largest network of pistes—marked snow paths and trails for winter-based activities.
There are plenty of luxe accommodations, from antique chalets to more modern, luxury retreats. If you want to a little shopping, you're in luck: there are endless boutiques and shops to choose from, and you'll find everything from high-end Swiss watches to renowned Swiss chocolates.
St. Moritz
If you've done any research on Switzerland, you know that St. Moritz is synonymous with the country. Dubbed the "birthplace of winter tourism," this small town is the perfect place to open a bottle of champagne and toast to the towering peaks around you. St. Moritz offers something special no matter what season you're visiting. In this alpine resort village, there's no shortage and luxury and nature.
Take the funicular up to Blais da Muottas, where you can enjoy a meal at the panoramic restaurant that awaits you at the top. St. Moritz also has its own lake, and those who want to wander on foot can explore the water and all its wonder in just under two hours along a paved trail. Or opt for a canoe or standup paddleboard.
If you're wondering how to reach this town, the Bernina Express is one of the best ways; this train ride takes you along some of the most scenic rail views in the world, and gives you extra insight into what awaits you in Switzerland.
Lauterbrunnen
Deep in the canton of Bern lies Lauterbrunnen, a deep valley village aptly called "the Land of 72 Waterfalls." Here, you'll find plenty of luxury accommodations situated in the gorge, surrounded by vast waterfalls flowing freely from sky-high vertical cliffs. The Trümmelbach Falls cascade from the mountaintop, visible from nearly any part of the village. Inside the mountain, you'll find a secret labyrinth of waterfalls to explore—the largest underground waterfall network in Europe.
This town is also a quaint base to venture off for many other activities in the region. Hiking opportunities abound; whether you want a simple walk through meadows and small forests, or prefer more strenuous hikes to nearby mountaintops, there's something for you. A nearby train station gets you to the larger towns like Interlaken in just 20 minutes.
Grindelwald
Grindelwald is a picturesque town that lies deep in the Bernese Alps. This resort village is one of the most popular in the Alps, and is bordered by the Wetterhorn, Mettenberg, and Eiger mountains. There are plenty of surrounding cable cars that lead to scenic mountain lookouts, and walking trails lead you to pastures scattered with wildflowers and pristine alpine lakes. The Grindelwald Museum offers a hint of history into the town, which was the first village in the Bernese Alps to begin offering tours of local sights in the late 18th century.