New York is always on top of my travel list. The vast buildings, malls, art, restaurants, nightlife, and much more active life of New York city lure me to visit every now and then. It is one of the most visited tourist places in the world.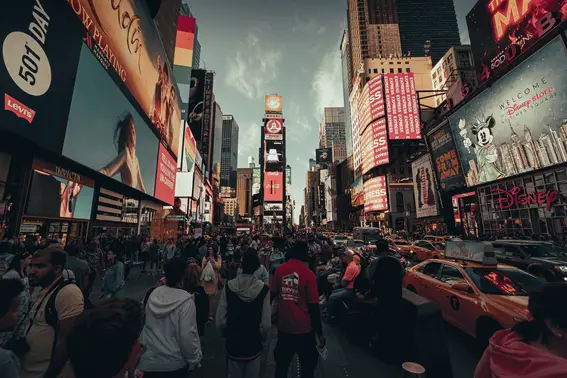 I always wonder what the cost revolved around the trip to New York City. My research ended when I finally visited this most happening place in the world last month only. You would be amazed to find out that you will always need more time even if you plan to stay there.
Woohoo! You have many things to explore on your New York trip. New York is always a right fit for any person with any nature or hobby. It never fails to amuse you with its beauty and open culture. It is not only a tourist place but rather one of the working hubs for job seekers as well.
I would help you plan your budget for a trip to New York City and don't forget to carry your forex card, so that you can enjoy your trip to the fullest without spending your precious money on unwanted things.
Accommodation
The topmost thing that you need to consider while planning your budget for your trip to New York is accommodation. You can opt for a hotel, Airbnb, apartment, or hostel. As you know, New York is a tourist place, so the accommodation prices vary month on month.
It is obvious that prices will be higher with an increase in demand in peak months. But still, you can try to find places within your budget. Or you can plan your visit to New York in non-peak months.
As per my research, a single room in a hostel or Airbnb will cost you around $50-$100 per night, which will result in $350-$700 per week. This cost depends on more than just the peak or off-season. Rather depends on other factors like location and amenities you are choosing.
However, if you like to stay in a budget hotel or independent apartment, then you need to extend your budget to $150-$200 per night, which calculates to $1000-$1400 for a week.
A good hotel in or around time square will cost you more than $250 per night per room. Or if you have no budget constraint, then you can also opt for a luxury suite that will cost you around $7000.
I have listed all the kinds of accommodations available. Now you can choose it according to your budget.
Meals
Now another most important thing on any trip is a meal. Some accommodations offer complimentary breakfast; all you need to worry about is the other two meals (lunch & dinner). If you have eaten a king-size breakfast, you can skip your lunch or replace it with street food snacks or fast food options.
And you can opt for dinner in a good small-budget restaurant. As you know, New York is well known for its nightlife only. I myself prefer to enjoy dinner at different restaurants trying different cuisines.
However, a simple three-time fast food meal will cost around $30-$40 per day. That may include burgers, donuts, beagles, coffee, etc.
A budget-friendly three-time meal in a small restaurant will cost you around $50-$70 per day per person. However, you can enjoy a lavish three-time meal in a renowned restaurant for about $90-$120 per day per person.
So you can plan your meals according to your budget only while enjoying different kinds of cuisines and delicacies in various restaurants and street food joints.
Local Transportation
New York has an outstanding facility for local public transportation ranging from metros to buses. Local transportation is not limited to public transportation only. Cabs, uber and private taxis are easily available.
However, you need to select the mode of transportation depending on your budget. Local transports always cost less than private cabs or taxis. They have an outstanding network of local transportation in the whole city along with the nearer cities and towns as well.
The most outstanding attraction in New York is a Helicopter ride to get a bird's eye view of the Beautiful New York City. This ride will cost you a minimum of $250 per person. It may seem expensive now, but you will thank me later when you have the most wonderful experience of your life.
However, you can compromise spending on other things. You can also plan to visit museums, NBA or baseball or football games. You can also opt for a City pass to make sure you get all the attractions of NYC in your iteration.
Flight
Now comes the most integral part of the budget. It chunks the major part as well. It would help if you considered off-season to get cheaper airfares, or you can book your flight in advance. However, it will cost you ranging from $500 to $1200 for a one-way trip to New York from Sydney, London, Germany, or India for a single person.
However, a round trip may cost you between $1800-$2400. You can also search for flight booking hacks on google to get the best flight at lower prices.
If you are residing within the United States, then you can get the benefit of cheaper flight tickets to NYC. Otherwise, it is a hefty chunk of your budget for your trip. But it should not bother you much when you have decided to visit the most amazing NYC.
It is also considered the heart of the whole world. So spending this large amount visiting such a wonderful place is worth spending. These are only rough ideas about flight fares. However, you can minimize these by planning your trip in the off-season so that you can utilize that money in your other spending.
Shopping Expenses
When you are in NYC, stopping yourself from shopping is one big task to do. Please plan your trip to New York while keeping a budget for your shopping expenses as well.
Your shopping budget totally depends on you only. However, there are many different brands and large shopping complexes like Walmart, Costco, etc. So you should check your requirements before shopping for anything if you really need it. Or you will end up piling up with your other unnecessary shopping items.
I myself am considering a pair of good trainers from a good brand and a cozy jacket for myself. Apart from that, I restrict myself from spending casually on unnecessary things in NYC. As everything you see looks alluring, and you find the urge to buy it.
You need to understand it. However, if you have a minimum budget of $150-$200 that you want to spend on shopping, then don't worry. You will end up having all the necessary requirements for you.
You can also pamper yourself by shopping on big brands on 5th Avenue if you have a larger budget to spend.
Miscellaneous
Apart from all the expenses mentioned above, there can be many more miscellaneous expenses, so if you have an additional budget to spend on other things after calculating your complete budget mentioned above. Then you can enjoy the nightlife in NYC, which is famous around the whole wide world.
I understand that these are avoidable expenses, but they may cost you while you enjoy your vacations. The nightlife in NYC is the most alluring attraction. There are bars and other restaurants that will attract you to enjoy it.
I suggest you keep a minimum of $200-$500 for spending and enjoying such miscellaneous attractions. There are many other attractions downtown, Times Square, etc. And you will end up spending in the local shops. This budget will help you with such expenses.
If you are tight on your budget, then avoid these expenses or cut them down to the minimum. However, I suggest you expand your budget and enjoy your trip to the fullest without any budget constraints.
Wrapping Up
As I have summed up all the expenses that may incur to you during your trip to New York City. Inculcating all the mentioned expenses will cause you around a minimum of $2500-$3000. Within this budget, you will get to experience a tight-budget vacation in NYC.
However, if you have a budget of $3500-$5000, you can enjoy your holiday to the fullest. You can enjoy your vacation with good amenities and accommodations with this budget.
Anything above $5000 will help you experience the luxury stay. And you can spend on all the attractions including different sightseeing and enjoying the nightlife.
Apart from this, if you want to share anything that I am missing in this budget, feel free to comment below. I would love to hear from you.