Photography is as much an art form as it is a scientific method. It sounds strange, but the whole point of photography is to experiment as much as possible, just like you would with a formula. Not to mention, there is plenty of math involved in discreet ways that make photography a very intricate type of skill set.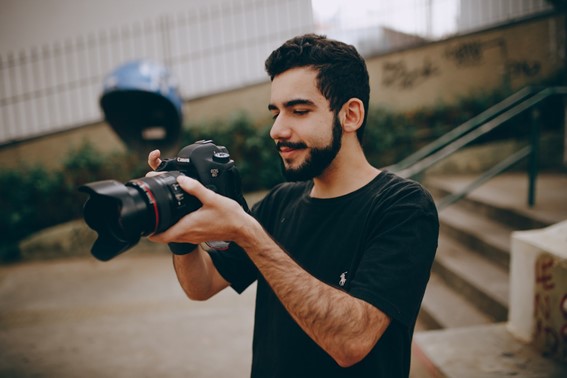 That skill set can help you make a lot of great products (ie. commissioned work, photoshoots, etc.) that can help you make a living in the process. Being able to make money with photography is no walk in the park however so you need to make sure you have a competitive edge by expanding your skills. Here are some ways to help make better products as a photographer.
Find a Good Niche
Finding your niche in photography is hard because there are only so many different types of ways you photograph people, places, or things. Still, it pays to think outside the box. Product photography is popular because it is quite fun and it is not the most demanding of skill sets to be able to pose and light products for brands and companies. It doesn't mean it's easy though, but you can find promising upstart brands and help them expand their base and find a niche in the process that sets you apart from everyone else.
Know the Ins and Outs of Editing Programs
This is a skill that every aspiring photographer needs to know, whether they want to make money or not, but especially if they do. Editing programs are the bread and butter of your work because a great shot becomes even better when you know to manipulate it. The most common programs are in the Adobe Suite, with Lightroom and Photoshop being prominent. The best part about Lightroom is the use of presets, and you can check them out to see how they may help you learn the editing process or tinker with your own. Being able to edit will enhance your ability to make better work, and find work opportunities.
Use the Right Gear
Gear doesn't make a great photographer so it's important to get that out of the way. There are plenty of people sporting $4000 telephoto lenses who couldn't get a good shot to save their life, but it's also easier to get a better shot when you are well equipped. You should have an assortment of lenses for sure (24-50mm prime lens, 55-300mm telephoto lens, and a macro lens), tripod, flash, shutter release, lens filters, and a camera bag. Those accessories are basically all you need, plus some memory cards of course, and you won't need to worry about much.
Experiment With Different Styles
Landscape, portrait, photojournalism, product photography, still life, gallery, wildlife, fashion, and architecture are among the most prominent styles of photography that people find themselves invested in. They range in requirements and they can be more or less difficult but the point is that you need to experiment with as many as you can until you find one that clicks. It might not be right away, but you need to give it time and see which ones grow on you, which ones you like, and if you're even any good at them. There's no shame in admitting you're not good at one style vs. the other.
Network for Opportunities
Creating great photography products means having a market for them. It could be that you sell your prints on an online store, sell them at a local marketplace, or you work for clients, but it all starts with networking and having a base to work with and for. Networking at art galleries and photography events, as well as with prominent local photographers or teachers of the trade can help you grow that base and give you more chances for a better career.
Find a Mentorship
If you find a good source of networking with these photographers or teachers, it could be a good idea to request your mentor with them. Mind you, there are real internships and mentorship programs you should always apply for if you feel you can benefit from them, but it could be useful to shadow and learn without pay from a real professional close by to help teach you the ropes and inspire you a little.
Photography is not an easy profession to get into as it requires a lot of self-starting and initiative, but if you're serious and dedicated, then there is no reason why these tips won't help you start producing better work and making a name for yourself.