When it comes to building a strong and successful business, there are times when the ideal is entirely out of reach. It's a case of making the most of what you have: what's available, what your budget will stretch to, and what's realistically accessible to you.
Sometimes, this means working with a much smaller commercial space than is desirable. Although we would all like an excess of room for getting our work done or showcasing our products, there are occasions when a tight squeeze has to suffice instead.
So, how to make the best of it? If you find yourself in need of inspiration, we know just how to help you…
Use lighting to enhance and illuminate in all the right ways
Source: Pixabay
When it comes to utilising your space to best effect, one of the first things to do is consider colour and lighting. Although expanding the area available isn't possible, you can create the illusion that it's far roomier than in reality, which has the effect of not only improving its appeal to potential employees, but enhancing its standing in the eyes of visiting clients. To do this, you need two things in particular: a few tins of magnolia paint, and carefully chosen ceiling spotlights that will brighten up the room and illuminate each and every corner.
The former you can choose yourself, but you might need some help with the latter, so we advise turning to the experts. Specialist companies like lights.co.uk will be your best bet, and should be able to recommend the best lighting products for your purposes. Once these are installed, hang mirrors in strategic spots close to them, to exacerbate the effect and add a whole new dimension to your newly enhanced space.
Go upwards
When we say the space in a building is limited, we're typically talking about floor space. What tends to be the same regardless of how big or small a property is on paper is room height, which is why going upwards is one of the easiest ways to make the most of commercial premises. The obvious solution that springs to mind is shelving and floor-to-ceiling storage, which can both prove invaluable. If you want to be slightly more adventurous and you have the requisite funds to do so, installing mezzanine flooring and creating another level entirely can also be a viable and very useful option.
Look for handy storage solutions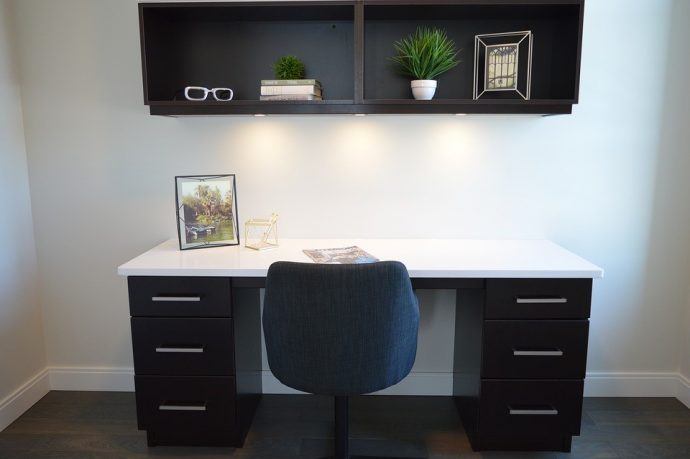 Source: Pixabay
Aside from shelving, there are plenty of other clever storage solutions available. You won't be the only professional in existence working with limited floor space, and where common problems exist, there are almost always options existing to combat them. From desks that have inbuilt drawers to clever stacking solutions for pint-sized shops, a quick and carefully worded Google query is guaranteed to deliver results in most instances. If you don't find what you need already out there, thinking outside of the box will usually reveal a workaround. Even if it takes visiting a specialist furniture maker and seeing what sort of magic they can conjure, there will always be someone out there who can help you.
How will you transform your premises? Dream big and anything is possible.