If you need to wear glasses, then you need to understand that people will remember your glasses as part of your look.  Changing the style of your clothes or haircut is comparatively easily done, but if you wear glasses, the chances are that you'll only have one or two pairs, so you'd better make sure that they're right for you.  Glasses are not a constraint on your appearance: studies suggest they make you look smart, sincere and successful.  Some guys even wear vanity glasses with clear glass, like these ones from Polette, because they want to enhance their appearance.  If you've still got a hang up about looking nerdy in glasses, then it's time you sloughed it off and invested in eyewear that makes you look and feel great.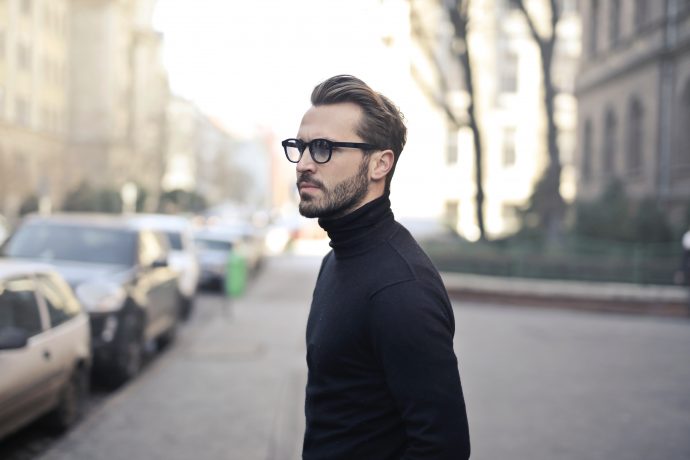 Confidence
Your mom probably said it to you a lot when you were growing up: have confidence in how you look, and you will look good.  Yes, that nugget of wisdom does have parameters, but if you wear your glasses with an air of apology and shame then for sure, no-one else is going to like them.
What is your image?
And don't say, 'I don't really have an image.'  The clothes you wear, the way you get your hair cut all send out signals about who you are, and glasses are one of the first signifiers we notice when we meet someone.  If you think your glasses are just for seeing through, then think again, because they are also how the world will see you.  Therefore, it's important that you wear a pair that suits your style and your personality.  If you can't find that perfect pair, try creating that perfect pair yourself.  On sites like Ray-Ban you can design a pair of sunglasses based on their classic styles.
This is way more important than choosing a new suit
Give yourself plenty of time to choose a new pair of glasses: 'These will do,' is not the right attitude.  Once you've decided on the kind of image you are after, edgy, preppy, boho or whatever, you need to find a style which will compliment your face shape.  There's plenty of articles out there which treat this subject as though it were an exact science, it's not.  All you need to do is ensure that the frames you've chosen don't accentuate your facial features in an unflattering way.  So, for example, round faces don't suit round frames.  Taking into account eye color and hair color is important: blue eyes suit dark frames; brown eyes suit a bit of red in the frame and gray eyes suit a silver frame.  A good frame is one that brings symmetry to your face. It's amazing how many people wear glasses which don't fit properly and the easiest way to ensure that your glasses do is to pick the style you want, and then change the size of the pair to suit your head.
Wearing glasses is not limiting it's liberating
Celebrities like Hugh Jackman and Kit Harrington wear optics without apology, so go ahead and pair those glasses with a muscle fit T shirt if that's your thing.  Glasses have a touch of theatre and formality about them, which you can counterpoint to great effect with the way that you style your hair.  Remember, your glasses are the focal point of your appearance so style everything else around them.