With summer fast approaching, it's that time of year when many of us start thinking about upgrading our sunglasses collection. If you've got tattoos on your face or upper body, you've got some additional elements to consider when choosing the best pair, such as how the colors of your inking will work with the shade of the frames, and the style of your tats.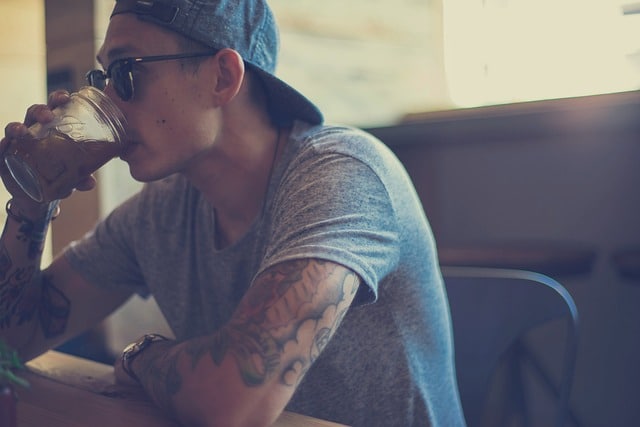 Use the guide below to help you select the best pair of shades this summer that'll show off or complement your tats to perfection. And if you're thinking of getting a new tattoo featuring sunglasses? We've got the inspiration you need for this, too!
Consider Color Matching
If you have tats on your face, neck, or shoulders, you may want to think about the color of your ink when choosing a pair of sunglasses. For example, if your tattoos feature lots of colors or a couple of particularly bright shades, simple shades with black or brown frames could be best to avoid clashing with your tats or creating an overly 'busy' look.
Alternatively, if, say, your tat incorporates shades of red, and you'd like to make it 'pop,' then opt for shades or prescription sunglasses with blue frames. For a more subtle look, select frames in pink, peach, or muted orange. Using a color wheel is a great way to find the best-colored frames to either contrast with or compliment your ink. In general, colors next to each other on the color wheel create a put-together look, while colors opposite will create an exciting pop.
Opt for Transparent Framed Sunglasses
If you want a stylish, cutting-edge pair of sunglasses that won't detract from your tattoos, how about choosing this season's hottest shades incorporating transparent frames? This is a great option to make a slick style statement without risking overwhelming your inking.
The beauty of transparent frames, too, is that the frames take on a subtle hint of surrounding shades. Meaning if you have, for example, a tat featuring blue shading on your neck, the arms bars of your clear-framed shades will reflect a subtle hint of this shade.
Style Mixing
Contrasting styles, in terms of your tats and your shades, can create a bold, stand-out look. If you've got intricate, contemporary-style ink on your shoulders and upper arms, for example, a vintage-look pair of cats-eye sunglasses or oversized shades incorporating tortoiseshell frames will make for an edgy, striking look.
Don't Forget to Think About Face Shape
Whatever size, type, or color of tattoos you have, it's always vital to consider your face shape when choosing a new pair of shades for the best effect. In general, the frame shape of your specs should contrast with your face shape – so if you have a round-shaped face, angular frames, such as square or rectangle, will be the most complimentary. For those with more angular face shapes, opting for round or oval-shaped frames is the best idea.
And if you have an oval-shaped face? Count your lucky stars: you should be able to wear all types of frames to equally fabulous effect!
Sunglasses Tattoo Ideas
Tattoos featuring images of sunglasses have been popular for decades and remain a much-requested inking. Fancy this design and need some inspiration? Here are some ideas to consider – and one to avoid!.
Beautiful Reflections
If there's a city or a landscape that's special to you, why not have this distinctive skyline appear in the lenses of a sunglasses tattoo? This can be a really effective way to mark a memorable vacation, a hometown, or the destination where you got engaged or celebrated a landmark birthday. Choose from a simple black-and-white silhouette or a colorful montage with plenty of detail – whatever suits your style preferences.
Minimalist Design
Simple, small renderings of classic shades are also a popular option – choose to have this inking on the nape of the neck or even on a finger. Ray-Ban Wayfarer sunglasses are a good option, making for a classic look that'll never go out of fashion.
Famous Shades
Or how about getting an inking of an iconic pair of sunglasses worn by your favorite celeb, movie star, or rock legend? There are the instantly-recognizable red-framed sunglasses worn by Kurt Cobain, the small-framed round-shaded specs popularized by John Lennon, or the Maverick Aviators worn by Tom Cruise in Top Gun – to name just a few!
…And One to Avoid!
There are folk out there who have had sunglasses frames literally tattooed around their eyes, with the arms running down the side of their face. While this is a bold look for sure, it's one you should seriously take time to consider. A quick look online can reveal what you could end up living with…
Sunglasses and Tattoos: The Takeaway
Sunglasses and tattoos are a match made in heaven: both offer ways to express your unique style and offer endless style combinations. So whether you're thinking about the best type of shades to match with your tats (or make them pop) or are weighing up getting a new tat featuring sunglasses, use the guide above for inspiration.