Love to ice skate? Then you've definitely picked the right time of year to visit the great city of London. Whether you're a graceful glider or on the clumsier side, read on for our selection of London's finest ice skating rinks to check out this December. You don't have to be a London resident to enjoy this winter magic.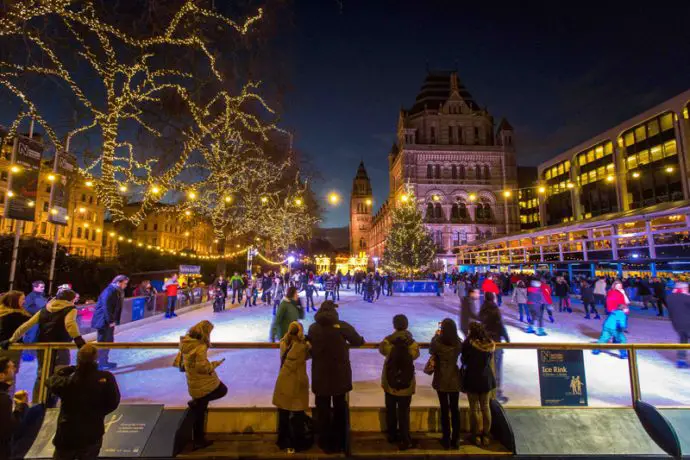 image source: here
Thanks to short term lets London can be a quick holiday spot for anyone and London's winter festivities are well worth a trip. Short term lets can enable visitors from all over to enjoy the best Christmas activities London has to offer.
Natural History Museum
Until January 7
Definitely London's most impressive ice rink, if just for the majestic backdrop of the stunning Natural History Museum. With thousands of fairy lights twinkling over you as you glide around, it's a delightful sight with the enormous Christmas tree in the centre of the rink. If you're not a fan of ice skating, there are plenty of other sights to keep you amused here, including a viewing balcony to keep an eye on all the activity on ice.
Somerset House
November 15 – January 14
Speaking of stunning backdrops, the gorgeous 18-century Somerset House has a 900-square-metre ice skating rink every year in their courtyard. Whether you're a pro or a novice, trust us, it's worth a visit.  There's champagne, mulled wine, and lots of classic Christmas tunes on offer.
Winter Wonderland at Hyde Park
November 17 – January 1
Behold the largest outdoor rink in the UK. Lit up with more than 100,000 lights, the Winter Wonderland ice rink can get pretty busy despite its size. Luckily there are plenty of other activities to occupy yourself with while you wait your turn!
Hampton Court Palace
November 24 – January 7
Glide your way around the 1040-square metre rink in the courtyard of Henry VIII's old home. This picturesque rink is even more stunning at night when it's all lit up. Worth a visit for all the history buffs out there.
Alexandra Palace
Open Year-Round
If you're looking for an indoor rink to get your ice skating on, Ally Pally would be a great choice. They also do figure skating classes and ice hockey training, and can be rented out for children's parties. During the Christmas period, things can get pretty festive here. A great choice if you don't want to brave the cold.
Tower of London
November 17 – January 2
Enjoy skating in the historic setting of one of London's most iconic landmarks. The Tower of London's ice skating rink is located in the tower's dry moat, which makes for an exciting experience in of itself.
Skylight
November 16 – January 7
Ever tried ice skating on a rooftop? Neither have we. Which is why we're super excited to try the rooftop ice rink (London's first-ever) at the rooftop playground in Tobacco Dock. You can take in spectacular views of the city as you skate. What's not to love?