Often bachelors and newly-wed couples reside in rented apartments.
But just because the flats or the apartments for rent in Charleston are not your property, does not mean that you should not spend on decorating or beautifying them. Various quick fixes and cheap renovating options can make your rented flat look like your home. But we all know that we can't decorate out rented flat just like our own house. Because we know that at some point of time, we are going to leave it forever. So, try to make changes which are prominent yet not permanent to the house itself.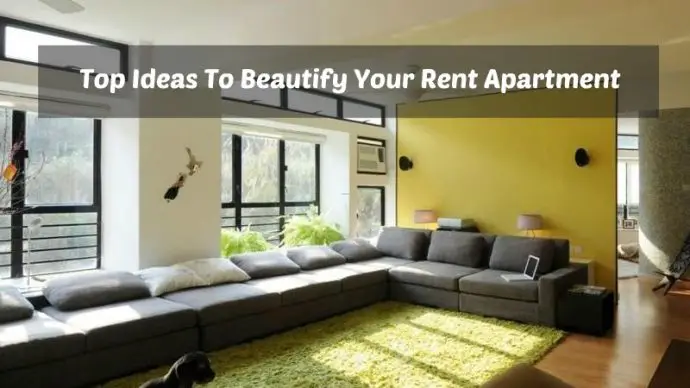 image source: here
It is generally bachelors and newly-weds who stay at rented apartments. So, we have categorized various décor ideas that you can go for based on whether you are a bachelor living with friends or a newly-wed couple. You can decorate your rented apartment at Urban Ladder or other online furniture shop offering variety of décor designs and ideas.
Quirky décor ideas for a bachelor flat:
Bachelors always look for quick, cheap and easy fixes to make their house look good. Keeping this in mind, I have listed down some ideas for you guys:
DIY décor items: Photo frames, vase designs, drawers made up of cartons and packaging boxes, pen holders, make-up box and many others can be easily prepared at home. There are various videos on YouTube that you can view to make new décor items at home.
Bean bags: Cool and fun, bean bags are my personal favorite décor items for bachelors. They bring that fun factor into the flat. You can make a small table out of a big carton box to go with a pair of colorful bean bags. Cover the box with gift wrap paper or you can also spray paint it as you want. Imagine having your friends over and chilling on the bean bags with a beer in your hand. What an absolute bliss it will be!
Wall stickers or designs: You can make your own wall sticker by drawing up birds, cartoons, butterflies, skulls, cool write-ups etc. on a paper, color them up and cut them out to make your sticker. Paste them in your bedroom or living room to add your funky element into your flat. Girls can also go for mini-LEDs and create their own designs on the wall. Light them up to give that beautiful hue and they also give a nice effect to the pics taken in such rooms.
Décor ideas for the newly-weds:
Everyone looks upon to the newly-wed couple. People from the neighborhood, friends and family members keep visiting their home to get to know their new life. If they have moved into a new locality, then the chances the visitors shoot up. So, it is very important to set your house right even though it is not exactly your property.
Try some new wallpapers for your bedroom. Go for red, the love of color, to show the love blooming between you and your partner. You can also add some type of romantic wall art or stickers.
You can also go for a romantic photoshoot or you can just frame up your marriage and pre-wedding photoshoots. Hang the frames in a pattern in the bedroom wall. You can also create a special section in the wall for hanging your pics; this will make them more prominent.
If you like cushions, you can add heart shaped cushions or cushions with tiny hearts printed all over them. You are in a phase where everyone will be looking at you with hearts in their eyes. So, throw in some hearts in your home décor to make them as well as yourself, happy.
Add furry rugs in your living room and bedroom. They bring a whole new level of gentleness and innocence that nothing else can. Go for pastels or pearl white colored furry rugs. If you want to try the bold side, you can also go for a red or burgundy furry rug in the bedroom.
Give your rented apartment a new look and you will feel way homelier than you used to. Small changes like those mentioned above can do the job. You can look into the internet for more décor ideas and choose the one that suits you and your partner.