Find the best places to visit  to enjoy a delicious coffee or other drink in each of the cities of the world. You'll be fascinated with all these cafeterias and their themes. So here are the best cafeterias in the world!
Cereal Killer Café – London, England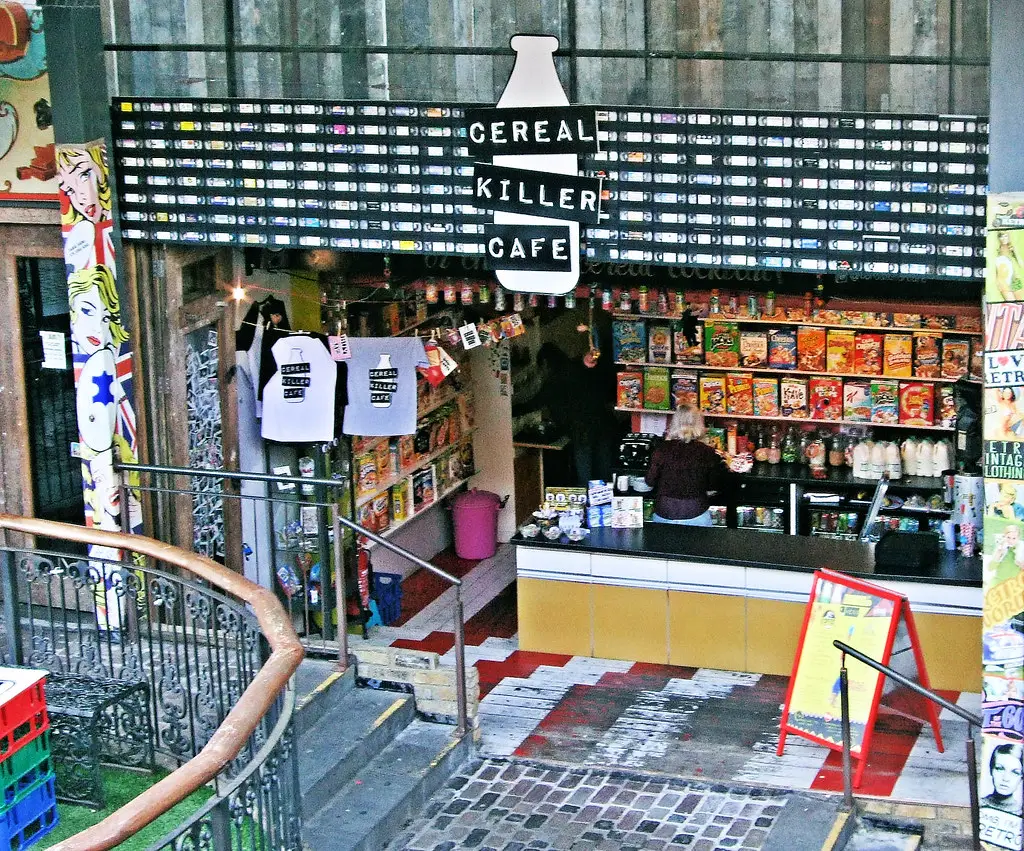 In this café, the only thing you'll find on the menu is cereal. And not only British but from all over the world, even limited editions, there are also more than 20 toppings like chocolates, sweets and cookies and 30 types of milk with which to combine your cereal. So if you love to eat cereal no matter what time it is you should definitely visit it.
Café de las horas – Valencia, Spain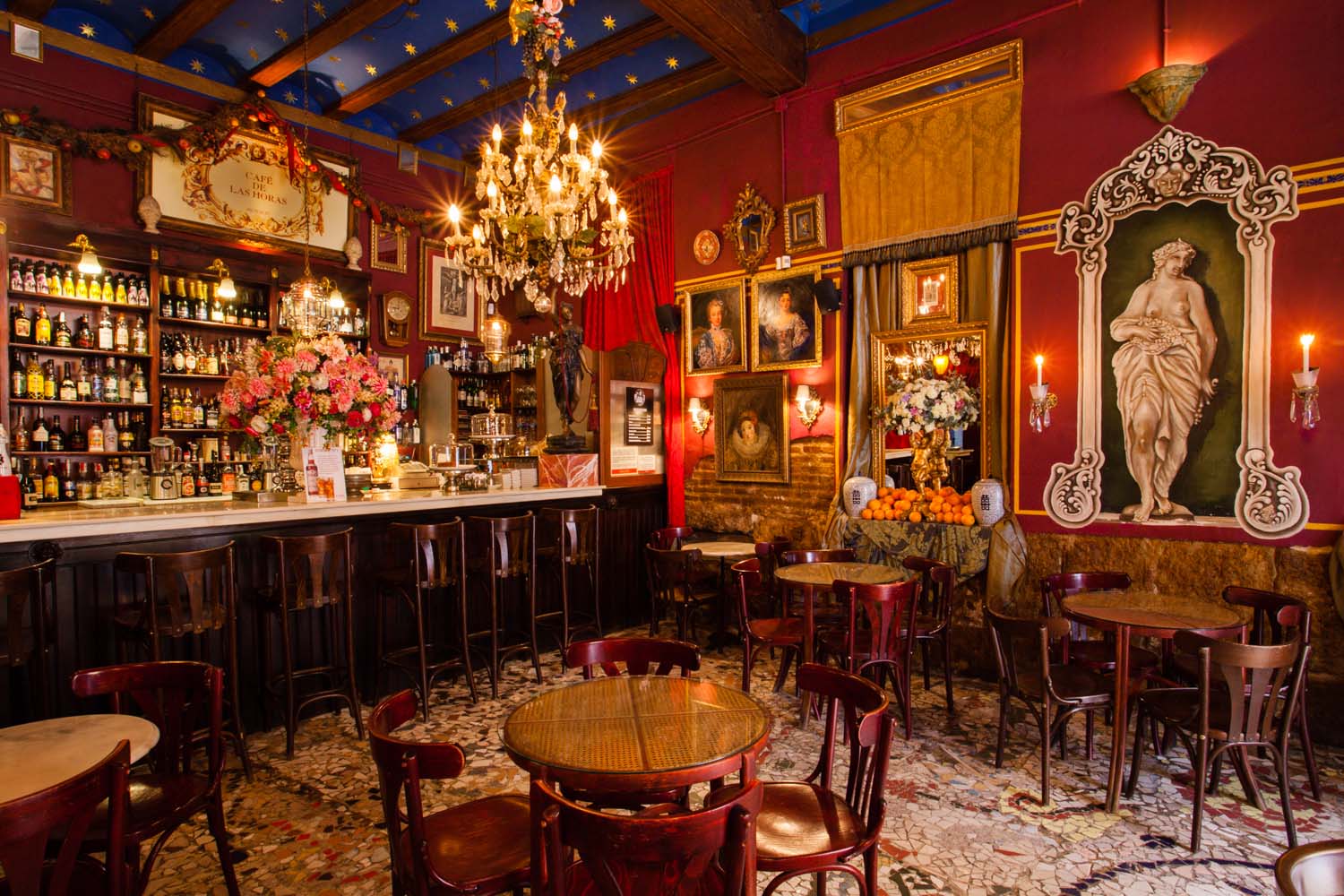 At Cafe de las Horas, in Valencia, it is a place where, ironically, time never passes. This cafeteria has a baroque and rococo style that makes you travel to the 19th century while enjoying a delicious coffee. Its red walls and its decoration have made it one of the most curious and welcoming cafes in Spain. The tranquility that is preserved within its four walls will surely make you want to move to this time with this artistic movement.
Bakeri – New York, USA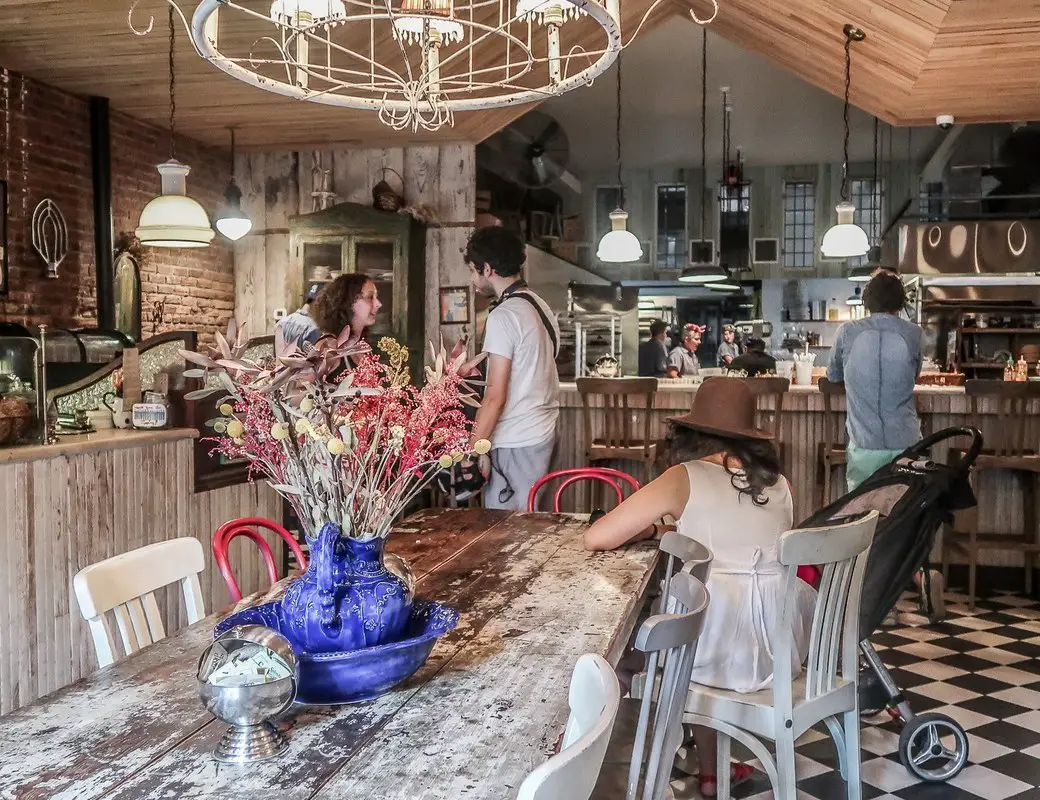 There are three Bakeri locations (one in East Village Manhattan, one in Williamsburg Brooklyn, and the third in Greenpoint Brooklyn). They started in 2009 with the idea of ​​being a European-style bakery with good quality pastries and coffee. The truth is that their stores have a lot of charm with red brick walls, floral wallpaper and lots of wood. You will feel right at home and they use fresh and local ingredients whenever they can. Everything here absolutely looks good, so you can't go wrong when ordering; although we are very fans of their cinnamon rolls and focaccia.
Franziska Organic – Budapest, Hungary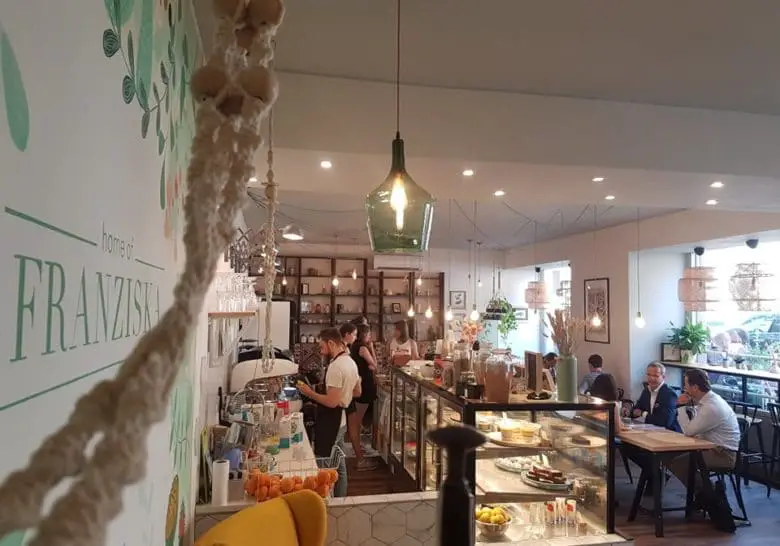 We would define Franziska Organic as a pastry shop that also has good specialty coffee. An ideal place if you want your photos to be great in your insta because no corner of the premises lacks a detail. We highlight the good treatment in this place, where they explained some dishes and the origin of the coffee that we chose. After earning a bachelor's degree in economics, Franziska Horváth decided to take a pastry course, which led her to an allergen-free home-based dessert business. Eventually the business grew to become the Franziska breakfast spot, located near Batthyány Square, on quiet Iskola Street, on the Buda side of the city. In front, an elegant tiled counter with a combination of earth colors, which offers us an impressive selection of healthy dishes, including vegan options. From tortillas, avocado toast, oatmeal to waffles made with almond and oatmeal flours. If, in addition to all this, you accompany it with a good specialty coffee, what more can we ask for?
Compass Coffee – Washington, USA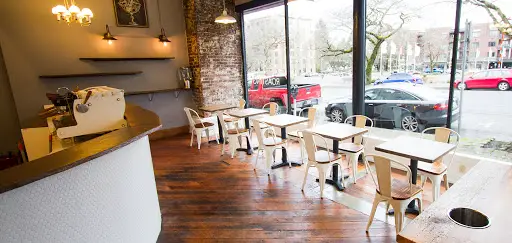 Compass Coffee is a, now famous, cafe located on 7th Street in Washington D.C., it has become popular thanks to being a comfortable and cozy space, with large tables perfect for group visits. If you are looking for variety in Compass Coffee you will surely find it, because the coffee beans are of single origin and, with them, they have created up to 9 different blends. As if that were not enough, in the store you can also find an offer of bakery products ideal to accompany your coffee, so you can enjoy a rich combination of cookies and brownies arranged on the bar, perfect to end the day in the best way. Bakery products are manufactured by themselves, which has led them to have a larger space than an average cafeteria, but this has served so that when you enter you do not have a feeling of claustrophobia or feel overwhelmed by an invasion of cell phone screens around you.
Café Majestic – Porto, Portugal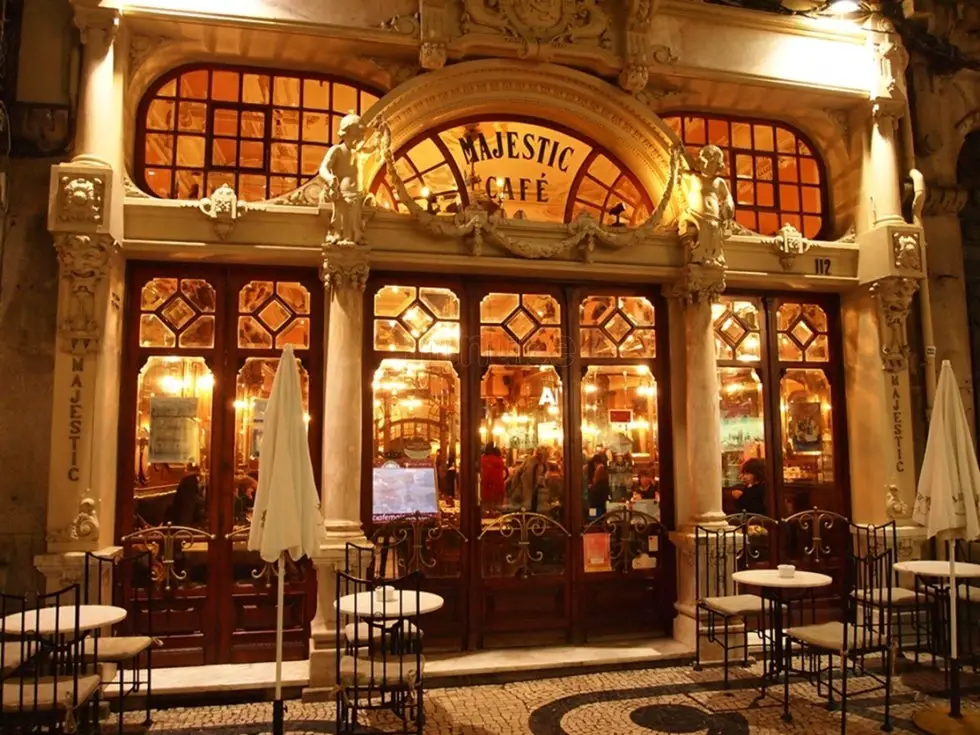 European antiquity exemplified in the Portuguese Majestic Café. That it is a mythical place becomes evident when you approach the surroundings, since there is usually a long queue waiting at the doors to be able to have a delicious Cortado Coffee. In the commercial center of Porto, the classic cafeteria has one of the oldest rooms. The charm is evident from the doors out, but once you step inside Café Majestic it's like going back centuries.
Culture Espresso – New York, USA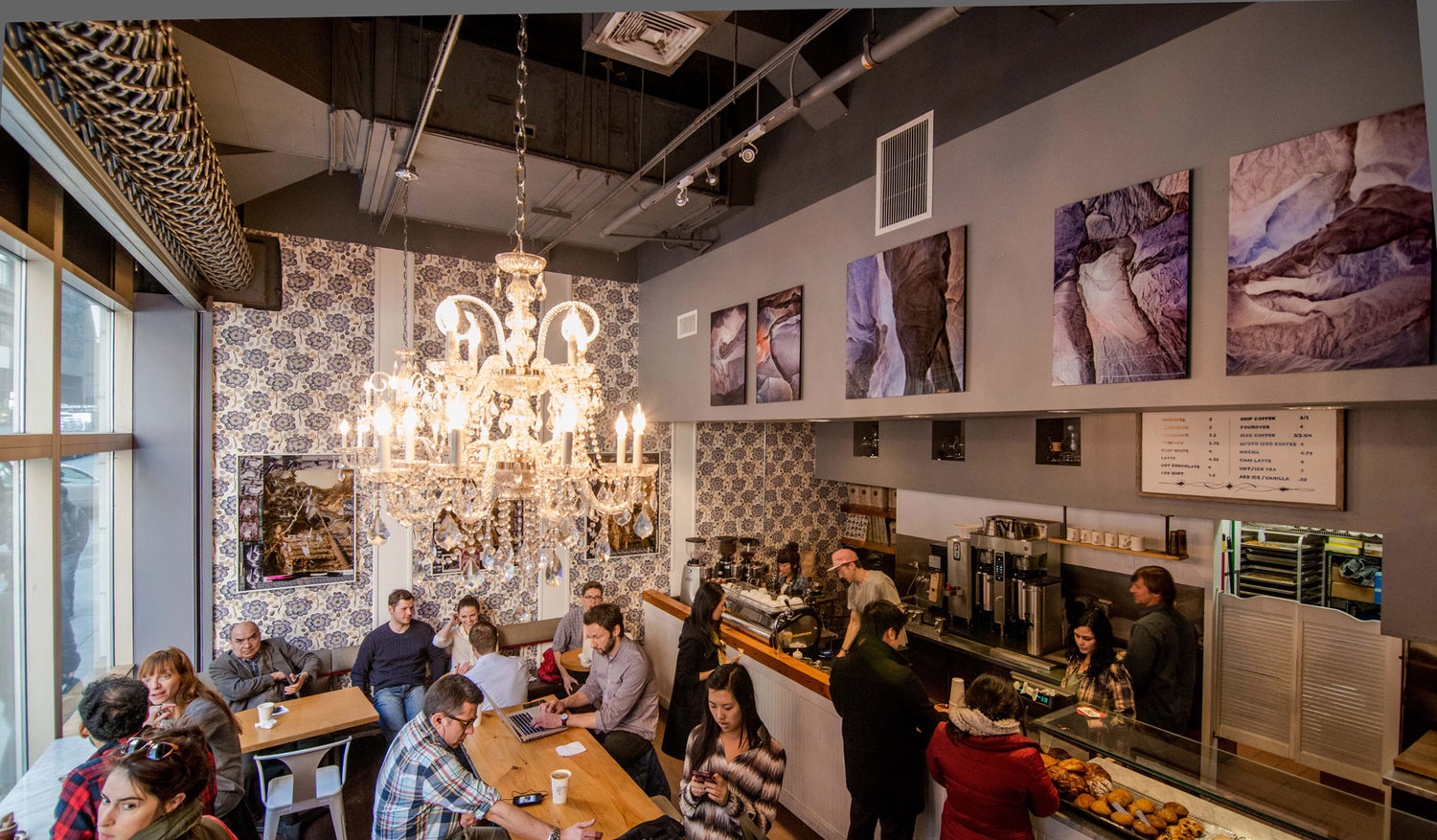 We found this coffee thanks to our friends at the Hotel Archer. It is very close to Bryant Park and in addition to a good cup of coffee it has one of the best chocolate cookies you will find in New York. Space is small, but in the Midtown area of ​​Manhattan, expect little space to sit and enjoy coffee. Our recommendation is to order your drink, your cookie to go and enjoy them in the park.
Baker & CO – Alicante, Spain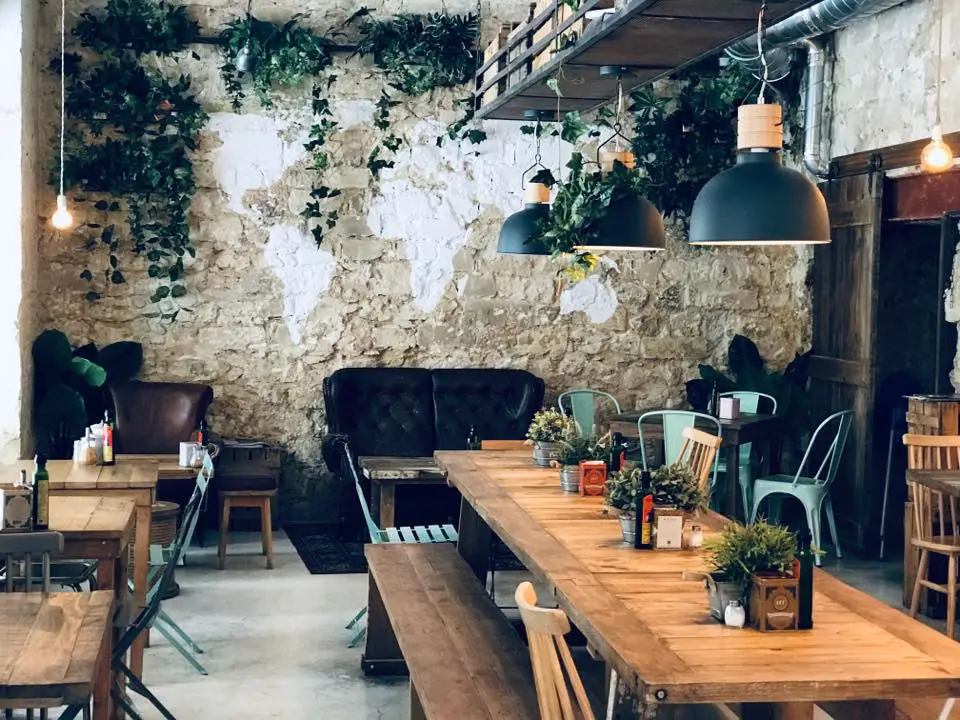 If you are looking for a place to have breakfast in Alicante, this is your cafeteria. Delicious toasts with jam and oil, avocado or salmon with natural orange juices will make you start the day in the best way. There are also bagels, donuts or croissants. All very healthy and organic. A temple of breakfasts and snacks where you can have a snack and enjoy it with the best company. Its decoration reminds us of modern New York cafes.
Café Florian – Venice, Italy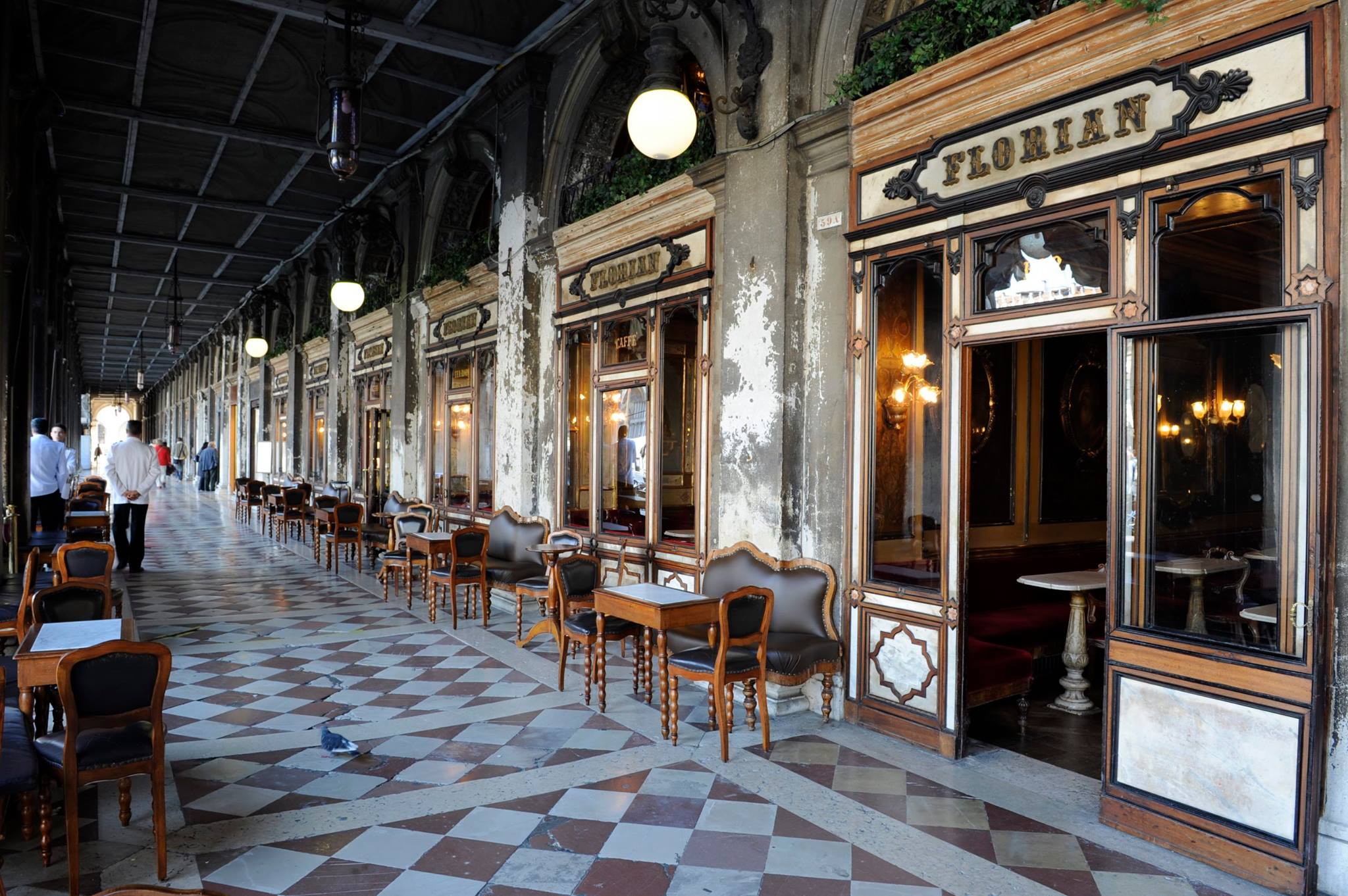 Very close to the Canal Grande and in the heart of Venice, Café Florian is a meeting point for tourists who want to savor the authentic flavor of espresso coffee in an ideal, emblematic and passionate place. Turned into an icon of the city, trying their breakfasts is something to aim for, and fulfill, when planning the trip. Elegance and respect for history, Café Florian is one of the oldest in the world and, with the passage of time, it never ceases to be an option to discover the Benefits of Coffee. In authentic Venetian style, saying that you have been to this classic café, founded in 1720, is a real pride. Despite the high price.
Hyatt Centric Brickell – Miami, USA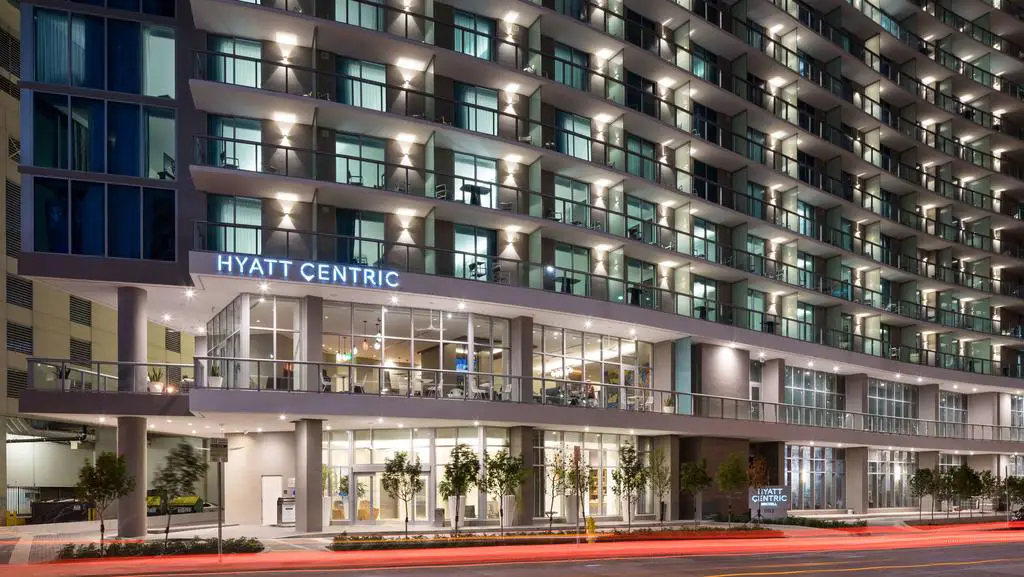 One of Miami's newest Cuban restaurants is located inside the Hyatt Centric Brickell. Hotel . Perfect for breakfast or lunch, stop by the second floor California Norte one and pair your latte with eggs with chorizo ​​or your delicious Cuban sandwich. The dining room is decorated with wall art by local artist Francisco Cerón depicting familiar scenes and symbols from Miami and Cuba, including a vibrant salsa dancer, coffee shops, cruise ships, and Biscayne Bay.
Thanks Nature Café – Hongdae, Seoul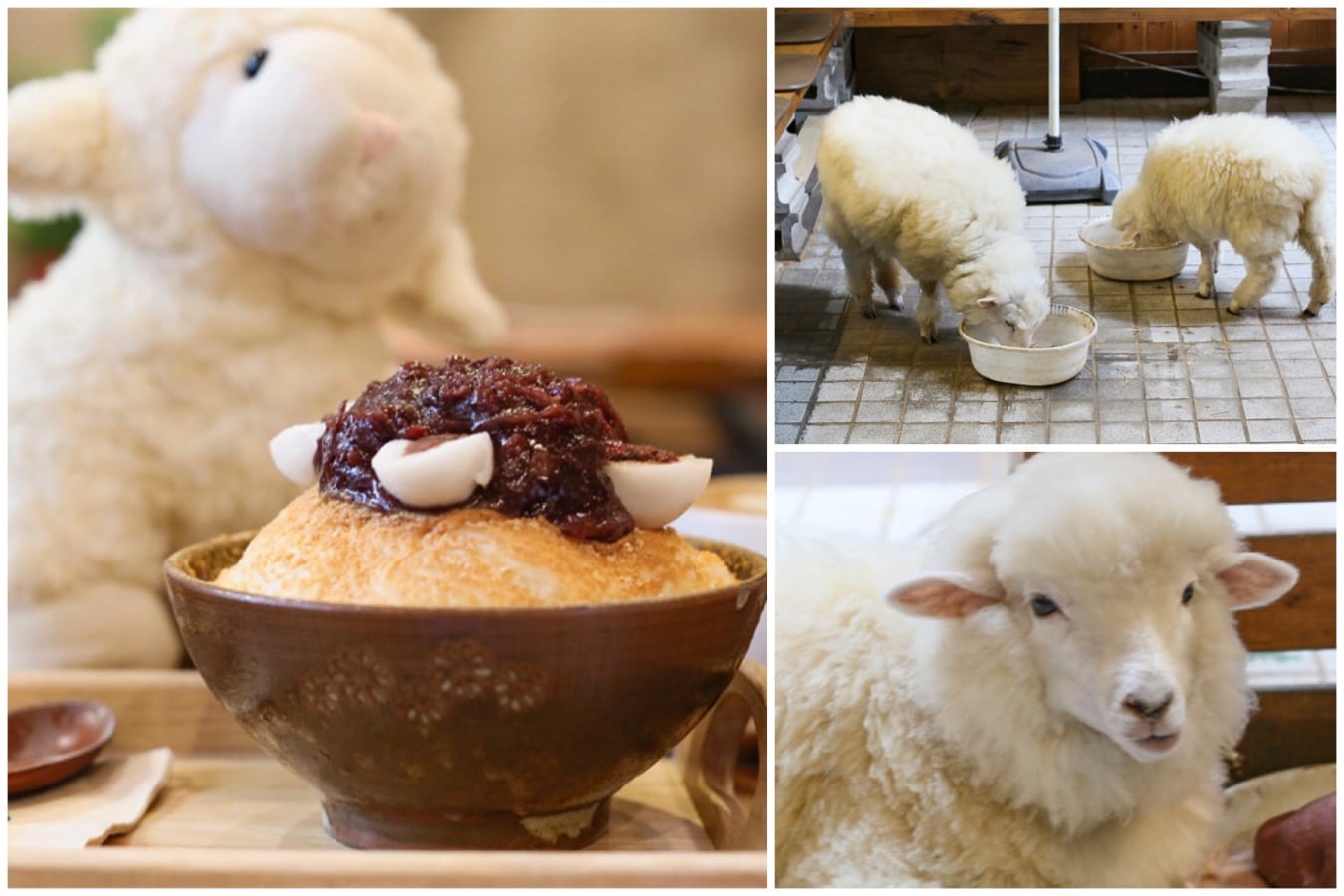 Also known as Sheep Café, it is the place where nature and a good cup of coffee meet. Upon entering you will find two sheep with whom you can play to forget about stress (and take photos for Instagram). It has Wi-Fi and connections which makes it perfect for work meetings or study groups. His specialty is waffles and latte.
Baked and Wired – Washington, USA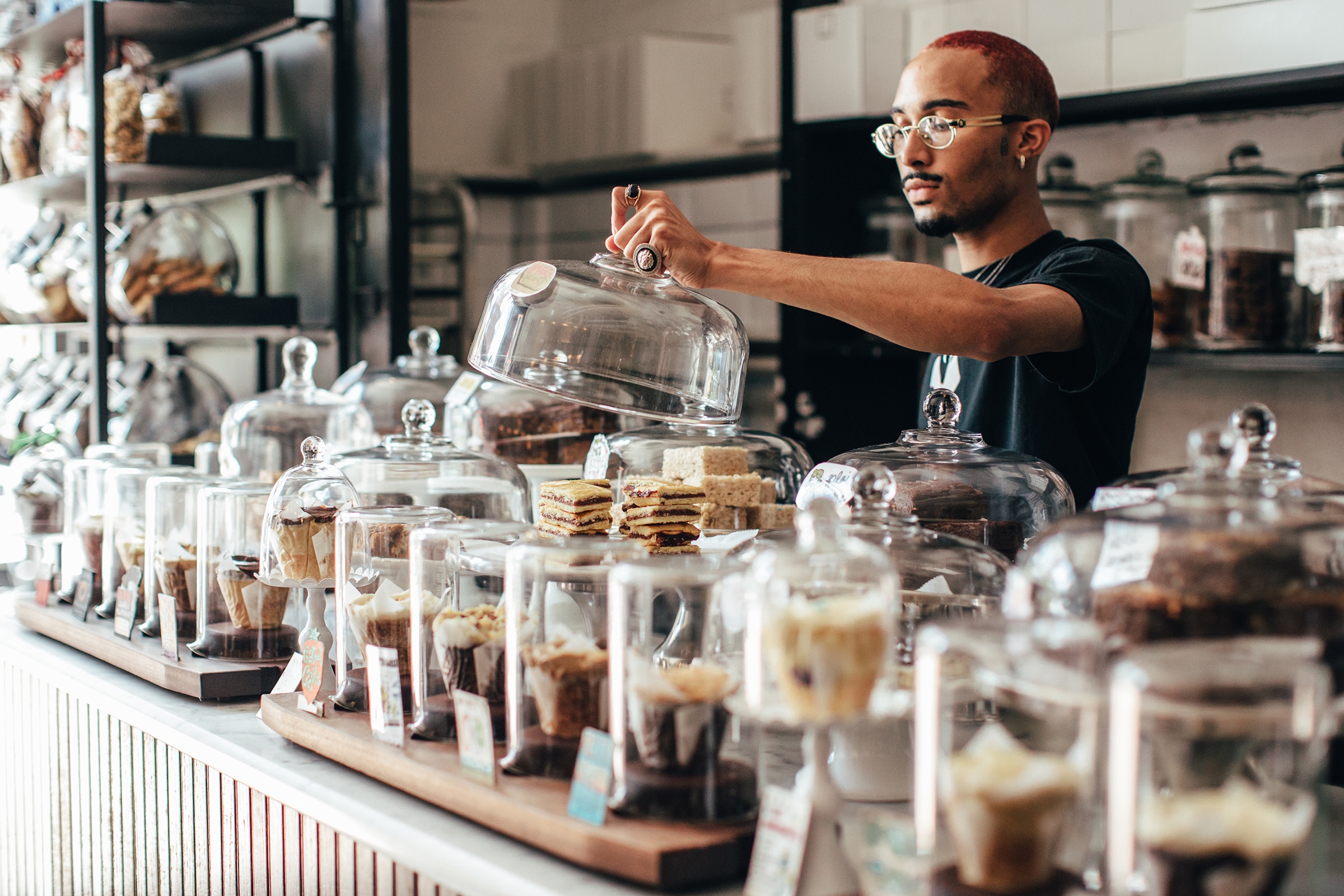 Baked & Wired has become one of the hot spots in Georgetown thanks to its excellent coffee, served by friendly expert baristas, and accompanied by delicious baked goods. Despite being located in a small space, it is full of art and has attracted attention thanks to its offer of ground coffee and espresso, which is sometimes complemented with fresh milk from Trickling Springs Creamery. Here, tea fans can also take the opportunity to enjoy a handcrafted chai tea, which makes Baked & Wired a perfect place to enjoy a cup of your favorite drink, handcrafted by professional baristas, along with one of the most coveted cupcakes in town.
Tio Vivo – Salamanca, Spain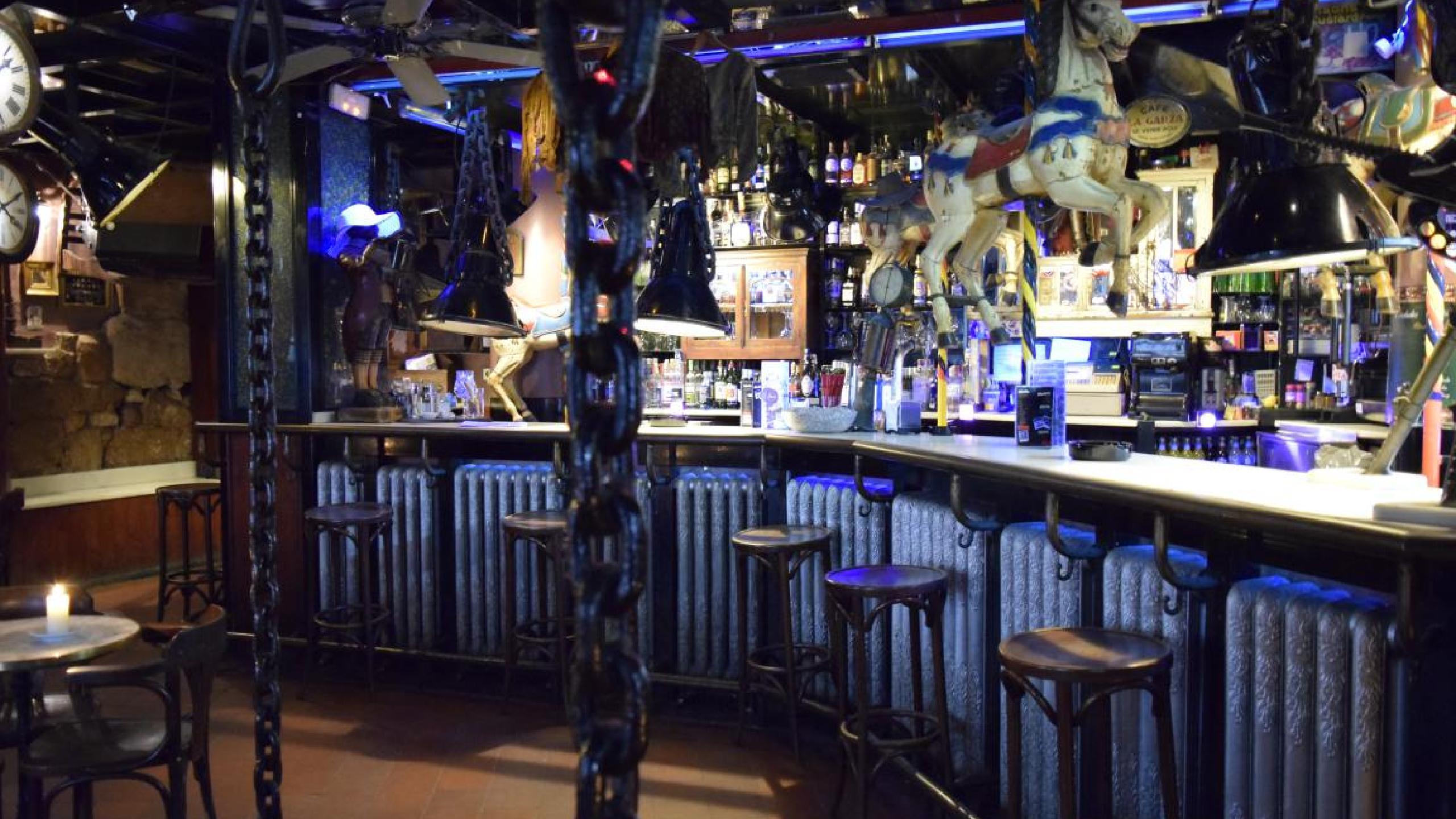 If you are a lover of live music, the Tío Vivo coffee bar, in Salamanca, offers you this great plan. Imagine listening to live singer-songwriter music while enjoying a delicious coffee accompanied by a sweet.. Is there a better plan? When the cold arrives, it becomes one of the favorite places for lovers of coffee and good music.
Café Louvre –  Prague, Czech Republic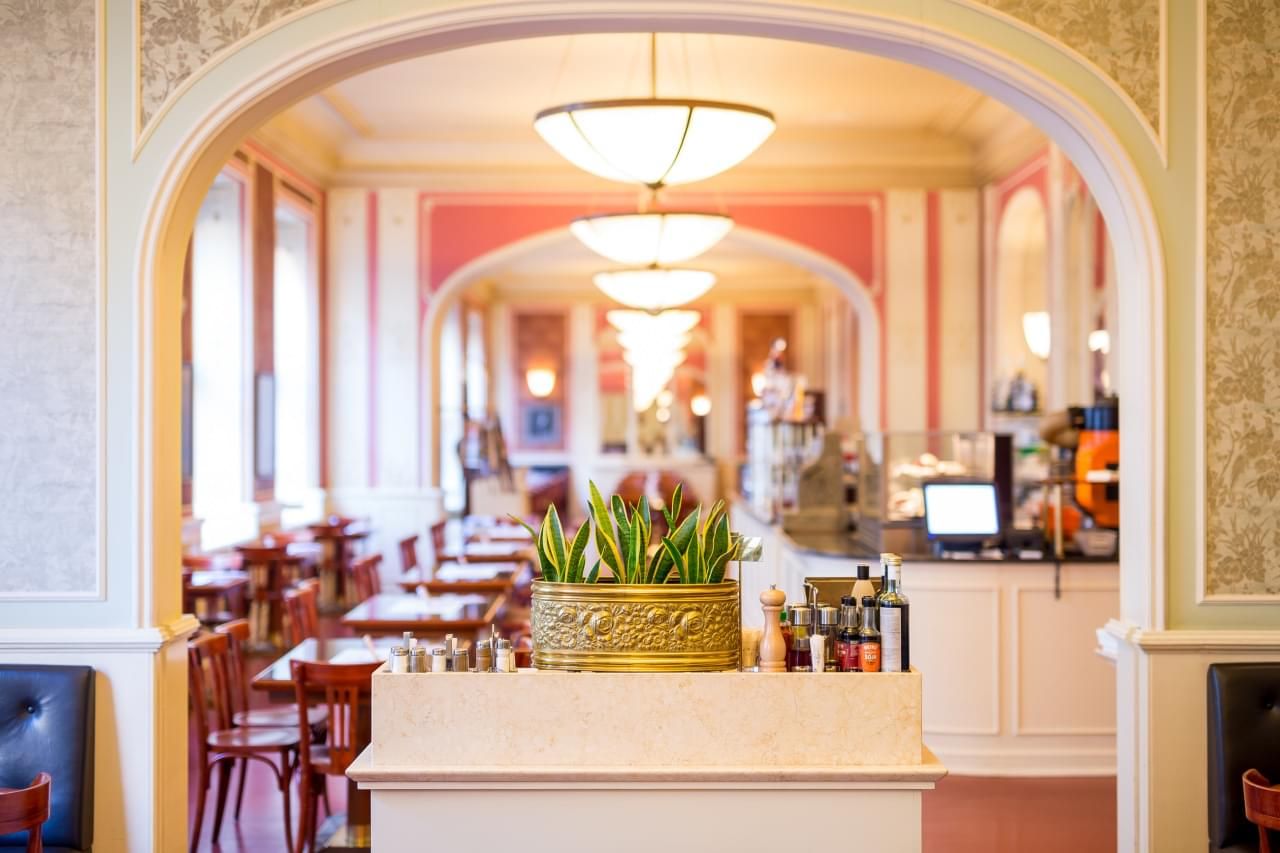 One of the most obligatory Czech visits if you spend time in the capital, with a modernist charm that favors the atmosphere when having a hot coffee with milk: essential to combat the cold. The decoration impresses as soon as you arrive, the cafeteria is located on the first floor and is one of the best destinations to rest after a tourist morning. Prices are not inflated at Café Louvre, which adds to the reasons why you should visit such a must-see cafe at any time of the day, from breakfast to dinner.
Ludlow Coffee Supply – New York, USA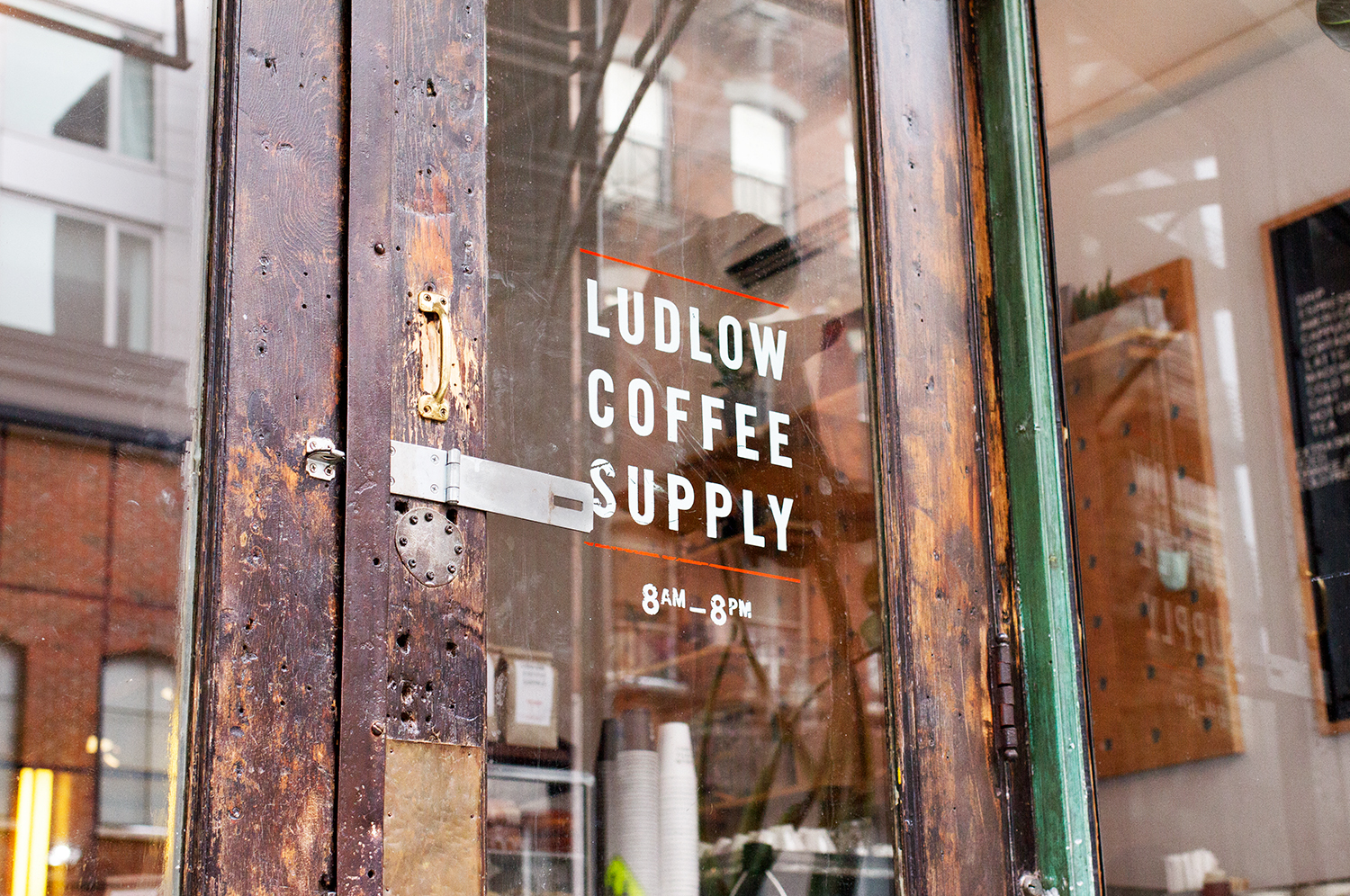 This cafe attracts a lot of attention, not only because of its showcase that has large windows to look out onto the street while you have your coffee and bun, but because they have a barber in the back. It is the perfect place for those who want to optimize their Saturday morning with a haircut and cut. The decoration is very cozy with leather armchairs, lots of wood and black and white photos. Apart from the coffee there are very rich scones and breakfasts (personally we recommend the raspberry croissant or one of the creative toasts). By the way, they also serve beer and wine in the afternoon / evening (they are open until 8pm); if you don't arrive for coffee you can also enjoy the atmosphere with a drink before dinner.
Els Quatre Gats – Barcelona, Spain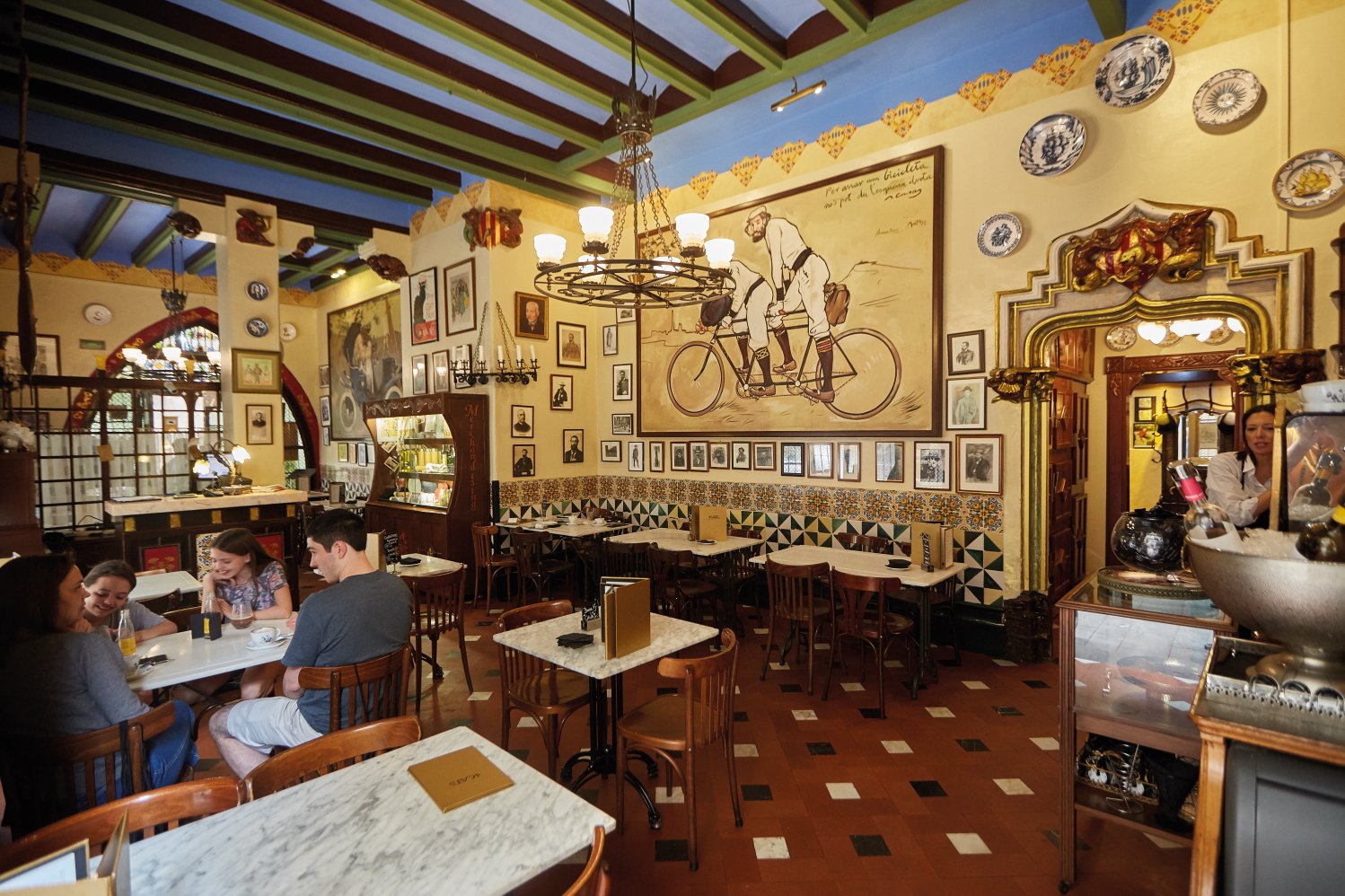 Founded in 1897, this is a mythical cafeteria in Barcelona famous and famous for having hosted the cultural life of the time for many years. Its neo-Gothic style gives it an unmistakable image and architectural figure, standing out among others for being one of the most important cafes of the Belle Epoque in Spain. It was inspired by the Parisian "Le chat noir" and quickly became the epicenter of intellectuals in Barcelona. They even published their own magazine at the end of the 19th century. In its famous gatherings, intellectuals and bohemians from the city met. Four cats but with great goals. Artists, painters like Santiago Rusiñol and Ramón Casas, musicians like Alvéniz and peculiar personalities like Pablo Picasso from Malaga, who was the designer of the cover of the Letters. Apart from the art of Picasso reflected in the letters, the famous painting by the famous painter Ramón Casas, one of the greatest figures of Spanish modernism, can still be seen today on one of the cafeteria walls. The painting represents the author and the owner of the cafeteria, Pere Romeu, pedaling a tandem bicycle.
Corlulu Alipasa Medresesi – Istanbul, Turkey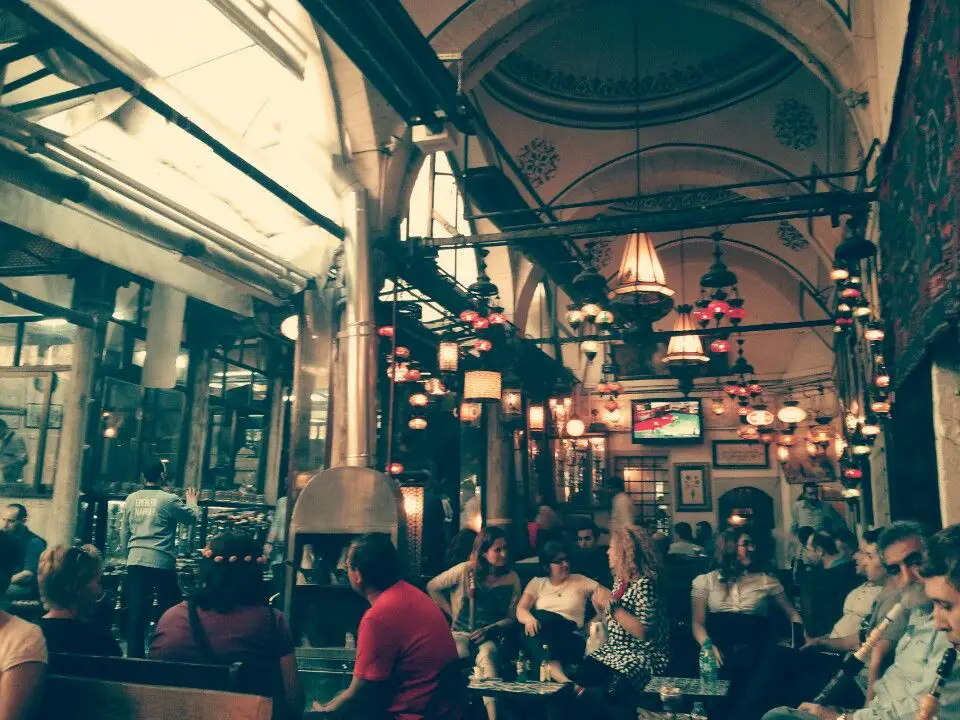 It is one of the most famous teahouses in Istanbul, it is an old school, and despite not being a tourist spot, it is taken into account to visit and know thanks to the charm it gives off. It is located in one of the alleys near the Grand Bazaar, in the center of Istanbul. The decoration transports us to the Turkish origins, with a special and magical atmosphere where mostly local people gather to drink tea, coffee or smoke hookah (known more as shisha or hookah). Numerous and colorful lamps hang from a very high ceiling inside while also highlighting the patio built in the seventeenth century.
Dolcezza – Washington, USA

In addition to ice cream, Dolcezza boasts some of the best coffee-based beverage offerings in town, created with beans brought directly from Portland, Oregon. Café Dolcezza opened in 2015 in a spacious place with excellent natural light, its decoration is accented in marble and is very much in keeping with the area in which it is located, the elegant City Center D.C. Its main point of attention is in Union Market, however the original location is in Georgetown. Go ahead and visit it as soon as you make a Tour to Washington from NYC, or, above all, if you are going to spend a few days in the capital.
Municipal House – Prague, Czech Republic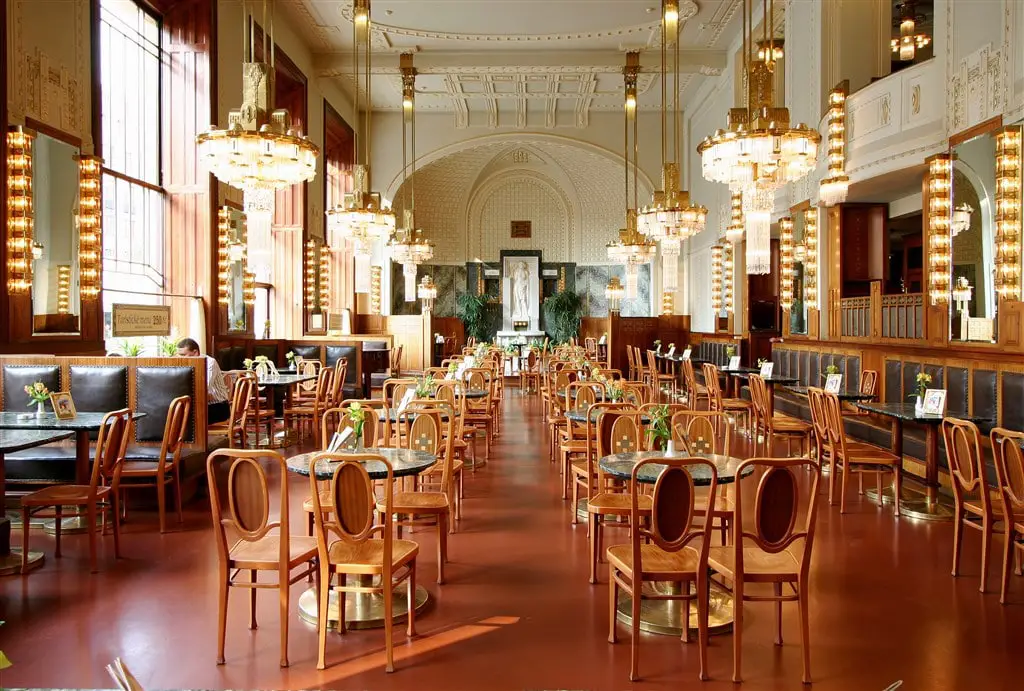 Prague is a city that is characterized by having many beautiful cafes, so when you are visiting it is very difficult to decide on one, although perhaps the most popular is the Municipal House. Its beauty has to do with Alfons Mucha, an artist famous worldwide for his Art Noveau paintings, who contributed to its design. Like most coffee shops in the world, Municipal House served as an epicenter for intellectuals and artists in Prague over the years. Although today more than anything it has become a tourist center where you no longer meet a bohemian poet but they will serve you a coffee with an exceptional flavor that is pure poetry.
Arquibar – Madrid, Spain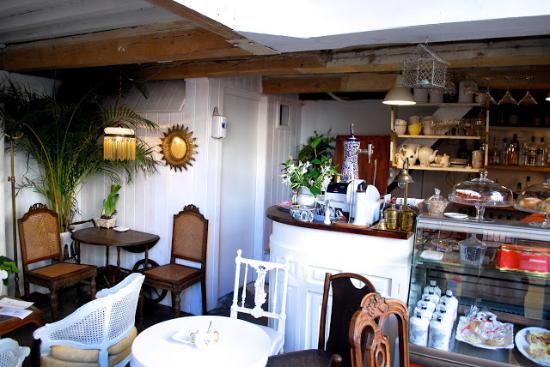 In the center of Madrid there are very cozy places like the Arquibar cafeteria. It is a small place where each of its corners have been used to turn it into a charming cafeteria with a very careful decoration. In addition, you can see in its essence that it was formerly an architecture studio.
Panther Coffee – Miami, USA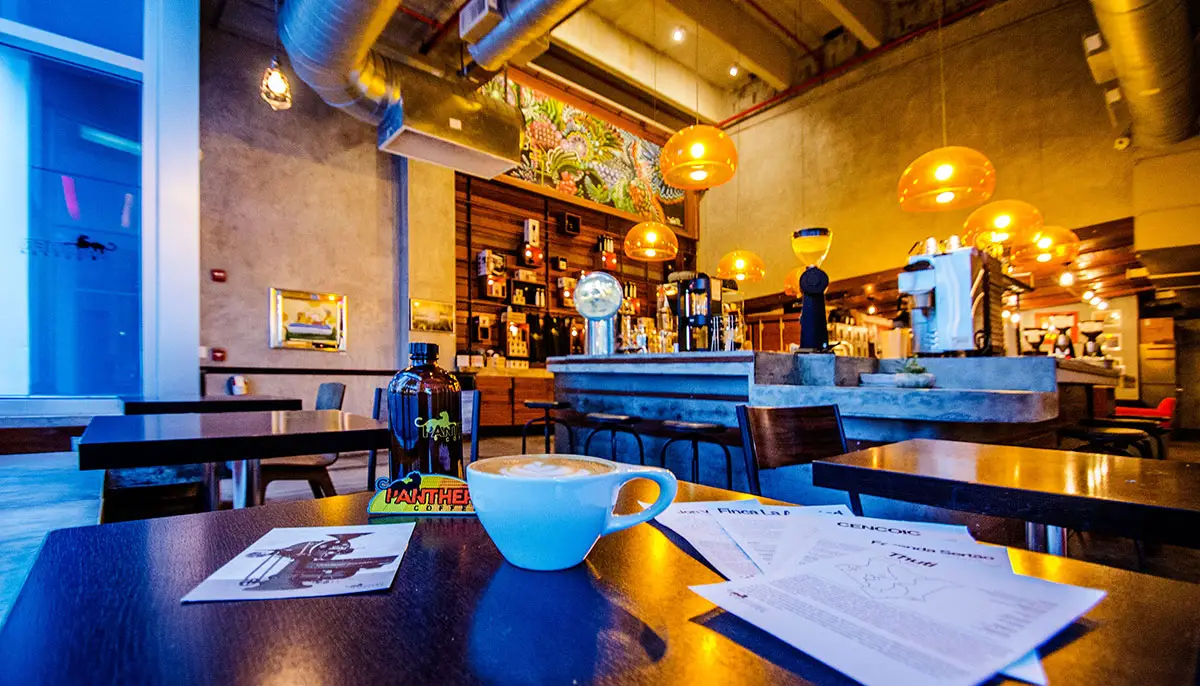 For locally roasted fair trade coffee, made by baristas who take the art of coffee making seriously, swing from the original Panther Coffee in Wynwood. They also have locations in South Beach, Coconut Grove, Little Haiti, and the MiMo district. While they serve European-style cappuccinos and lattes here, they also have café con leches and cortaditos made with love.
Ekberg – Helsinki, Finland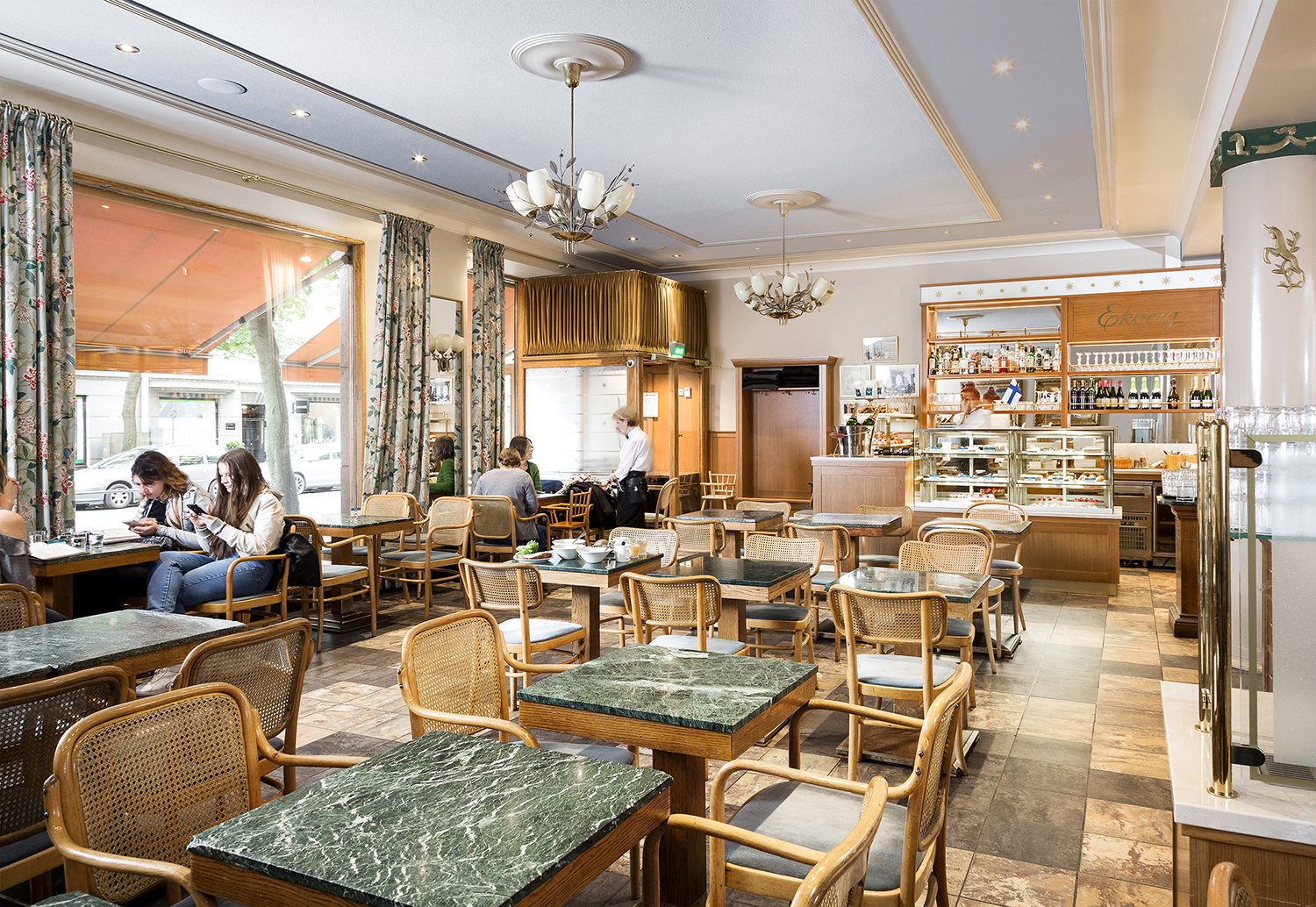 The most traditional café in Finland, since 1852, is in Ekberg, becoming the favorite space of every cake lover. It is the oldest coffee shop in Helsinki, so it stands as a point of visit in itself. The decoration and the atmosphere that it presents manages to transfer you to years ago, enjoying the coffee and the wide quality pastries.
Café Gijón – Madrid, Spain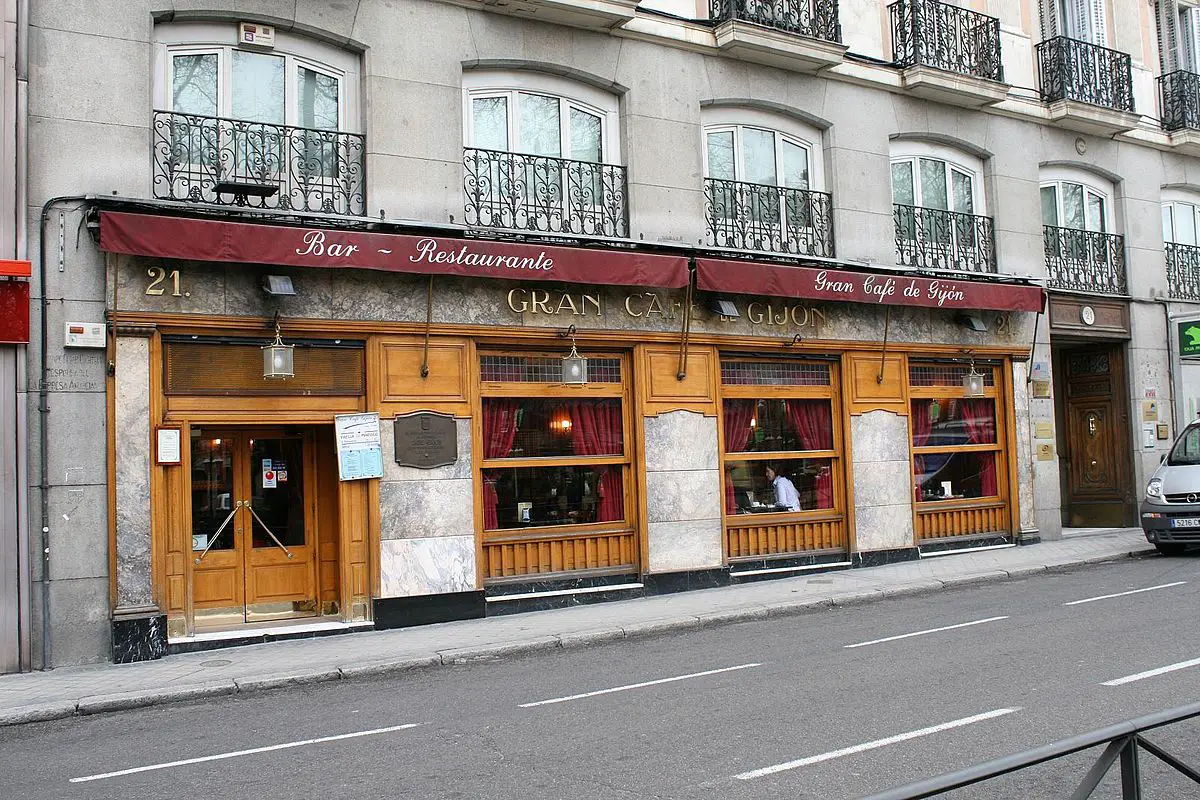 Located on Madrid's Paseo de Recoletos, it was founded in 1888 and is a version inspired by Barcelona's "Els Quatre Gats". In its beginnings, it did not aspire more than to be a typical coffee, but little by little it ended up becoming one of the best meeting and gathering centers for the best figures in Spain who met to talk and argue over coffee. Some of those who frequented this prestigious cafeteria were García Lorca, Valle Inclán, Ortega y Gasset, Galdós, Ramon y Cajal or Camilo José Cela. This cafeteria has hosted so many cultural events in Spain that it has been declared an Asset of Cultural Interest in the category of «cultural fact». Even today it is still frequented by writers and intellectuals so if you take a walk there to have a coffee, do not be surprised to meet one.
Emissary – Washington, USA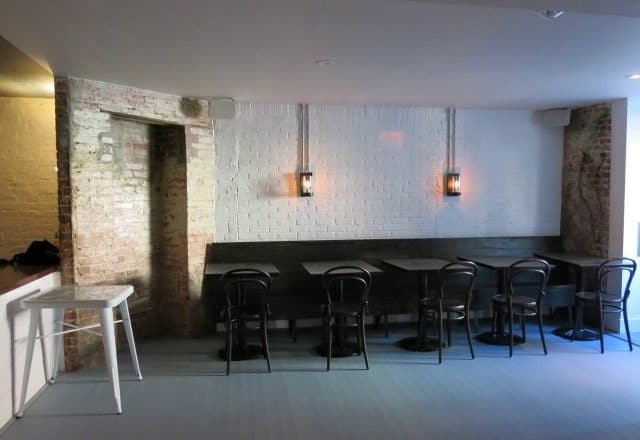 It is a Dupont Circle cafeteria that proudly reflects a typical Swedish style with exposed bricks, comfortable armchairs and small seats located in the corners that invite you to stay for a good time of rest. At Emissary the coffee is made with Counter Culture beans, creating a delicious solid espresso, full of caffeine and ideal for a good energy boost for a busy day. We invite you to visit him, sit down for a while, relax and accompany your coffee with a tasty avocado toast, with arugula and fresh tomatoes, which, by the way, does not taste bad at all.
Cat Cafe Temari no Ouchi – Tokyo, Japan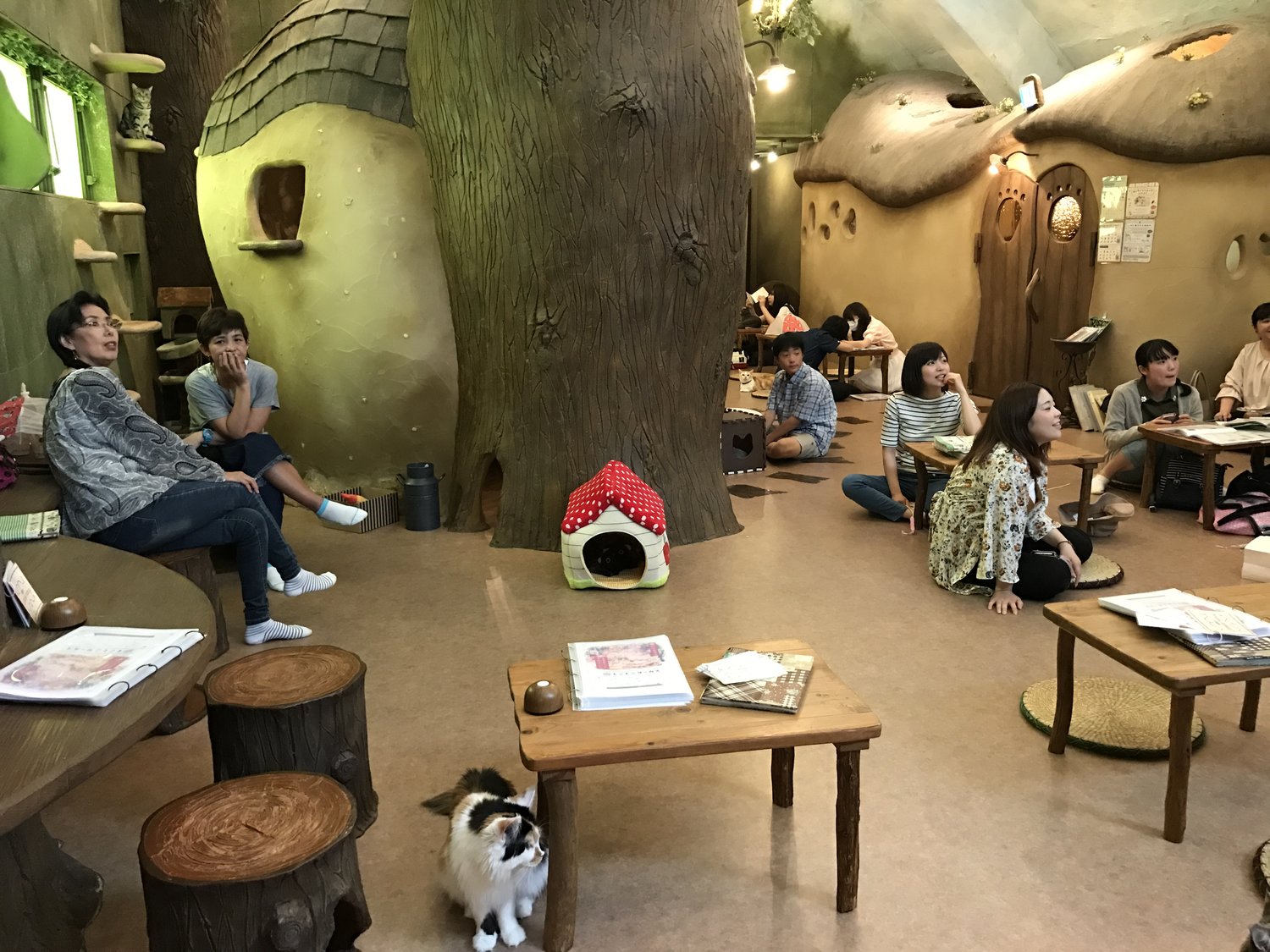 If you want to fully enter a real city for cats, Temari no Ouchi is one of the cat cafes that you cannot miss. This neko café in Tokyo is the favorite attraction of pet lovers in the capital, as a theme park set with different areas, inhabited by more than 30 cats of all breeds. The whole place is full of little houses for the cats, toys, scratching posts and a fairy tale decoration. Visitors enjoy a delicious snack on their small tables located in the center, receiving the visit of curious animals, who are always active thanks to the entertainers, some super nice girls, who are all over the place.
Café New York – Budapest, Hungary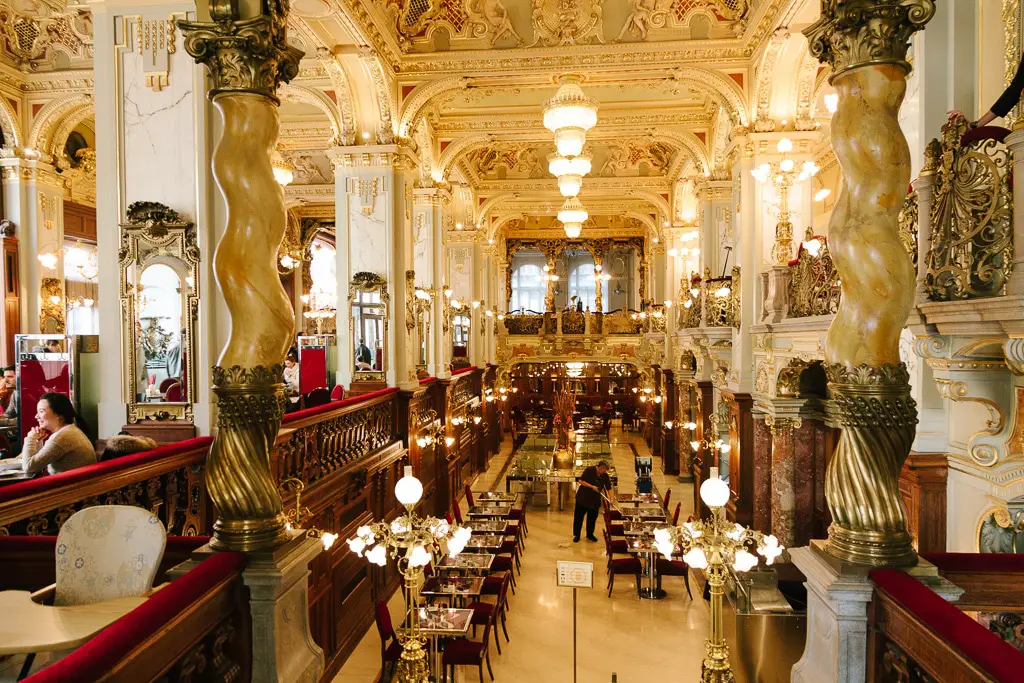 One of the central European cafes par excellence is located in the Hotel Boscolo in Budapest. It is an immense and lavish space that impresses the eye, which gives it the title of the most beautiful and splendid cafeteria in the world. In this cafeteria, in addition to serving an exquisite coffee, it can be accompanied by its famous chocolates and a varied assortment of Hungarian cakes. It is not a cheap place to go to consume but without a doubt it is worth spending a few euros to enjoy the experience of having a coffee in a place with tremendous beauty.
David's Cafe – Miami, USA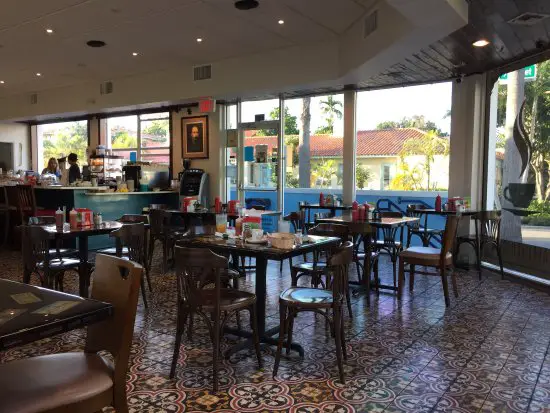 David's Café is a South Beach Institution with a fascinating history. In the González family for generations, it was originally opened in 1977 Inside a space that was previously a Jewish food store and they decided to keep the name. The current location is on Alton Road and is managed by Adrián González and his wife Laura. It is the perfect place to participate in the traditional coffee over a wash with friends.
Madness Coffee – Alicante, Spain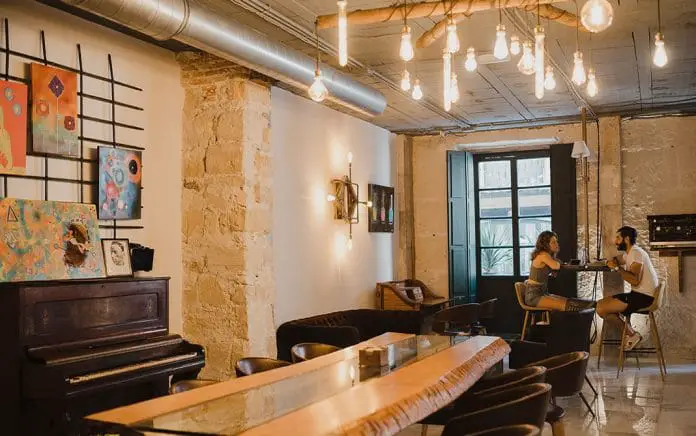 If you want to drink specialty coffee (authentic and good), you have to go to Madness Coffee. It is located in the old town of Alicante. They have seasonal coffee, they roast it themselves every day in their roaster and the barista serves it in a cup ready to drink. They are very concerned about supporting coffee growers and knowing the origin of the raw material with which they work: coffee beans. It is a cozy place with a certain industrial touch in its decoration. Wide variety of coffees and teas. The staff is generally friendly and helpful.
Golden Brown – Budapest, Hungary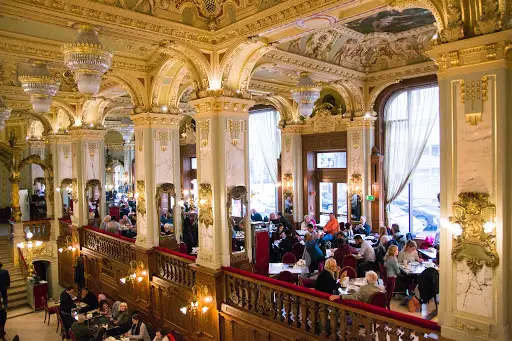 As we liked to discover that Budapest had more specialty cafes than we had signed up for before going. Dorado Café is one of them, we passed by by chance and obviously we entered attracted by the smell of freshly brewed coffee. This venue, opened in 2018, occupies a space full of plants on the gentrified Klauzál street within the old Jewish quarter. We sat at the long table and opted to order two filter coffees to start. The Hungarian-Spanish owner duo, Emese Görföl and Mario Jimenez, give Dorado an endearing character. They are friendly, attentive and know what this move is about. In a city where the service staff is somewhat moody, the treatment here is appreciated. They have everything from cold beers to espresso-based drinks made with a matte black La Marzocco machine. If you want to try something from their menu, we recommend the freshly made cakes, or the avocado toast, which, served on sourdough and with pickled onions and walnuts, is delicious. The place is quite large and long, with brick walls and plants that seem to fall from the ceiling. One of the best coffee shops in Budapest that we could visit, without a doubt.
Puerto Sagua – Miami, USA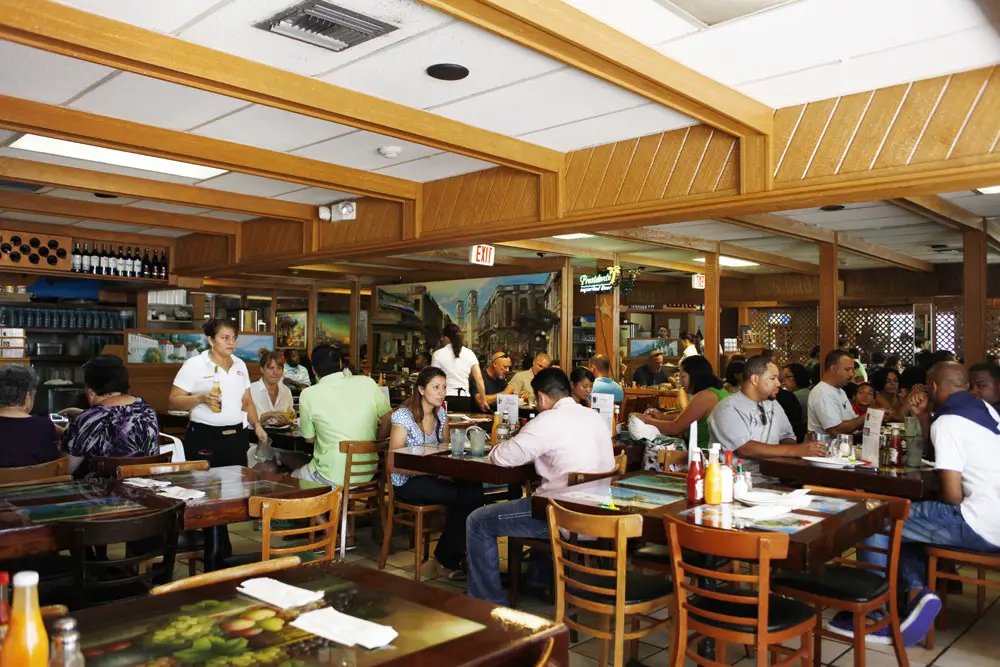 If you're cruising down Collins Avenue in the heart of South Beach and feel the need for a Cuban coffee, dive into Puerto Sagua on the corner of Calle 7 This simple Cuban restaurant is a staple for a cafecito break and is always bustling. Enjoy a good meal of old clothes, black beans, and rice with sweet plantains or keep it simple and get your cortadito and croquettes to go.
Café Mollien – Paris, France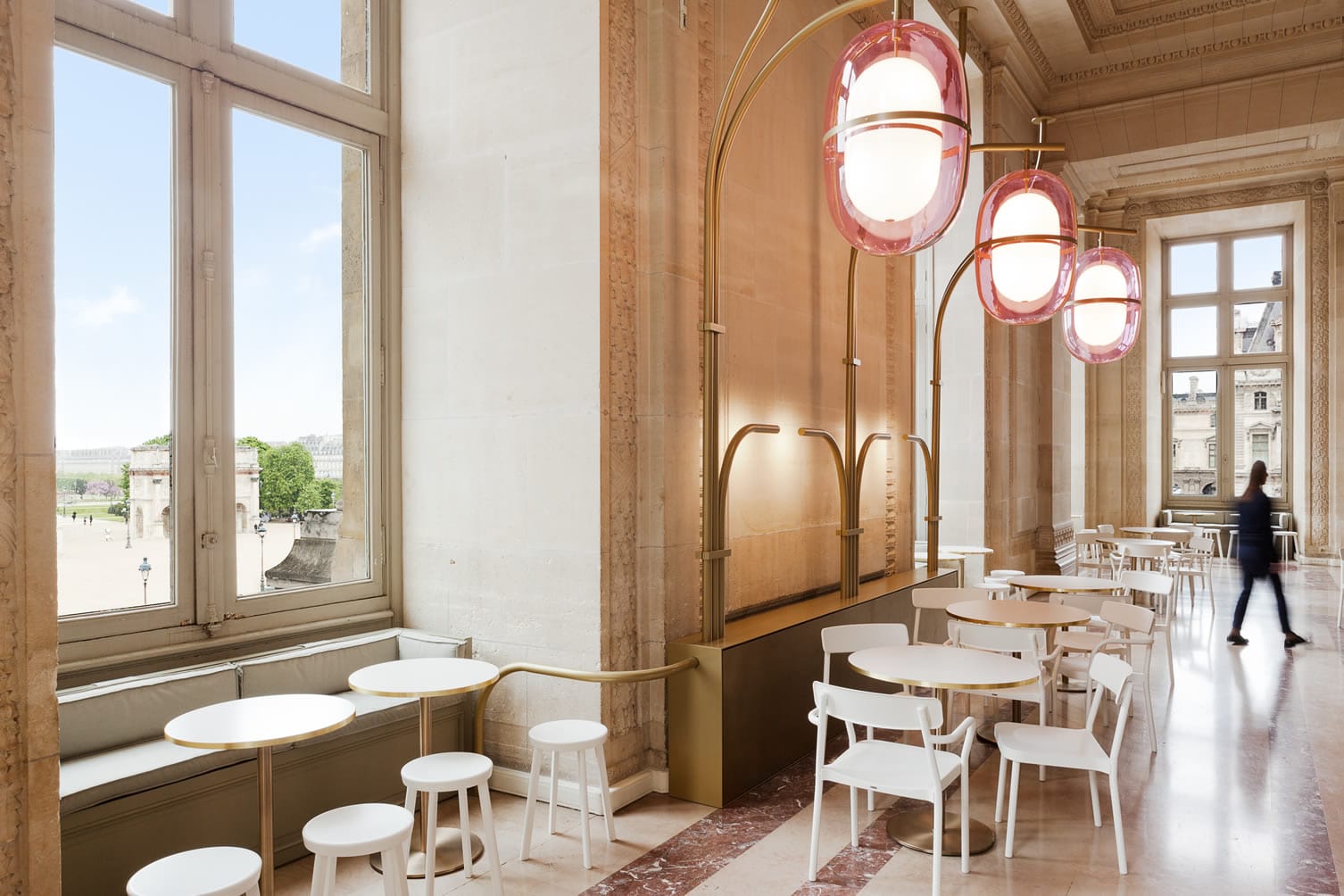 Located in the Louvre Museum is Café Mollien, an incredible coffee shop just a few steps away from the Mona Lisa. On its terrace it is not only possible to enjoy a delicious cup of coffee, but you also have at your disposal a beautiful view of the Carousel square, as well as the Cour Napoléon. Without a doubt, the outstanding atmosphere full of art and history that surrounds Café Mollien, makes it one of the best coffee shops in the world.
Petitbo Granja – Barcelona, Spain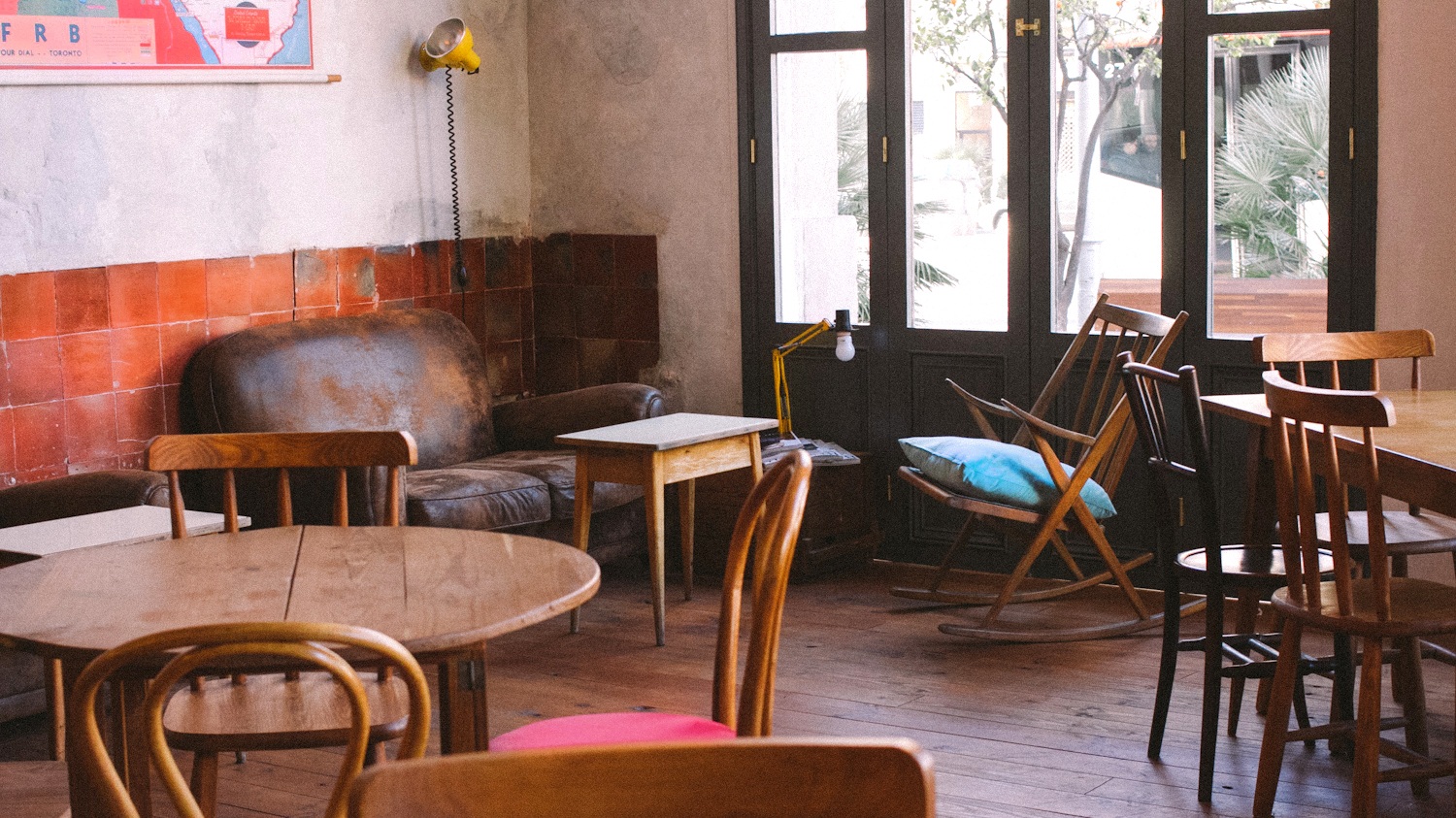 In Barcelona there are countless dream places where you can spend a very pleasant morning or afternoon. The Granja Petitbo coffee is one of those coffee shops that captivates you and makes you stay for hours. In this place they make a continuous tribute to coffee with the number of varieties they offer. The location where it is located is very quiet and that is transmitted inside the premises.
Qualia Coffee – Washington, USA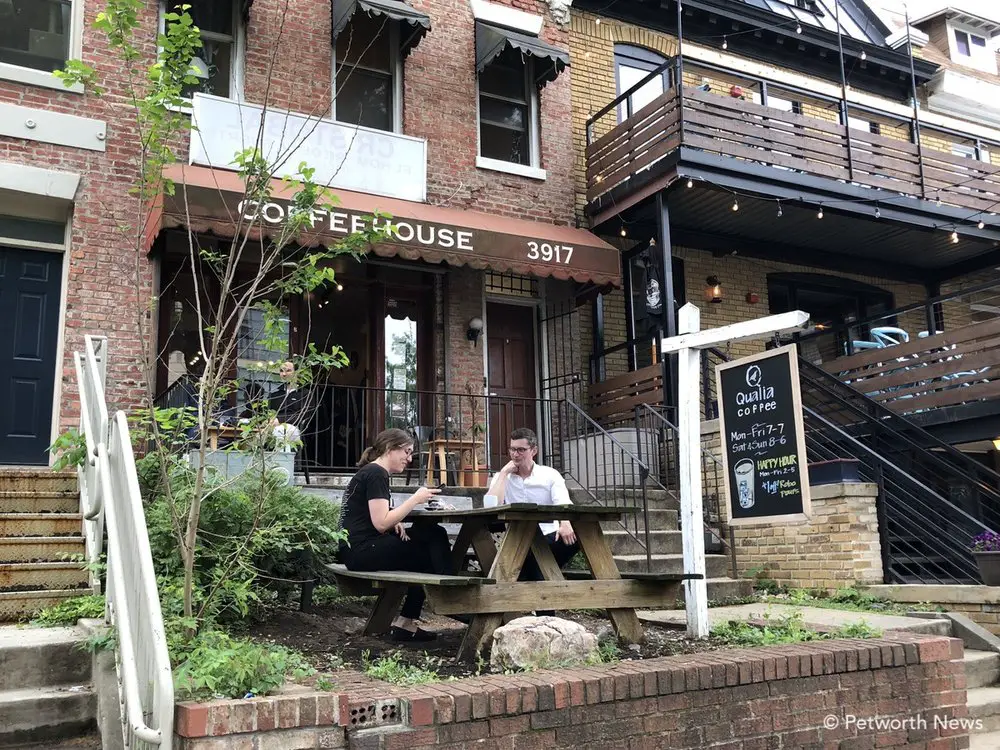 Qualia Coffee is more than just a full service coffee shop, we are talking about the home of the small portion roast company "Fresh Off the Roast", a company dedicated to sourcing freshly harvested beans from around the world, so you can find beans from Colombia, Guatemala, Uganda, Haiti, Brazil and Ethiopia, just to name a few of the options. During the summer season you can enjoy iced coffee, iced tea or homemade lemonade. Just to lower the temperature a bit.
Café Odeon – Zurich, Switzerland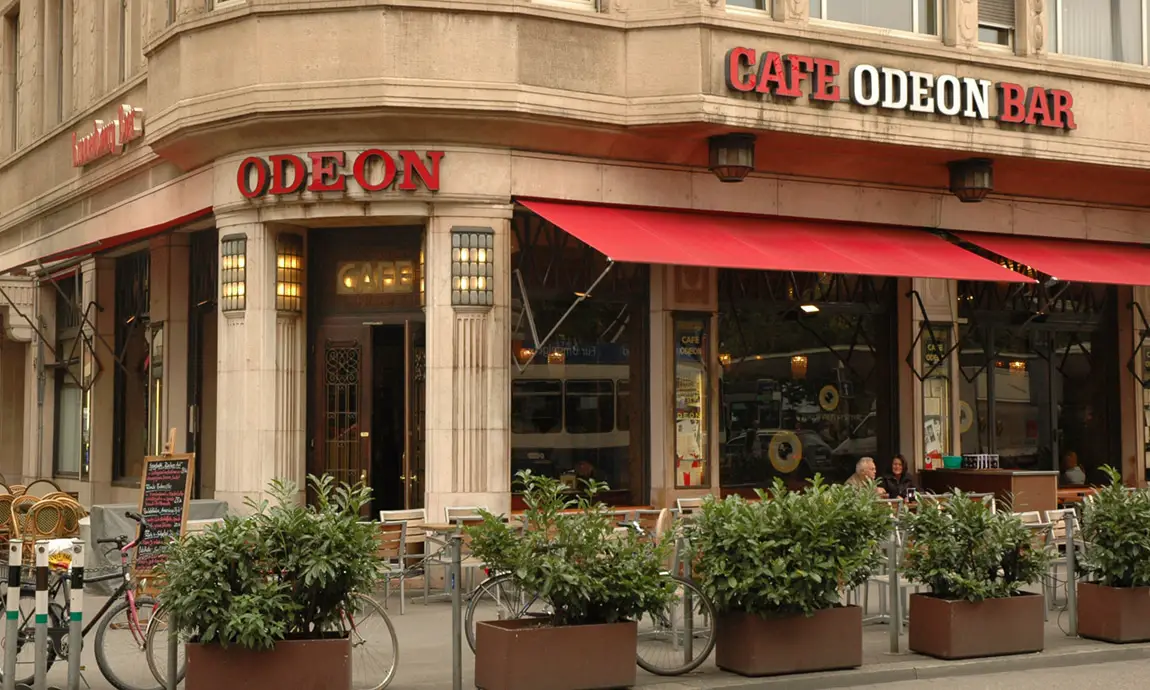 This cafe is famous for the presence of Albert Einstein in 1911 giving various lectures, including on the Theory of Relativity. Café Odeon has been a meeting point for celebrities especially during the First World War, when Switzerland, a neutral country during the conflict, brought together most of the intellectuals from Europe who went into exile there. It is even said that the legendary Mata Hari knew how to have more than one coffee at the Odeon.
Starbucks – Dazaifu, Japan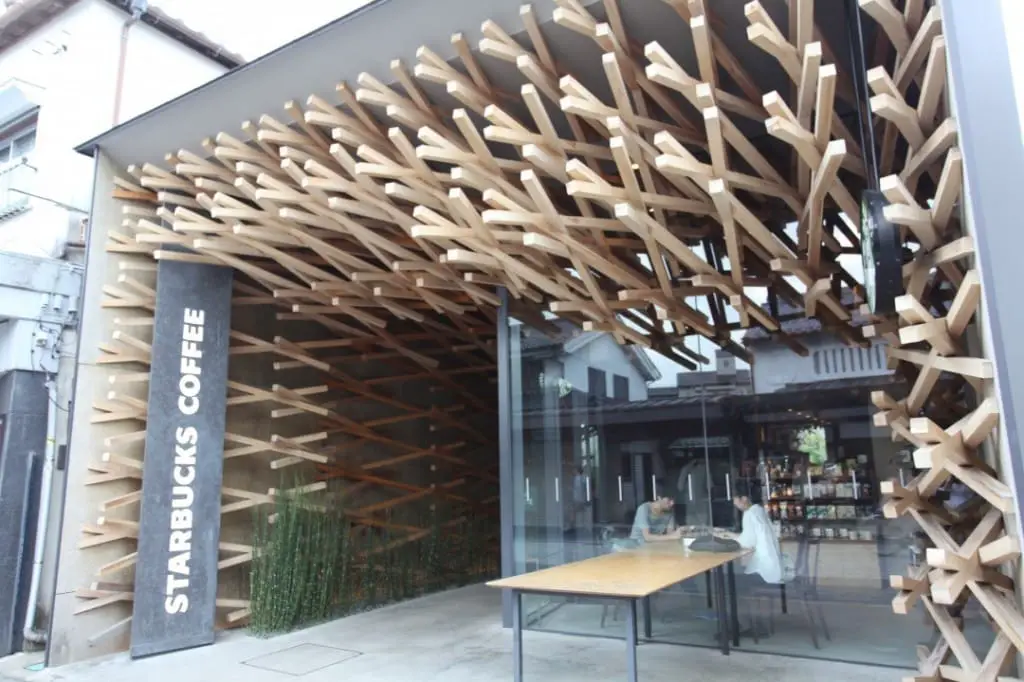 Despite the fact that this coffee shop belongs to the great Starbucks coffee chain, its design makes it an outstanding coffee shop that is worth including in this list. The main aspect that stands out about this Starbucks located in Dazaifu, Japan, is its particular architectural structure designed by Kengo Kuma & Associates. This team of architects was commissioned to create an incredible cafeteria with a design of interlocking timbers that offer an interesting environment to have a cup of coffee.
Cat Relax – Alicante, Spain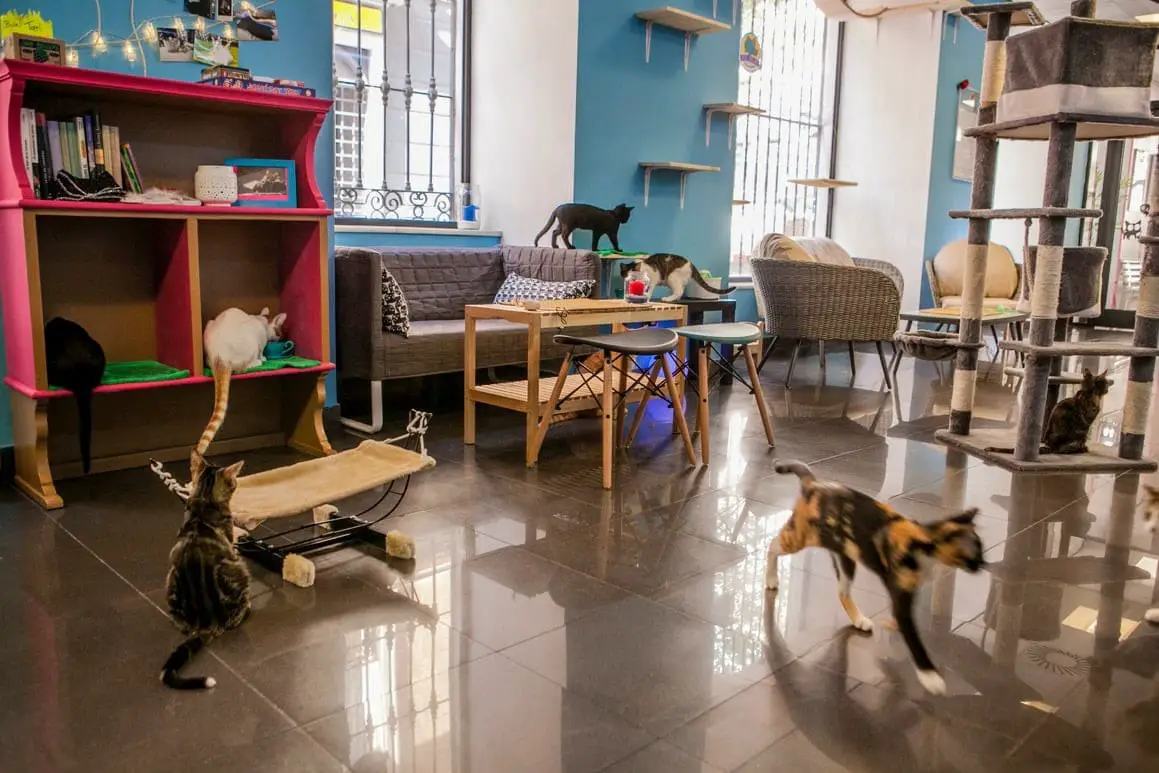 The cafeteria with cats in Alicante. It is also the physical headquarters of the ABAIFA association. Not only can you have a coffee or read a book accompanied by cat friends, but you can also talk to the association to see if there is an option to adopt one. Photos can be taken and cats must be respected at all times. When there are a lot of people, they usually limit the visit to one hour but if not, you can stay as long as you want. Kittens are usually awake in the morning or late afternoon.
My Little Melbourne – Budapest, Hungary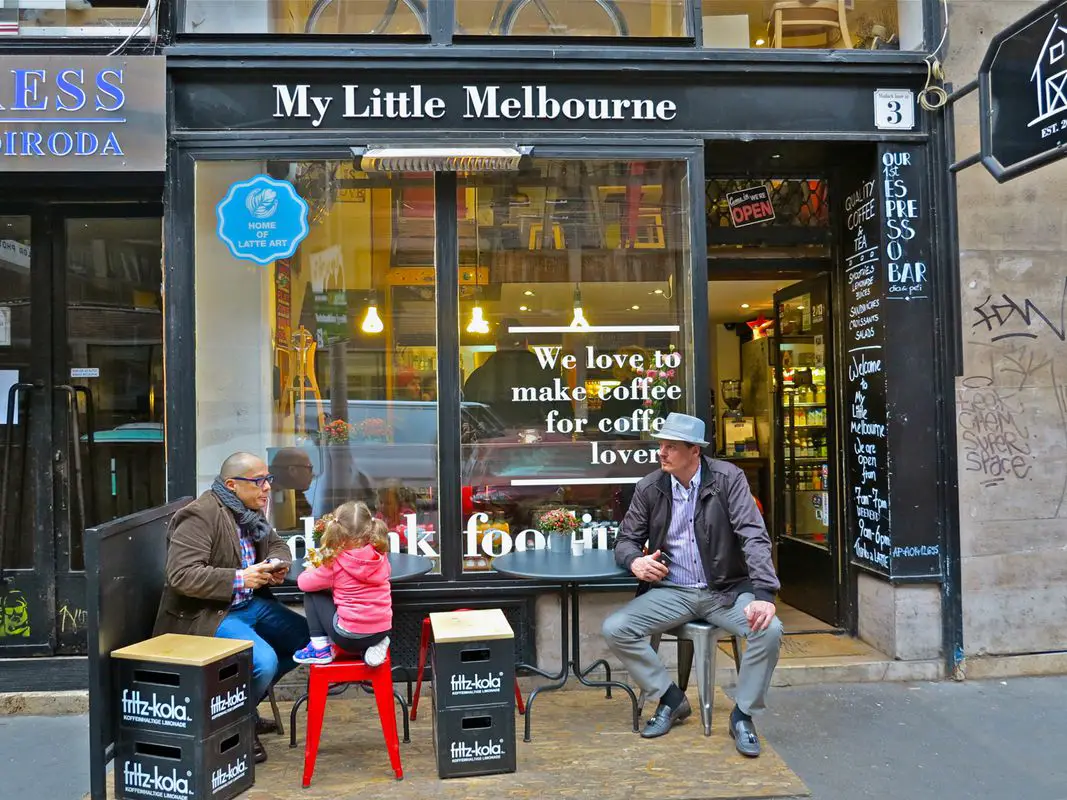 A small venue in Madách Square, right in the middle of the Jewish Quarter, named after a memorable trip to Melbourne and to which, since its opening, a beer bar has also been added. The 35-square-meter coffee shop focuses primarily on classic espresso and is famous for serving the best in town. They offer weekly and biweekly guest coffees from all over the world, but mainly from Europe. They also have an ideal menu for a mid-morning snack such as salads, sandwiches, croissants, juices and soft drinks. We ordered a delicious filter coffee. When it opened in 2012, it was one of the first specialty coffee shops in Budapest and today, the company is one of the most recognized coffee brands in Budapest operating out of a couple of branches throughout the city. The space is divided in two and we find, on one side, the Brew Bar, which caters to fans of filtered coffee with surgical precision using V60, Chemex and AeroPress equipment. Espresso-based coffees like cappuccino, flat white, and latte come next door.
Larios on the Beach – Miami, USA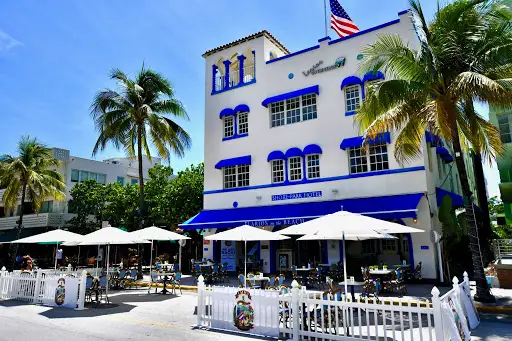 Owned by celebrities and Miami royalty, Gloria and Emilio Estefan, Larios on the Beach is known for its prime Ocean Drive location and award-winning Cuban cuisine. Grab a table on the terrazzo balcony overlooking Lummus Park and the beach for a coffee afternoon paired with their coconut and cream cheese empanadas.
To Brasileira – Lisbon, Portugal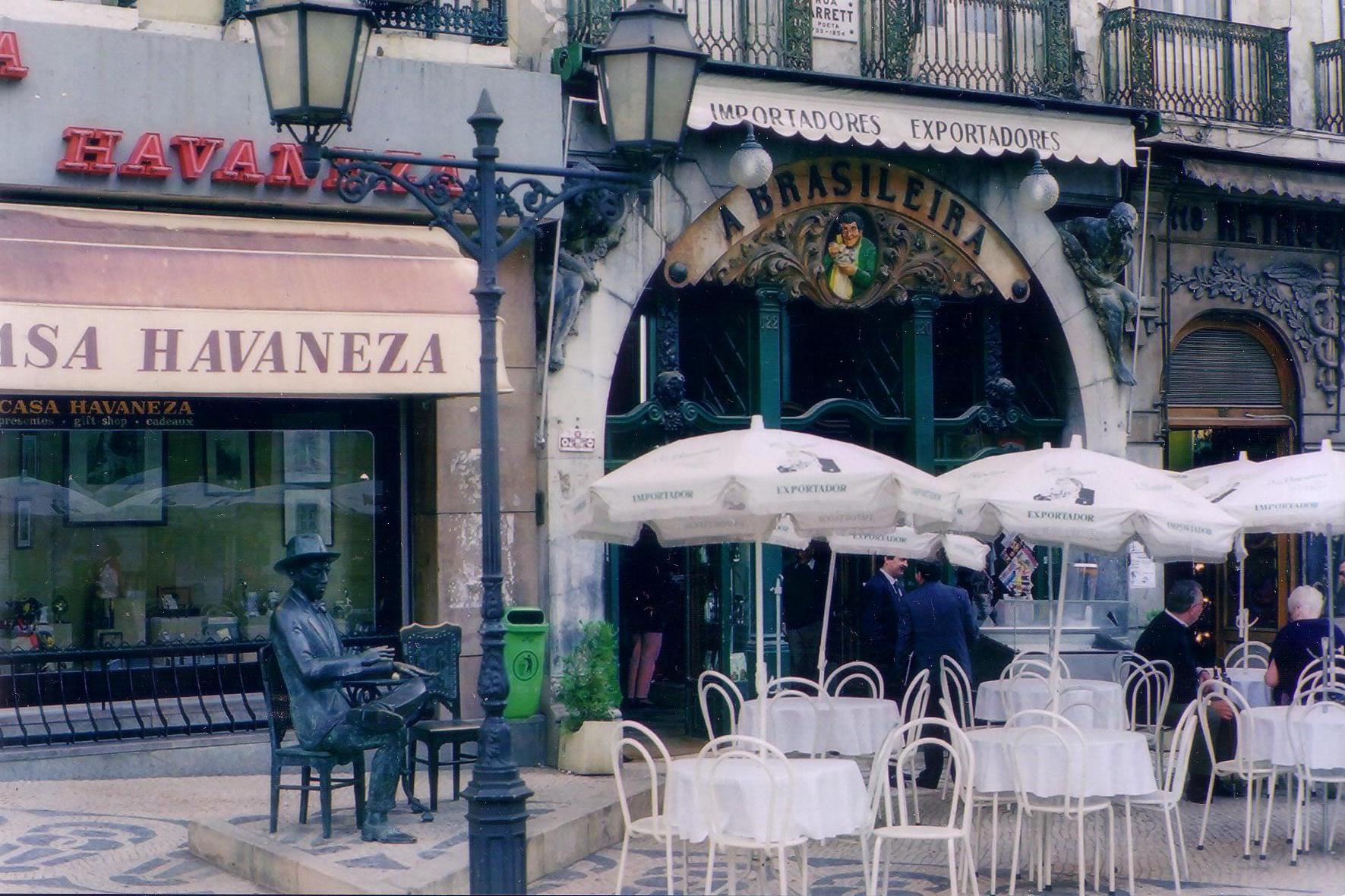 A Brasileira is one of the most famous cafes in the Portuguese capital. Opened in 1905, it is famous for having served the famous Brazilian coffee from the beginning and for offering bica, a small cup of very strong and sparkling concentrated coffee. These attractions added to its modernist architectural beauty give it a very popular style. This cafeteria was very frequented by Fernando Pessoa so today a sculpture of the poet is part of the decoration of the premises on its terrace.
Café Royalty – Cádiz, Spain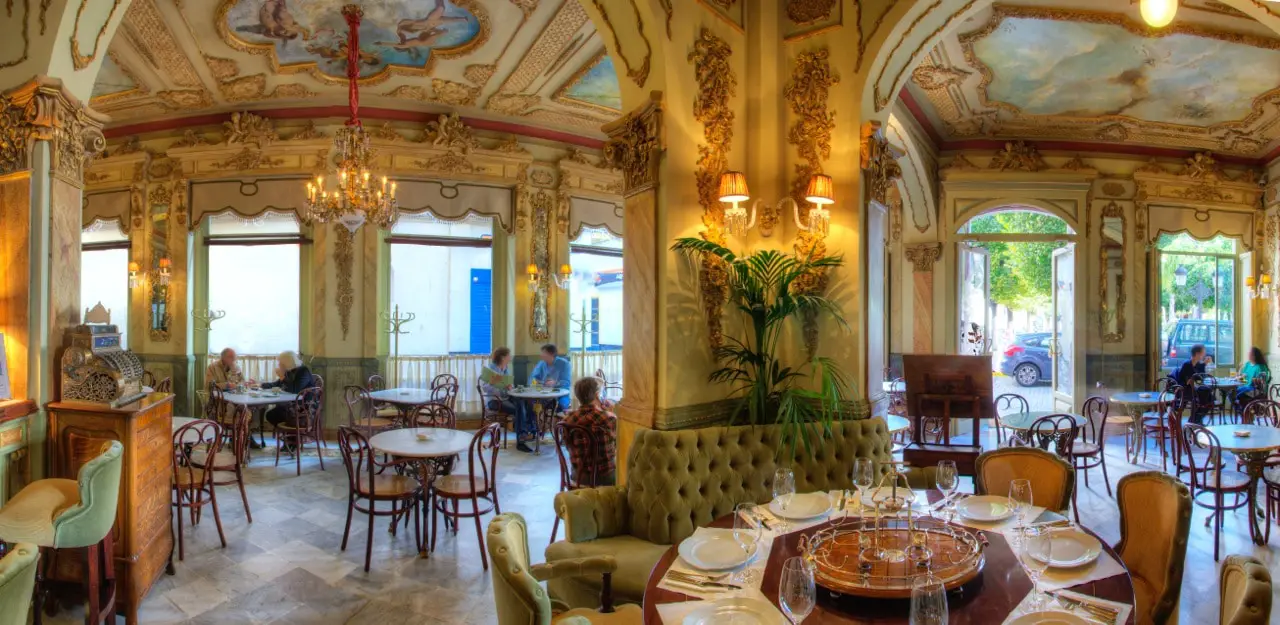 I don't want to end the post without highlighting one of the best restaurants, if not the only one, with classic, romantic and historical coffee that is preserved in Spain. This stately and charming space turns the café into a unique, special and worth visiting environment in Cádiz. The decoration that it presents, together with the amount of details that have been maintained since its first opening in 1912, conquer the eye to later win the palate. Snacking at Café Royalty cannot be missed without a cup of espresso as a companion to any cake on the menu, although what stands out the most are the croutons.
Cafe Central – Vienna, Austria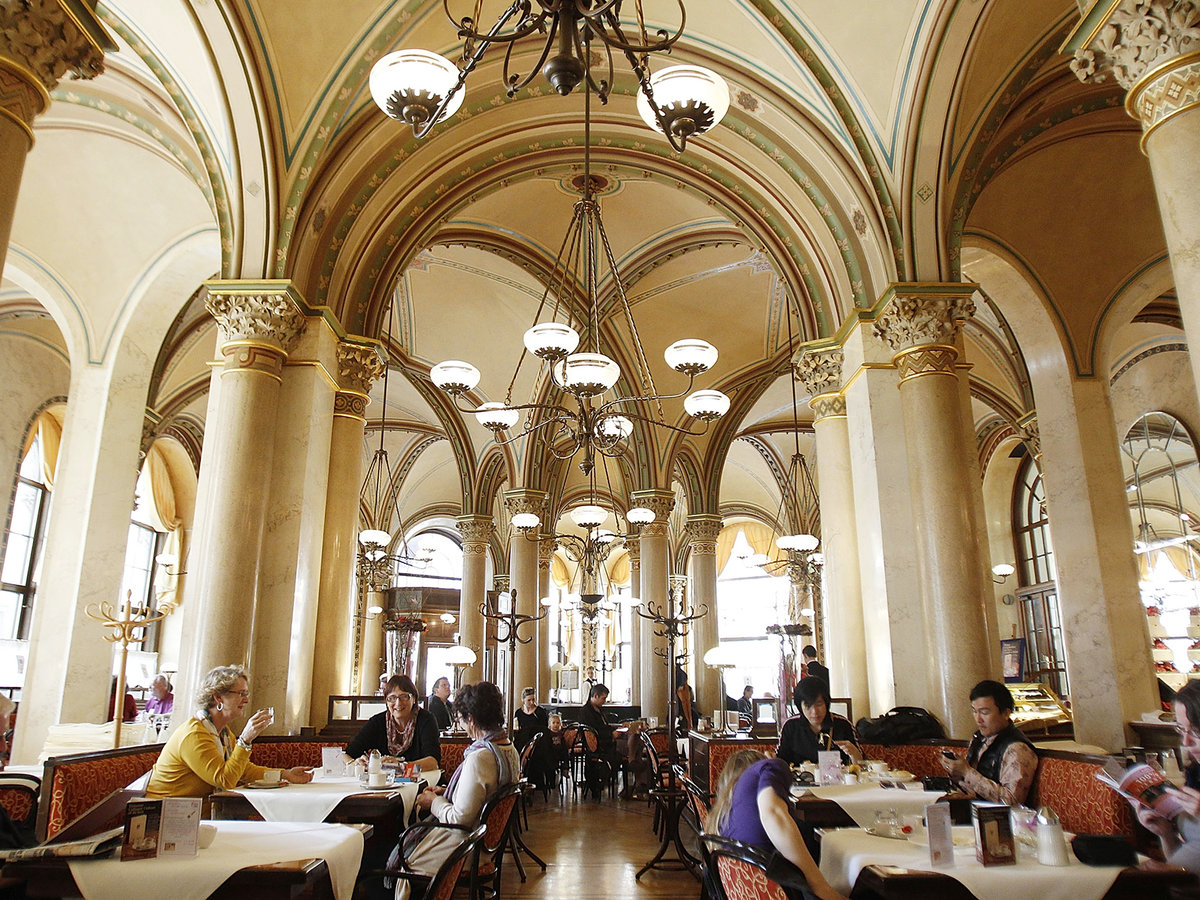 It was founded in 1860 and for many years it concentrated a large part of the most prestigious European culture. Here were Sigmund Freudo, Adolf Loos, Klimt and Mahler, among others. After the Second World War it closed its doors and lost its convening power, but today, reopened, it is a place that lives off the prestige gained more than a century ago and thanks to this, from tourism. This place serves a wonderful Viennese coffee and is a cultural center that you cannot miss when you are in Vienna.
Antico Caffè Greco – Rome, Italy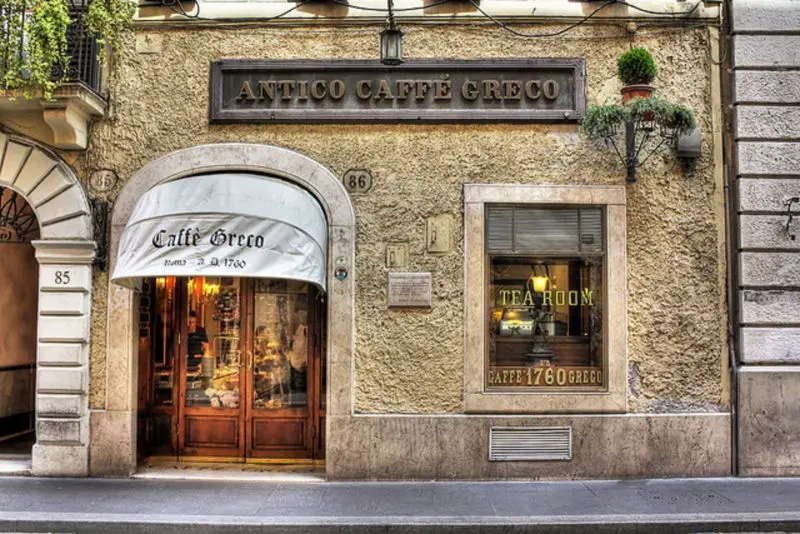 This cafe is the oldest in Rome, it was founded in 1760 by an Italian of Greek descent. It is a very old place that preserves an intimate and homely atmosphere. The tables are within walking distance as an invitation to start a conversation with the colleague next door. It is a cafe full of stories of personalities that throughout the centuries have known how to frequent this place. It is definitely a great cathedral to visit on your trip to Rome just as Goethe, Liszt, Byron, Wagner or Orson Welles did in their time.
Horizont Cafe – Budapest, Hungary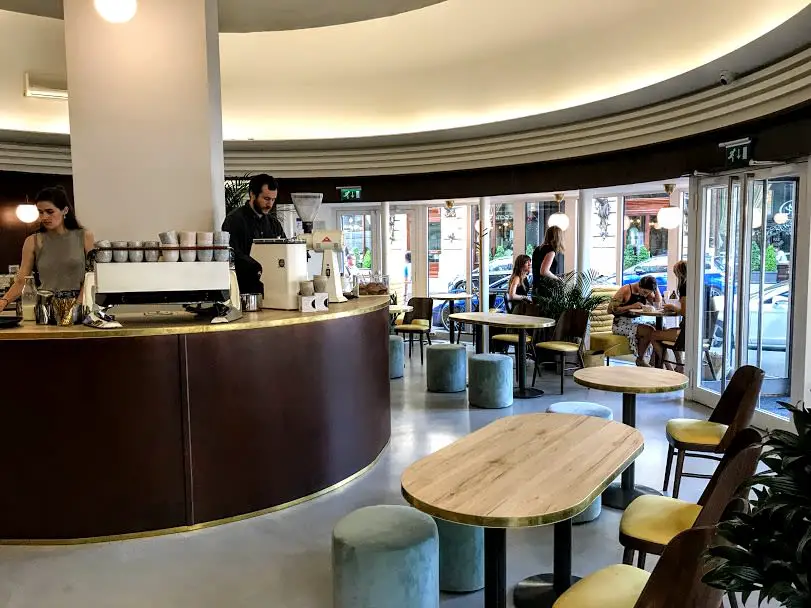 From the outside, it doesn't look like Horizont Café was a specialty coffee shop. It gave us the impression before entering that it was not going to be one of our favorite cafes in Budapest, but thank goodness we entered. This place shows the contemporary self of Budapest. It is also a cafeteria, it is a restaurant that serves breakfast and has a circular shape. We were told while there that it used to be a movie theater box office until 1999. Now, after a recent renovation, the interior features mid-century Art Deco and modern furnishings. Globe lamps, vivid colors and brass finishes. In the center of the space is the bar, where a pair of baristas grind, prepare and serve filter coffees and espresso-based drinks made with lightly roasted beans imported from places like Colombia, Ethiopia and Burundi. From their menu we tried scrambled eggs with chives and garnished with crispy bacon and marinated shallots. Its French toast, with fresh seasonal fruits, is also famous.
Kafé Botanika – San Sebastian, Spain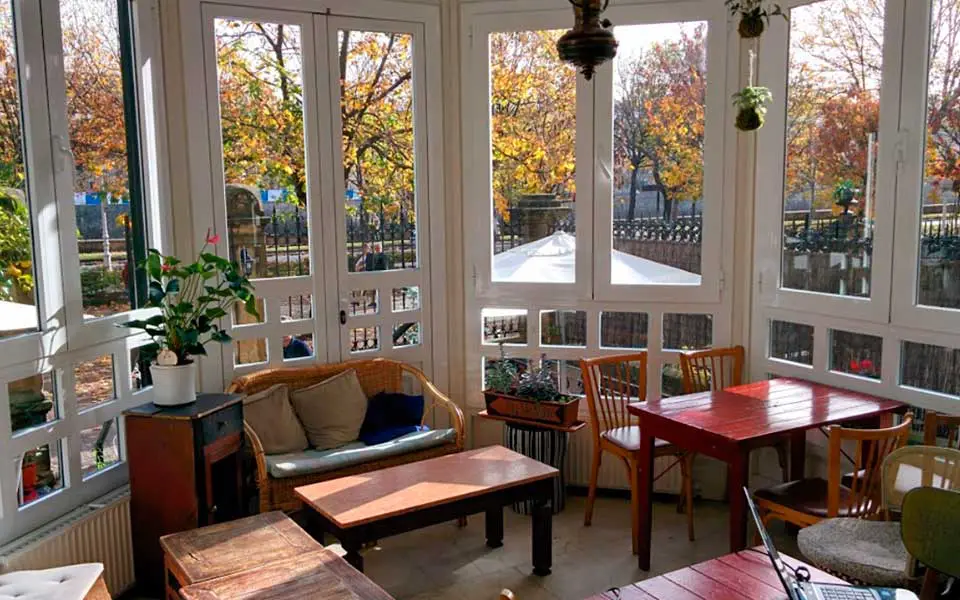 Feel in harmony with nature, soak up the scent of flowers and take a break at the wonderful Kafé Botanika, in San Sebastián. Among cacti and vines you can enjoy an experience very similar to the tropical environment while you drink a delicious coffee in the traditional style.
Altamira Rotonda Cafeteria – Alicante, Spain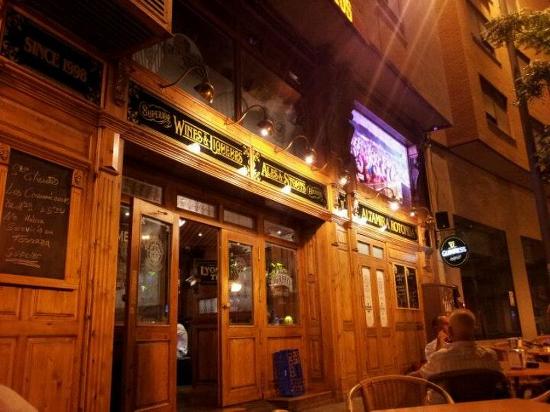 Cafeteria-bar that is open 24 hours. You can have a few beers or have dinners or meals with your family and friends. There are tapas, imported beers or hamburgers. A place that you know that you are going to be able to drink something. The quality of the food is quite good and it is not overly expensive. The staff is friendly and attentive. It has a terrace.
Tin – Buenos Aires, Argentina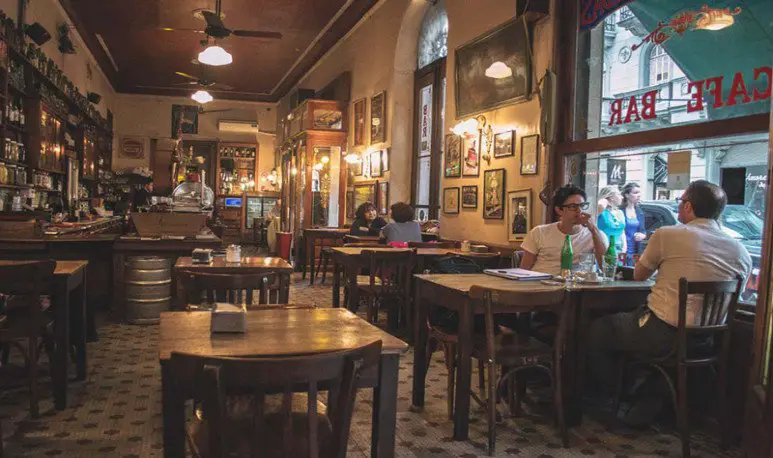 In Buenos Aires this cafeteria is the epicenter of intellectuals and bohemians. It was founded by a Spanish couple in 1880 and is named in honor of its tin bar that still stands today. To date, it continues to be an ideal place to soak up the artistic and authentic atmosphere of Buenos Aires. In fact, in the movie "Evita" it appears several times given its fame in the Argentine capital. If you want to take a walk around El Estaño, there you can enjoy both literary readings and Tango shows.
Jack's Stir Brew – New York, USA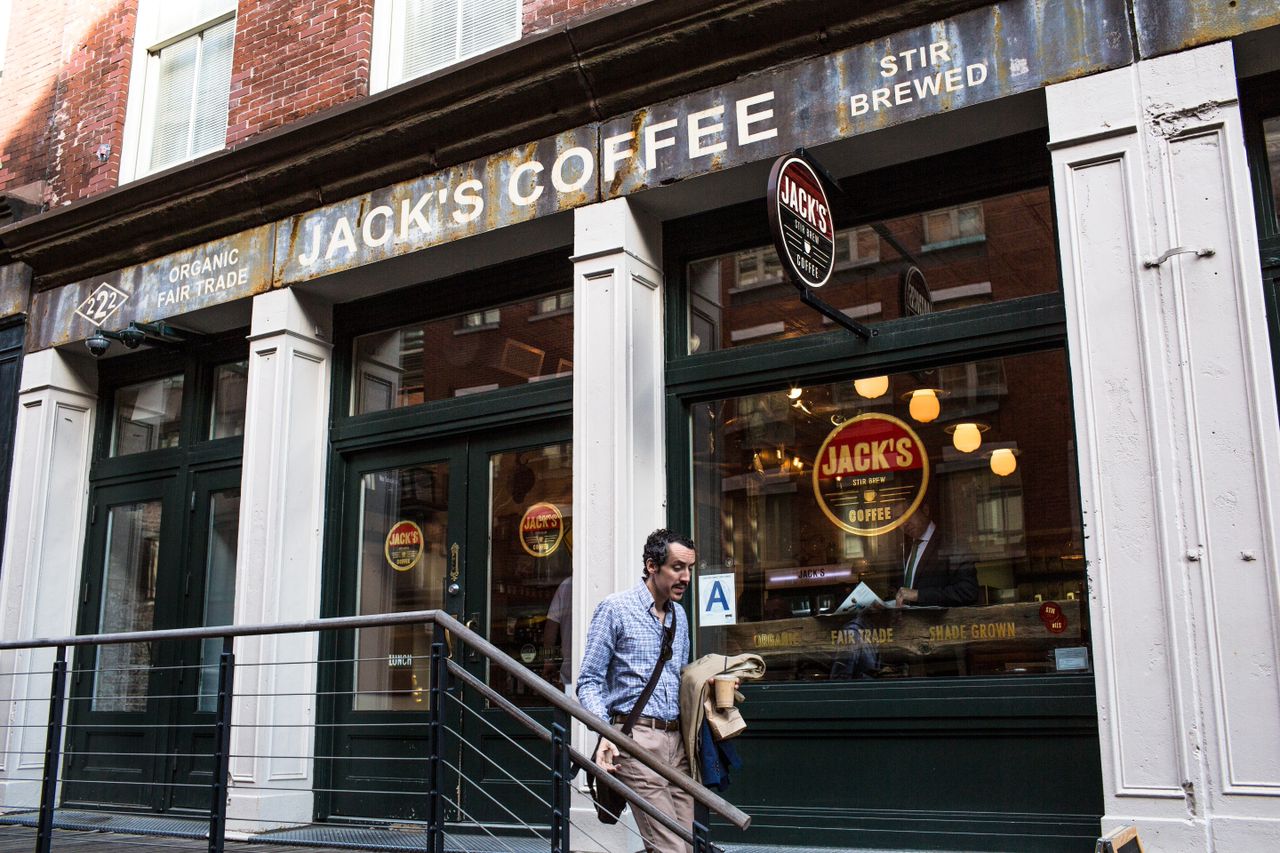 I first met this chain a couple of years ago in the summer when I was walking with my Pentax camera taking photos around the West Village. I needed a latte with ice as it was so hot and I stopped at the Downing Street place. The place is small but it is not the only one. We love this mini chain more than anything because it is a family business with the idea of ​​creating a community centered on coffee. In addition to their organic coffee selected after a long process of study and testing, they make vegan buns and sweets. Of the sweets, what we like the most are donuts and croissants, although they also make egg sandwiches for those of you who like to have a salty breakfast.
Café Iruña – Bilbao, Spain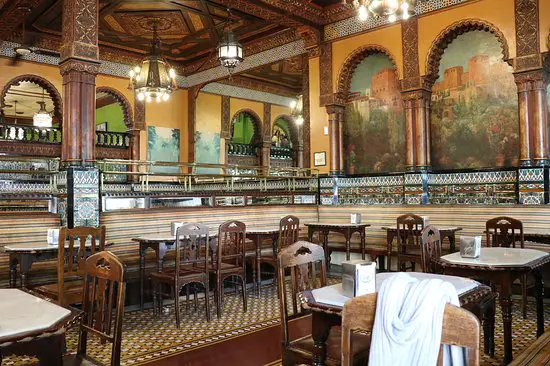 In the heart of Bilbao is the Café Iruña, an emblematic place that since 1903, serving coffee and welcoming you under its Mozarabic lighting. It has been serving delicious coffees in all forms for a century. Did you know that it is still in perfect condition since it opened its doors and still has the furniture and decorative elements from its beginnings? What keeps its style and essence so classic and different. So now you know, if you like "vintage coffee", this is your place!
Confeitaria Colombo – Brazil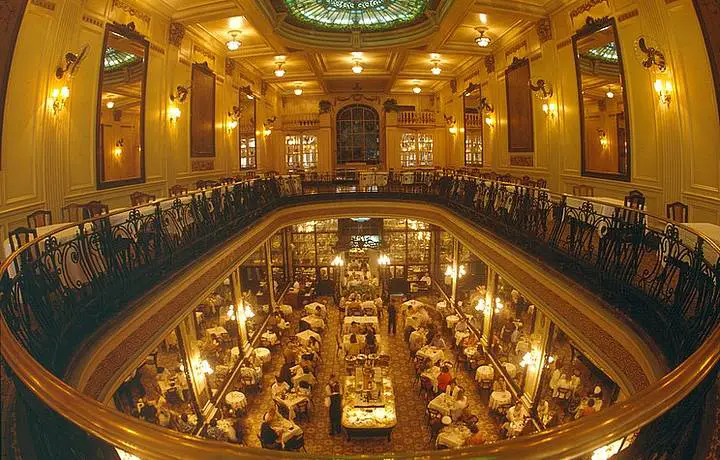 The Confeitaria Colombo is one of the most beautiful coffee shops you can find. Located in Rio de Janeiro, this place has been considered on multiple occasions as one of the most beautiful places to drink coffee in the world. Founded in 1894, the Colombo confectionery stands out as one of the most important tourist attractions and meeting places in the city of Rio. Likewise, its founders, Joaquim Borges de Meireles and Manuel José Lebrão (Portuguese immigrants), were in charge of creating a truly unique place, which has earned its place on the list of the best coffee shops in the world.
Cafe Uf – Vigo, Spain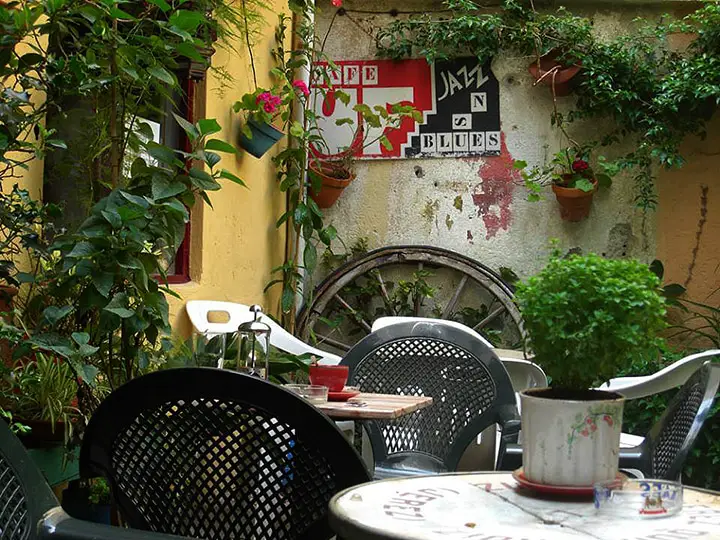 If you are a person who loves alternative places and full of art, in Vigo you have a must visit their café Uf. On its walls they have hung illustrations and paintings of valuable artists and vinyls of well-known musicians have played. In this magical place, which has been open for thirty years, you can always sit and enjoy its wide range of coffees while discovering an exhibition, a movie or listening to a lecture, as well as supporting local artists.
Le Procope – Paris, France
It was founded by Francesco Procoprio Dei Coltelli at the end of the 17th century. Since its inception, it has been a cafeteria closely linked to the historical ups and downs of Modernity. Sitting at one of his tables, Diderot conceived the idea for the Encyclopedia and over coffee Benjamin Franklin thought about the Constitution of the United States. Le Procope has always been known for being a hostel for famous and illustrated figures such as Voltaire and Rousseau who enjoyed social gatherings accompanied by a delicious coffee. Today it is frequented above all by tourists who, attracted by its history, taste its coffees, chocolates and restaurant dishes.
Espresso Vivace Roasteria – Seattle, USA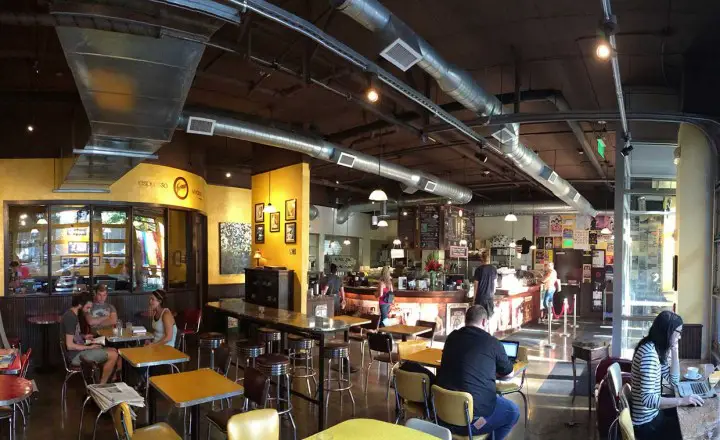 Despite not being a classic coffee, Espresso Vivace is one of the best coffees in America, and certainly in the world. With more than 30 years since its founding, the team has been constantly evolving with respect to coffee, mastering all existing professional techniques and establishing itself as authentic coffee specialists in the United States. The atmosphere is cozy, the espresso coffee of undeniable quality and the taste more than delicious. They present with Caffe Latte Art and are kept in continuous practical research, standing at the peak of barista and coffee maker professionalism. An almost obligatory visit for anyone visiting Seattle.
The Patio of Alfonso XIII – Seville, Spain
We will all agree that in Seville there are exquisite corners that are very characteristic of its architecture. But referring to our star product, coffee, you can't leave without visiting the Alfonso XIII hotel in Seville, in the heart of the famous Andalusian patio. There you will find one of the most beautiful coffee shops in the country, the kind that look like something out of a book. It is the ideal place to enjoy a delicious cup of your favorite coffee, while you delight in its beautiful surroundings.
Anticafé – Rome, Italy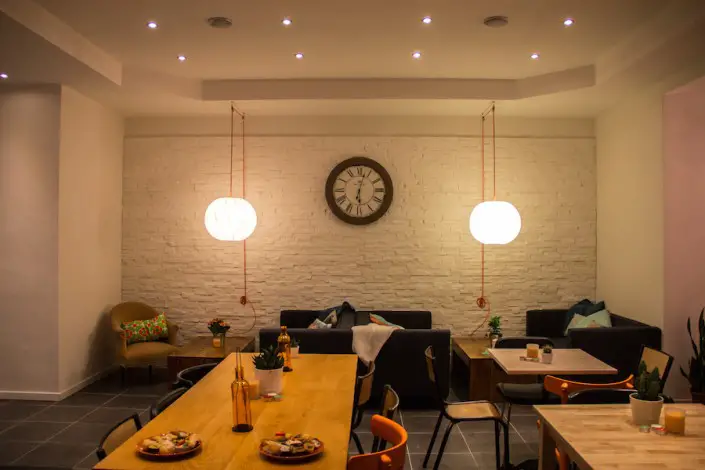 Here you don't pay for what you consume but for the time you spend there. So if you are looking for a place to study, work or talk for hours, Anticafé is for you. The menu includes sweet and savory sandwiches, fruit, tea and coffee; you can eat, use the internet, scan and even print as much as you need for as long as you pay. You can even bring your own food!
HR Giger Museum – Switzerland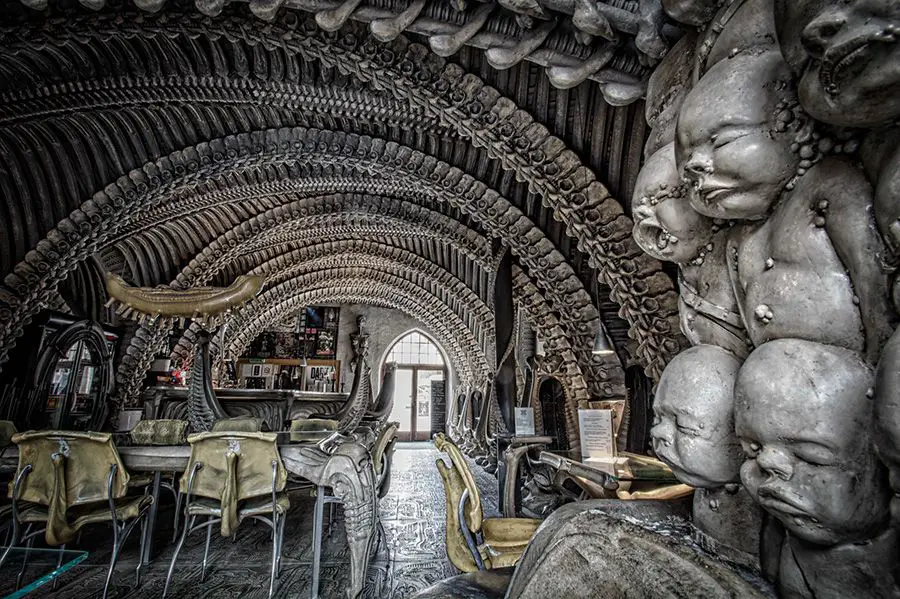 The HR Giger Museum must be one of the strangest and most particular places where you can have a cup of coffee. This is mainly due to the fact that both the museum and the bar were designed under the tutelage of H. R. Giger, a Swedish artist who was commissioned to make the figures for the film "Alien, the eighth passenger." It is necessary to clarify that the museum has been open since 1998. However, the bar was inaugurated several years later, in 2003. Undoubtedly, all the design that surrounds the atmosphere of the HR Giger Museum makes it one of the most outstanding coffee shops in the world.
Monta – Tokyo, Japan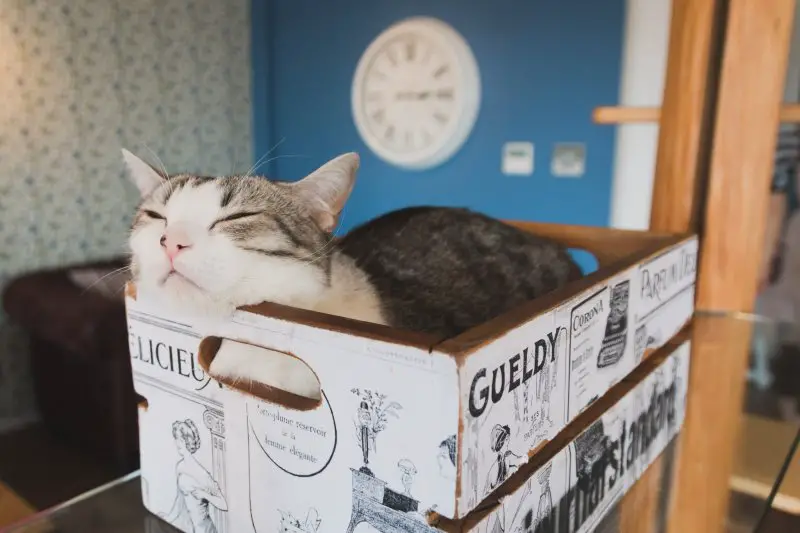 In the Asakusa neighborhood, in the center of the capital, we find one of the recently opened cat cafes whose popularity has grown like foam. What's so special about it? In addition to the experience of being with the most adorable cats in Japan, they have a selection of the most delicious drinks, foods and desserts with good prices. An all in one! Inside the premises the views are incredible. It is located in the upper part of a skyscraper, with large windows that overlook the street. The decoration is also spectacular, adapted to felines with large scratching posts, little houses, toys and many beds for them. The quality of the service, the food, and especially its delicious coffee, is well worth it. All this seasoned with the company of the most sympathetic and precious cats you can imagine. Highly recommended!
Akiba Owl – Tokyo, Japan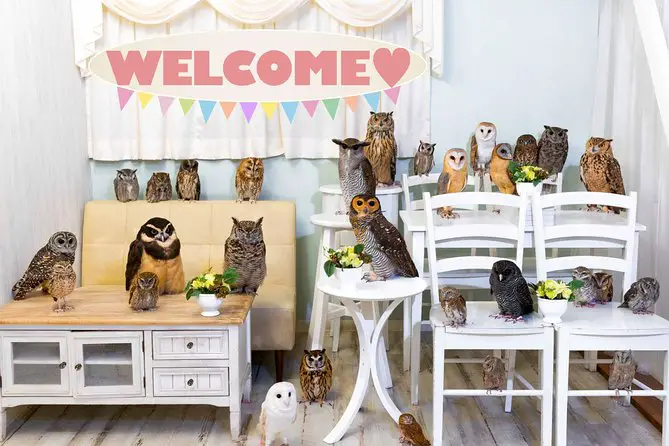 It is like an oasis in the middle of the noisy and stressful city, here you can forget about everything in the company of adorable owls. You will find 12 species of owls and they all love human touch so you can freely pet them, they even climb your arm. Don't forget to book as between 10 and 20 people enter per session.
Hi-Collar – New York, USA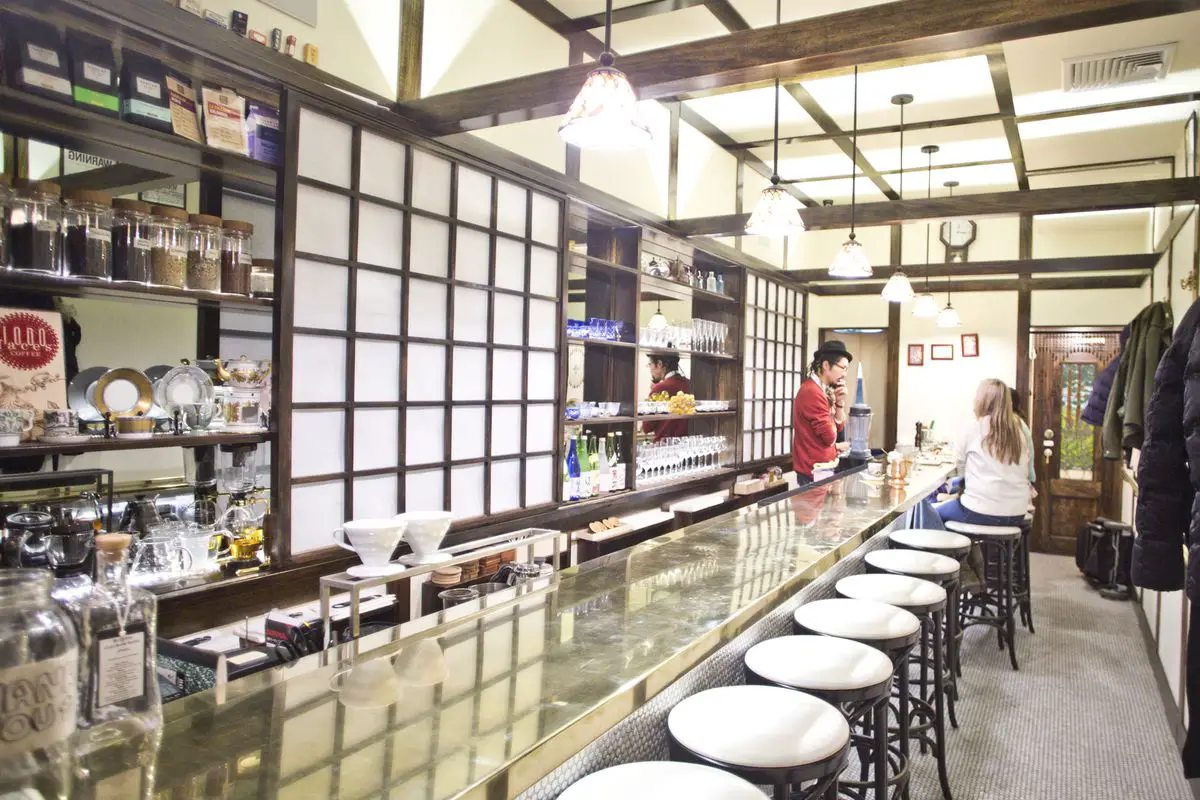 Hi-Collar is for true coffee lovers and those who enjoy both the drink and the preparation of it. The owners are Japanese and serve coffee during the day and sake in the afternoon / evening. It is small and apart from choosing which drink you want, you can select the type of coffee bean. They have very good baristas who help you, although of course the coffee costs more. Here you can pay up to $ 6.50 for your coffee but there are also cheaper options. If you are hungry they have Japanese inspired sandwiches, small plates and desserts. It is a multicultural experience without leaving the East Village.
Dernier bar avant la fin du monde – Paris, France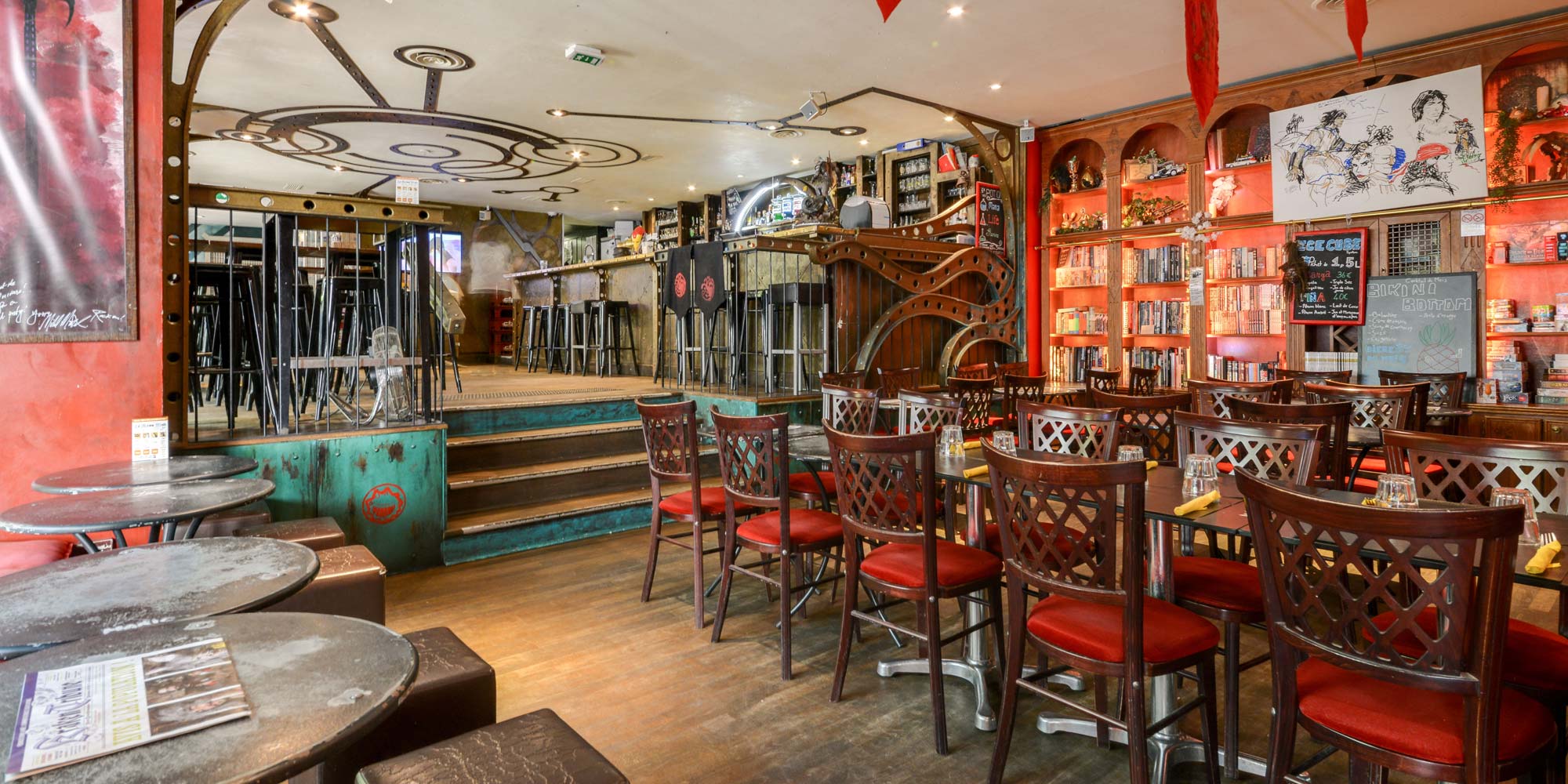 More than a coffee a bar in – literally – The last bar before the end of the world satisfies your inner geek. At the entrance there is a library with the best science fiction titles and decoration inspired by steampunk and relics from medieval times. In addition, you will find board games and video games and there are themes every week.
Snake & Lattes – Toronto, Canada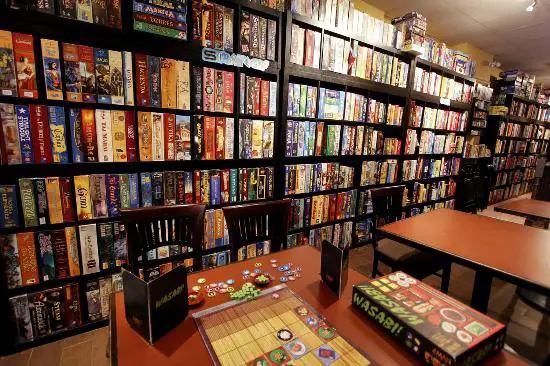 Making a play on words with the board game "Snakes and Ladders" is a cafeteria where you can find all kinds of board games. It is the ideal place to hang out with your friends or family. Its success has been such that now there is also its counterpart at Snakes & Lagers bar.