Traveling doesn't only need to be about seeing new places and experiencing new things. When you travel, you can also pursue your favorite hobby. If you love horseback riding, then you should consider taking your hobby to one of these destinations. Check out the four best places in the US for horseback riding.
Bradenton, FL
Most people associate Florida with warm weather and beaches. However, Florida is much more than that. Florida is also home to some beautiful wildlife and breathtaking trails. When you explore those trails on a horse, you get an experience like no other.
Unlike many of the other great horseback riding destinations, you get warm weather here. You can travel to Bradenton almost any time and get warm weather. Forget bundling up for your ride! You might want some board shorts so you can cool off in the water after your ride.
Hornby, Ontario
Although Ontario is much cooler than Bradenton, it's worth dealing with a little cold weather and riding in Hornby. Hornby, ON is a great place to ride horses. One reason for this is the history of the area. For years, horseback riding has been a popular pastime for locals. If you have your own horse, then there are experienced local shops that can outfit you with new gear. Try a bit rental program or get fitted for a new saddle. The experience will increase your comfort and make you a better rider.

Of course, it's not just about experience. The area has some great trails. You can surround yourself by some of Ontario's breathtaking scenery and get a glimpse of some wildlife. When it comes to horseback riding, Canada is a top destination.
Bob Straub State Park, OR
Bob Straub State Park isn't your typical state park. In fact, it's one of the only parks dedicated entirely to horseback riding. With 484 acres, the park is a great place to explore nature on horseback. Some of those acres take you directly onto the beach. Check out the Nestucca sand pit or the largest Haystack Rock on the Oregon coast. Just be sure to bring your camera – there's no shortage of opportunities for incredible photographs.
Whether you're a beginner or an experienced rider, this Oregon horseback riding spot is one you don't want to miss. You'll learn first-hand why Oregon is known for its beautiful scenery.
The Rocky Mountains, British Columbia
If you haven't yet experienced the Rocky Mountains, then you're in for a treat. The area boasts one-of-a-kind views of lakes, mountains, and more. When you travel the trails on horseback, you can get even better views. You also can transport yourself back to a century ago, when the world was less complicated. The area used to be home to cowboys transporting cows on cattle drives. Today, you can still find cowboys navigating the terrain with their cattle.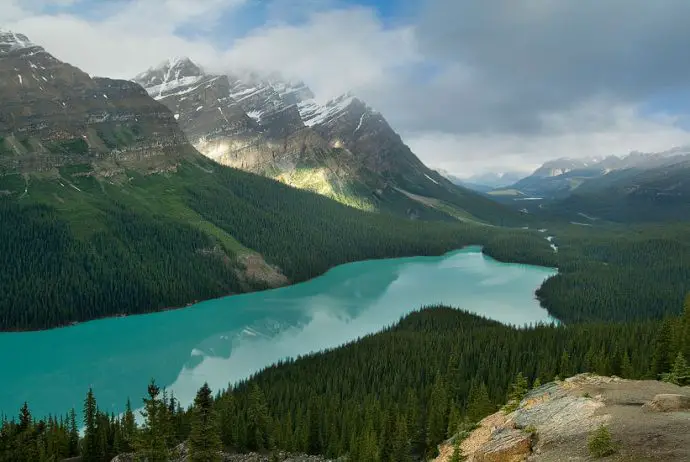 There are many tour operators that offer long horseback riding trips in the Rocky Mountains. However, there are also some opportunities for fun day trips. Either way, you'll get an amazing experience.