Alongside tourist magnets like Paris and Bangkok, Dubai is now one of the world's most visited cities. And from high-end shopping malls to exhilarating outdoor activities, the biggest city in the UAE has plenty of options to keep visitors busy. But Dubai is also turning into a cultural hub thanks to world-class events. So, are you planning a stopover in the Gulf? Here are five festivals to enjoy in Dubai year-round.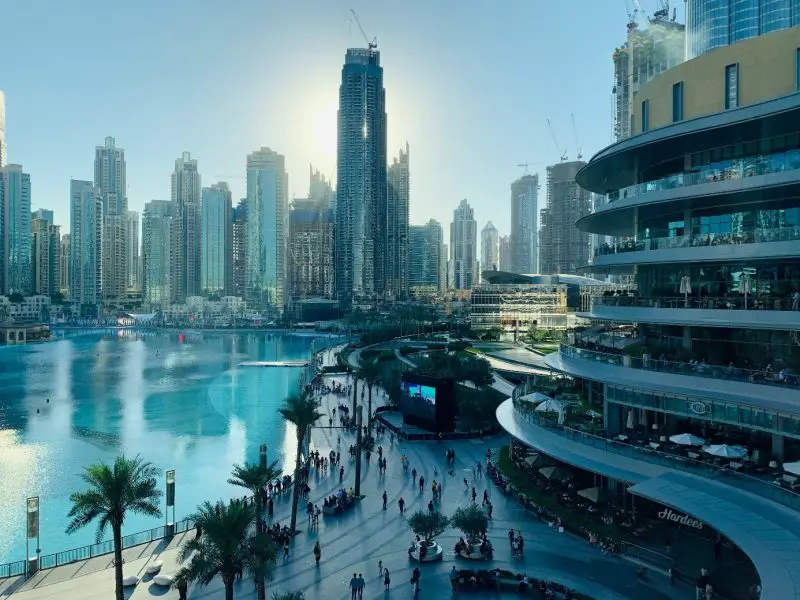 Art Dubai
Neighboring Abu Dhabi might boast the Louvre Museum. Yet Dubai knows its way around art too. And in March each year, the city embraces emerging and leading artists from all over the globe. Founded in 2007, Art Dubai has long grown into the most recognized art fair in the Middle East and a global creative hotspot.
The event draws nearly 30,000 visitors, attracting curators, art collectors, and museums. Art Dubai's gallery is divided into sections dedicated to modern and contemporary arts, on top of a residency program. A pioneer of artistic innovation, the festival even introduced a digital arts gallery in 2020 to explore the growing ecosystem of NFTs, virtual reality, and crypto art.
Taste of Dubai
If you're a foodie, December is the perfect time to hit Dubai. Indeed, the Dubai Media City plays host to the Taste of Dubai food festival. Street food stalls, beach canteens, and Michelin-starred outlets celebrate the emirate's culinary diversity. Some of Dubai's most renowned restaurants even offer their signature dishes for a bargain price.
Since its launch in 2007, Taste of Dubai has featured many star chefs like Jamie Oliver and Sanjeev Kapoor. Foodies can, thus, do some celebrity-spotting before enjoying live cooking demonstrations. But the event also makes way for lesser-established yet ambitious chefs. And while treating themselves to the finest food, visitors can simultaneously enjoy top-notch music acts.
Music festivals
The Dubai Jazz Festival is held every year in February. Starting as a 3-day event in 2003, this festival is now a staple of the Dubai music scene. And the event's line-up has only grown stronger through the years, attracting A-list artists like Toto and Sting alongside jazz legends and contemporary music bands.
Music lovers might also head to the Dubai Opera from May to June to attend the InClassica International Music Festival. During this month-long classical music event, concert-goers enjoy the works of world-class soloists, orchestras, and conductors.
Dubai International Boat Show
The Dubai International Boat Show might be one of the most glamorous events in the city. Every year, the world's classiest and most lavish yachts gather at the premier boat show in the UAE. This week-long event in March welcomes conferences while displaying the latest innovations in water sports gadgets and techs. Exclusive tours and exhibitions cater to VIP attendees.
On a less sumptuous note, marine enthusiasts might also attend the Al Gaffal Dhow Race. This annual Spring event pays homage to the city's past pearl diving activity. All Emirati crews take to the sea on traditional dhow boats as this long-distance race begins off the coast of Abu Dhabi to end past the Burj Al Arab hotel.
Dubai Shopping Festival
Boasting the world's largest mall, Dubai is a wet dream for shopaholics. And the ultimate shopper's experience awaits during the Dubai Shopping Festival. Inaugurated in 1996, this 7-week-long festival rains incredible discounts on all lucky participants. From daily deals and competitions to raffle draws, shoppers can hope to snatch fabulous prizes up to the US $160,000.
Concerts, fireworks, and game shows further turn the entire city into a playing ground. The DSF even gamified the experience by partnering with Gameloft to develop a quest-like mobile shopping platform and even introduced a metaverse in 2022. Despite ground-breaking initiatives in digital entertainment, though, Dubai remains impervious to iGaming. Incidentally, many Arabian gamblers turn to live dealer casinos. Using real human dealers, live platforms are the closest thing to stepping into a brick-and-mortar casino. Gamblers can compete in live tournaments or simply try their hand at classics like poker and roulette. And privacy is key so that punters can enjoy secure and anonymous payment methods.
From the Burj Khalifa to the Dubai Mall, Dubai boasts several world-famous landmarks. But the city also hosts thrilling cultural and shopping events. So, why don't you plan your Dubai trip accordingly?