Malta is filled with architectural landmarks. Some even predate the pyramids built in Egypt. Moreover, Malta has developed a rich history because of Phoenicians, Romans, and Sicilian colonies living on the islands (Malta, Gozo and Comino).
As a result, traditional Maltese houses have gained a distinct character drawn from several cultures. Learn all about the various aspects of a traditional Maltese house and how its unique style came about below.
A Brief History of Maltese Architecture
To further understand how traditional Maltese houses came to be, let us briefly discuss the various influences of several cultures on Maltese architecture.
Let's begin with the Neolithic period. One of the oldest structures in the world is the Ġgantija Temples. The temple predates the Pyramids of Giza and was built back in 3500 BC. Back then Maltese structures were built with Limestone, a piece of material that's heavily incorporated with traditional Maltese houses.
By the time the 264 BC came, the Romans took over the island of Malta. The Roman's influence on Malta poses great significance with traditional Maltese architecture. After all, the Romans were the ones who introduced Christianity to the island. Aside from stunning baroque-style churches, Romans were responsible for introducing decorative mosaic floors and marble statues to Maltese architecture.
Fast forward a couple of centuries, the Knights of St John started occupying Malta in 1530. That's when European building styles started getting incorporated with traditional Maltese architecture. Some architecture styles that have been adapted from this period include Victorian features, bay windows, and neo-gothic designs.
As of today, you will find traditional Maltese houses near village squares. Most of these houses possess several features that were adopted from Malta's rich history.
Traditional Maltese Houses
Now that you know about Malta's rich history, it's now time to go over the various aspects of traditional Maltese houses.
If you take a walk through the streets of Malta, you will find traditional houses with timber balconies and vibrantly colorful doors. Another distinct characteristic of a traditional Maltese house is yard placement.
You see, unlike modern houses with yards at the front, a traditional Maltese house usually has the yard placed at the center of the house. It would also have flagstones instead of patterned tiles.
As for the facade, a traditional Maltese house has limestone walls and is usually equipped with a wooden balcony, louvered apertures, and a wooden front door. Some traditional houses even opt for glazed doors that allow light to come into the house.
And since traditional Maltese homes are mostly made with limestone, you may expect Maltese houses to come with thick walls. The average thickness of walls in a traditional Maltese house is 120 cm. They made it so as to provide enough strength and support as well as proper insulation. A side note here: due to the humidity in Malta, you might want to consider installing an ethanol or wood fireplace, central heating system, or a dehumidifier system.
Some popular Air conditioning brand like Daikin air conditioners come pre-built with cooling, heating and dehumidifier system. Buying a 3 in one will save you money and be less of an eyesore inside of your traditional Maltese home.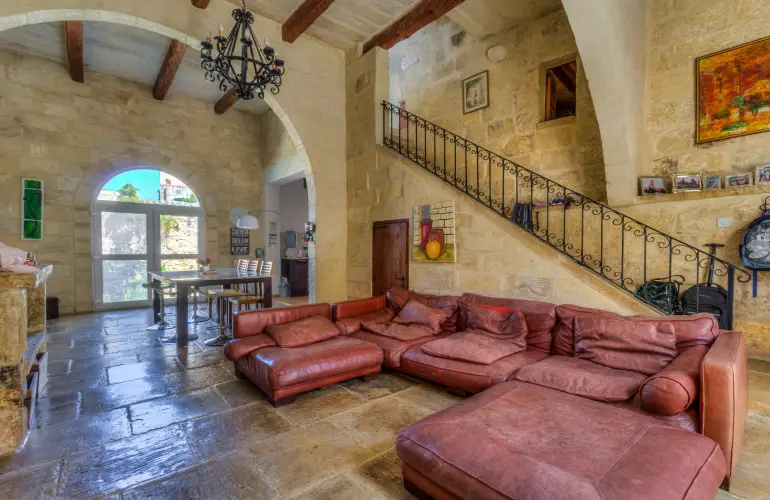 Another thing you may find outside a traditional Maltese house is a series of flagstone stairs. Older houses even come with flagstone stairs with linseed oil pain for preventing dust.
Upon entering a traditional Maltese house, you will find an entrance hall filled with intricate details. Some are even filled with details up to the ceiling and frescos. As for flooring, you could expect colorful patterned tiles in newer houses. Patterned tiles have become the new norm as a practical way of floor covering.
Yet another notable feature of a traditional Maltese house is the ceiling height. Every traditional Maltese house gives off an airy feel with ceilings that can be as high as 20 feet. You may even notice exposed wooden beams in older houses.
Traditional Maltese houses are also known for having beautiful indoor staircases with wrought iron balustrades for added protection.
And speaking of popular traditional Maltese house characteristics, one very notable feature is the central courtyard. Grander houses even have a courtyard garden with a pool. Some may even have a well or cistern.
Lastly, most traditional Maltese houses were built with a basement for ample storage.
A Quick Recap
Malta's rich history has made way for its unique architectural structures today. From baroque churches down to traditional Maltese houses, you can easily spot several architectural styles adapted from various cultures.
Remember, features like a colorful wooden door, flagstone stairs, high ceilings, a central courtyard, and a limestone facade is what gives traditional Maltese houses its unique character.
If you want to see a traditional Maltese house with your own eyes, or even experience living in one, know that Malta is filled with traditional houses for rent and for sale.
Without a doubt, living in a traditional Maltese house is something everybody should experience at least once. Its unique blend of architectural styles will certainly have you appreciating Maltese culture on a whole other level.
So the next time you go and visit Malta, you may want to experience something new. If you're ever looking for a place to stay, do try to consider looking for a traditional Maltese house instead of your typical hotel.