The type of luggage you choose can make or break your trip, especially when you're jet-lagged and stranded in an airport. Not all suitcases are created equal and with the seemingly endless styles, choosing the right suitcase for your travel needs can be a daunting task. So what factors should you consider when shopping for luggage? Read on to find out.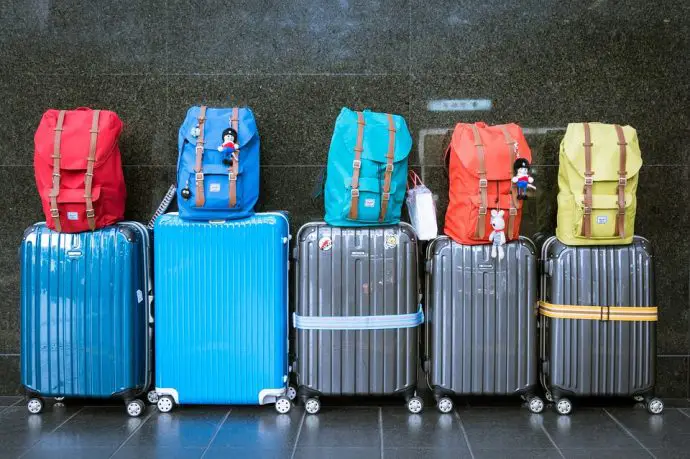 Durability
When it comes to finding the best suitcase for durability, there are several elements to consider.
First is the frame; look for a bag with an inner fiberglass frame that's both lightweight and strong. In the quest for durability, the size of the suitcase is just as important as its construction. Medium-sized suitcases are often the sweet spot for travelers, providing enough space without being overly bulky. Opting for a medium-sized lightweight suitcase ensures that you have sufficient room for your belongings while benefiting from a design that's easy to carry and less likely to encounter wear and tear during your travels. This combination of size and weight is ideal for those who value both durability and ease of handling in their luggage choices. The fabric is another crucial element that constitutes a durable suitcase, to select the fabric you need to decide on whether you want a soft or a hard side. If you want more flexibility to stuff that one last item in, choose a soft-sided suitcase with a high-denier material. Ballistic nylon is the best material by far for soft luggage.
But if you're looking for maximum protection for your belongings, go for a hard-sided bag that can't be torn or ripped open. Aluminum luggage is perhaps your best bet, however, they can be slightly heavier and more expensive than other hard materials.
Another important aspect to consider is whether or not the bag can withstand the elements. If you travel often, chances are you're going to get caught in the rain, so make sure your suitcase is waterproof.
Wheels can be a weak spot when it comes to durability so be sure to check that the wheels can roll smoothly while staying in place. For maximum durability, test the suitcase's handle for rattling; the handle should have little to no wiggling as you pull or lift the bag. Handles that completely retract inside the bag are less likely to withstand  heavy weight or damage.
Ease Of Travel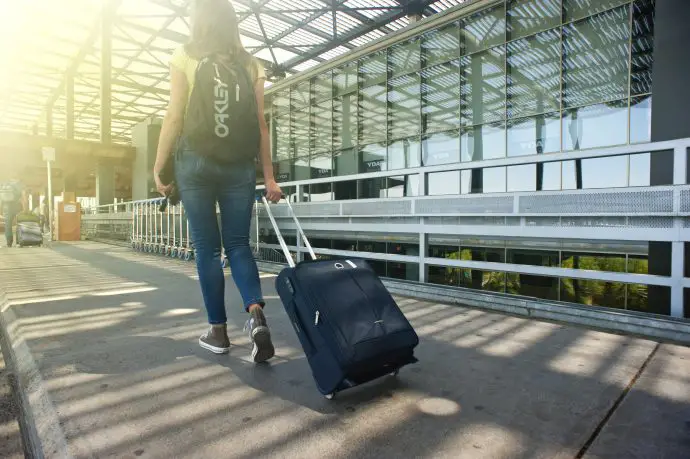 The bag's portability is another key element to consider; you need to be able to easily transport your luggage from one place to another. Suitcases come in two types: 4-wheelers and 2-wheelers, travelers who opt for 4-wheelers prefer them because they can spin 360 degrees which makes them easy to maneuver, particularly in tight spaces.
However, the biggest downside to 4-wheelers is that they're more likely to snap off with rough handling. To avoid that, you need to check that the wheels are attached with screws rather than rivets for maximum security.
2-wheelers, on the other hand, are more sturdy and can be better for clearing sidewalks, cobblestone streets, curbs, and other uneven surfaces. However, they have a more limited range of motion as they can only go forward and backward, which makes them less ergonomic than 4-wheelers.
Size and Weight
It's safe to assume that no one in the history of travel has ever under-packed for a trip, that's why the bag's weight is crucial. It's hard to fit all your belongings and stay below the 50 lb. limit, even the most experienced travelers who know how to pack lightly struggle with not exceeding the weight limit. The overweight fees that airlines impose can be worse than taxes, so make sure the suitcase you choose isn't heavy even when it's empty.
We recommend choosing a soft-sided suitcase with multiple pockets and compartments for your carry-on luggage because soft-sided bags are typically lighter than hard-sided ones and are easier to fit within the 10 lb. carry-on weight limit.  As for the dimensions, a 48.5-inch suitcase will fit in the majority of airline overhead bins.
Brands and Warranties
Regardless of the type of suitcase you choose, accidents can always happen, which is why it's important to choose a brand that offers a fair warranty and a reliable service to fix your luggage in case of damage.
To minimize the risk of accidents, choose a brand name you're familiar with and look for customer reviews to make sure that the brand lives up to its reputation. Even if you end up paying a little more, a trusted brand that offers a lifetime guarantee is totally worth the investment, especially if you tend to travel often.
Your luggage is perhaps your most important travel essential and so naturally, when it comes to choosing a suitcase, your decision needs to be an informed one. Keep the previously mentioned points in mind to make sure you pick one that best matches your style and needs and remember that different suitcases will be suitable for different types of trips so don't fall into the trap of thinking anyone will do. Once you are better informed, packing, as well as traveling, in general, will become that much more enjoyable.